There are many agribusiness enterprises you can embark on to become a millionaire. Goat farming is one of them.
Grace Bwogi, 38, is one of the successful goat farmers in the country promoting the business of goat farming in Uganda in order to beat the demand which is currently outstripping supply.
Bwogi, a social worker by profession, quit her jobs to venture into farming. She was lecturing at three Universities; Uganda Christian University, Kyambogo and Ndejje.
Bwogi, who grew up from a farming family, says her desire to rear goats was born in 2005 when she was working as a Sub-County Chief in Sembabule District.
She says that she was earning Shs470, 000 per month yet this money couldn't meet all her needs.
In the process, the Sub-County Councillors she was working with were already millionaires because they were rearing goats.
"My salary couldn't help me meet my needs. Councillors would lend me money," Bwogi says, adding: "One of them, Grace Rubagyema blasted me saying 'we are getting rich as you enjoy the comfort of your offices."
She adds that Rubagyema rented her land and started the business with 25 goats. Within a few years, the goats had increased to 200.
During this period, Bwogi pursued Masters in Social Sector Planning and Management at Makerere University and after her course; she was told she was over qualified for the Sub-County job.
She was then transferred to the district, but the salary was only increased to Shs700, 000.
She then got a job at FIDA that engaged her so much. Due to limited time to supervise the project, she sold off all her goats except a few she gave to friends and relatives.
Bwogi reveals that she started a cosmetics shop in Sembabule and bought some land. However, the cosmetics shop collapsed due to limited supervision.
Decision To Quit University Jobs
Bwogi says her decision to quit lecturing jobs was reached when she got an accident on her way from Ndejje University. She says she was always on the road as she moved from one University to another yet she was earning about Shs4.5m from the three jobs.
However, some money wouldn't come on time, thus complicating her planning.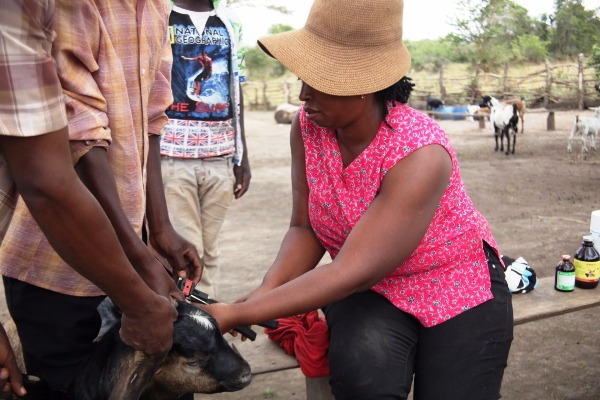 "From then I decided to join farming full time. I got a loan of Shs5m from a farmer friend, went to my dad and asked him to allow me rear goats on his land, a thing he accepted," she says, adding that she re-started with 30 goats and kept growing the number (by buying more as others gave birth). This was in 2015. By end of December 2016, her goats had increased to 150. Today, she has over 300 goats (excluding kids) and has since diversified into matooke farming.
It is also important to note that she sells goats on a weekly basis, so she would be having more goats.
Bwogi says she is basically into breeding; she sells goats mainly pregnant ones to other goat farmers. This is done to beat the increasing demand.
Bwogi says she can sell an average of 20 goats per week (She also buys goats from other farmers).
She has 10 acres of matooke and her first harvest is expected in April this year.
"I want to expand the matooke project to 30 acres," she says, adding that her goats graze with her father's cows on over a square mile of land.
She reveals that she is happy to practice the agriculture she studied in O' Level.
"I always admired my parents. They had cows and over 30 acres of matooke. We would work on the farm during holidays because we were always in boarding schools," she says, adding: "This inspired me to do Agriculture as an additional subject while at Maryhill High School. Out of 187 students, only three of us did Agriculture and we got distinctions. That time Agriculture was viewed as backward and for locals. I am happy to put my Agriculture into practice."
Importantly, Bwogi is among the few lucky Ugandans that have benefited from the Tony Elumelu Foundation Seed Capital Grant (2017 edition).
She received US$5,000 as Seed Capital and an additional US$5,000 interest free loan.
Bwogi reveals that she says she used the money to purchase more goats and water tanks to solve the issue of water  scarcity for her goats.
From her experience, Bwogi shares top tips on successful goat farming.
Market
Bwogi says one should make market research before venturing into any project.
"Ask yourself 'Will I be sell ing goats for breeding, meat or milk?' She says. She says a litre of milk is currently selling at Shs7,000 while a kilogram of goat meat is going for Shs14, 000 in Kampala and its surroundings. She adds that goats manure cost a minimum of Shs15,000per bag.
Due to the growing demand, she says many outlets for boiled, roasted and fried goat meat are opening up in Kampala and its surroundings.
She adds that "there is money in goats if you trade in large numbers because it becomes cost effective."  She says if one has many goats, they can spend an average of Shs500 per goat monthly.
Land
If you want rear goats commercially, you need a sizeable piece of land. Bwogi says one can rear 15-20 goats on free range system on an acre of land.
"On zero grazing, you can have 40 goats on an acre though it is tedious and costly to look for feeds," she says.
Knowledge & Passion
She says knowledge is important in any project. For her case, she had passion for goats and farming, but still went ahead to read more about goats.
"I read a lot about goats and interact with different farmers. Learning is unending," she says, adding that there's a lot of information online, youtube and newspapers.
She reveals that she has gone to Kenya in search for knowledge.
"Passion is equally important. You need to be interested. You must supervise your project because 'tele-farming' doesn't work," she says, adding that farmers should also get a good manager with knowledge on goats.
Diseases Management
She says foot rot is the biggest challenge to goats especially during the rainy season.  However, diseases can be minimized by maintaining house for goats clean and spraying them regularly. Other challenges kids mortality,  death from vaccinatable diseases like PPR and Brucella.
"It is easier to have 15 kids and lose all of them," she says, adding that because of good management she can lose only one kid a month.
"The kids are your profits; you shouldn't let them die. Once the kids are not produced or they die, then you are in losses," she says.
"It is advisable to spray goats to get rid of ticks once a week. Also de-worm them every three months," she says.
Bwogi however says vaccines for goats aren't readily available on the Ugandan market, calling on government to intervene.
Capital
For those with land, they can start a viable goats project  with at least Shs3m-Shs20m.
"If you want to rear goats on a commercial basis, I would advise you to start with 50-100 goats. If you start the project in January 2018, you will have 100-200 goats in January next year," she says.
"To cut on costs, don't construct a structure that is so fancy. You can use locally available materials and upgrade later," she says, adding that beginners shouldn't start with hybrid goats; they should start with local breeds.
Follow us on Twitter: @BusinessFocusug @TaddewoS . Email: [email protected]