Bank of Uganda (BoU) recently issued commercial banking licenses to two institutions, bringing the total number of commercial banks in the country to 26.
Opportunity Bank that has been trading as a credit institution is now a commercial bank.
"BoU granted the Commercial Banking (Class 1) License Certificates to Afriland First Bank Uganda Limited effective September 12, 2019 and Opportunity Bank Uganda Limited effective September 13, 2019. Opportunity Bank has previously been trading as a Credit Institution (Tier 2) and has now transformed to a Commercial Bank (Tier 1) institution," the Central Bank said.
The development comes at a time when the Central Bank has been under public scrutiny and parliamentary investigation on how it handled the closure of seven defunct banks with questions lingering on Bank of Uganda's capability to run Uganda's financial sector.
ALSO READ:
2018 Results: Uganda's Most Profitable, Loss-Making Banks Named
Shs28 Trillion Industry: Banks With Biggest, Smallest Assets Revealed
40 Women In Top Banking Positions Named
So, what do these new banks bring into the Ugandan market? How likely are they to shake and disrupt the banking industry? How will customers and the economy at large benefit from these new banks?
About Opportunity Bank and Afriland First Bank
It is important to note that while Opportunity has existed in Uganda for over two decades, Afriland First Bank is a Greenfield operation in Uganda.
Opportunity bank started in 1995 as Faulu Uganda owned by Food for the Hungry International (FHI) and in 2006, the Bank acquired by Opportunity Transformation Investment Inc (OTI), a US-based microfinance investment vehicle, which owned 92 per cent of the Opportunity Bank by the end of 2015.
But in 2016, Mybuck, a Luxembourg-based financial and technology (Fintech) firm, bought 49 per cent stake in the institution as it thought to expand its African presence.
Opportunity Bank's total assets are estimated at Sh132bn as of September 2019. This implies that it is among one of the top three banks with smallest assets after ABC Capital Bank (Shs58bn as of 2018) and Cairo International Bank (Shs117.3bn as of 2018).
Headed by Emmanuel Tineyi Mawocha as CEO, the Bank saw its net profits double from Shs2.2bn in 2017 to Shs4.4bn in 2018. Opportunity Bank is microfinance bank focusing mainly on Small and Medium Enterprises (SMES).
On the other hand, Afriland First Bank Uganda is a subsidiary of Cameroon based Afriland First Bank, a full-service bank, with subsidiaries in the Democratic Republic of the Congo, Equatorial Guinea, Guinea, Liberia, South Sudan, São Tomé and Príncipe, Zambia and now Uganda. The bank was founded in Yaoundé in 1987 under the name of Caisse Commune d'Epargne et d'Investissement. It is the largest financial services group in Cameroon.
The bank is a large financial services provider in with global customer deposits in excess of €1,840,404,000 (Shs7.5 trillion), as of December 2016. The bank with its subsidiaries around the world had a combined asset base valued at €2.98 billion (Shs12.2 trillion) in December 2016. This means deposits and assets could have grown over the last two years.
Uganda's largest bank by assets is Stanbic (Shs5.31 trillion as of December 2018). Uganda's total banking industry assets increased by 262% to Shs28.032 trillion in 2018, up from Shs26.55 trillion in 2017.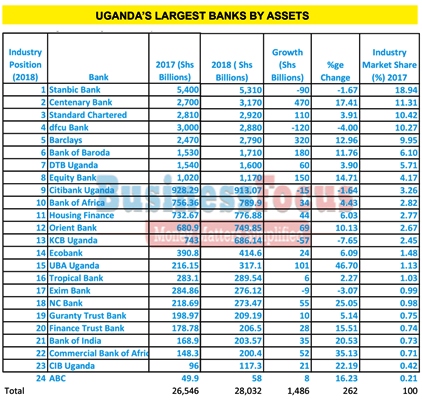 What entry of new banks mean
Firstly, the new banks have brought the total number of operating banks in Uganda to 26. All the new banks are largely foreign owned, implying that only three commercial banks can be truly said to be Ugandan owned. These include Finance Trust Bank, Centenary Bank and Housing Finance Bank.
According to analysts, a number of Ugandans remain unbanked and underserved, a thing that presents an opportunity to Opportunity Bank and Afriland First Bank.
"The market is huge; many Ugandans are unbanked or underserved. You need to offer them a solution and at the same time create value for yourself," one banker says.
Indeed, Afriland First Bank seems to have joined at the right time when the law allowing Islamic banking is in place.
In early 2015, Afriland First Bank launched Islamic window, becoming the first bank to offer sharia-compliant financial products in Cameroon.
Afriland, which has offered an Islamic deposit account since 2000 to help Muslims perform their pilgrimage to Mecca, now offers a range of common types of Islamic financing contracts.
These include murabaha, musharaka, mudaraba and ijara, contracts which follow religious principles including a ban on interest and pure monetary speculation.
The lender developed the Islamic window with assistance from the Islamic Corporation for the Development of the Private Sector (ICD), a unit of the Jeddah-based Islamic Development Bank.
It is hoped that the bank will use its experience in Cameroon to launch Islamic banking products in Uganda.African markets are gradually opening to Islamic finance, buoyed by governments' debut sales of sovereign Islamic bonds and legislative efforts to make the sector more attractive for companies.
However, when asked if he thinks Islamic Banking will increase uptake of loans and financial inclusion, Dr. Fred Muhumuza, an analyst and Economics Lecturer told Business Focus: "Not much due to the requirements including ethics and integrity of individual borrowers that many Ugandans lack. Similarly, the business risks that are linked to a weak economy will also undermine the uptake since the banks have to largely rely on cash flows and related profits – both of which depend the vibrancy of the local or global markets that is weaning off."
Muhumuza says that Opportunity bank is not necessarily new and may not effect much change in the market except for a few more services that it is not allowed to do.
"It will certainly increase competition but only in the very low segment since the banking sector is highly concentrated between a few big players in the top six banks," Muhumuza says in an exclusive interview.
While Afriland First Bank is coming from the Francophone area, it has been active in South Sudan, which is possibly the link to Uganda, given the strong economic connections between the two countries.
"I believe Uganda will help to strengthen their South Sudan operations given the fragility of the country both politically and financially. A presence in Uganda will leverage that operation but also tap into the strong traders' links, especially those who will want to support their own transactions between the two countries," Muhumuza says.
A top banker who preferred to remain anonymous said the licensing of the two banks in question is good news for businesses, especially given the sectors they are targeting.
The banker says: "It is also a mark of confidence on the economy since these are done through FDIs (Foreign Direct Investments). It also means some initial competition for the banks at the lower end of the table. But the question is do we have enough banking accessibility catering for everyone?"

Challenges at hand
It is true that Opportunity is not new, but it will certainly face competition and need for liquidity.
"Being a small bank in the market it will need to raise additional capital to meet the requirements, have sufficient liquidity, and cover the extra costs of meeting a higher standards that regulators require," Muhumuza says, adding: "Afriland has to go through teething problems of getting into a new market and also adapt to the Anglophone way given its roots in the Francophone world."

Muhumuza adds that given the technologies, financial inclusion will be less dependent on the number of banks but rather innovation and technologies. "More so, poverty levels have to reduce to ensure people can indeed transact through the financial sector. The country still has a rate of subsistence farming at 69 percent. That is not good for financial inclusion," he says.
For tips, opinions and feedback, contact: [email protected]