Uganda's President Yoweri Museveni has held a series of bilateral meetings with several other Heads of State on the sidelines of the 30th African Union Summit in Addis Ababa, Ethiopia, currently taking place under the theme "Winning the Fight against Corruption: A Sustainable Path to Africa's Transformation".
The meetings took place on Monday.
In a meeting with his Mozambique counterpart, Felipe Jacinto Nyusi, President Museveni commended the Southern African state for its role in ensuring a peaceful transition of power in neighbouring Zimbabwe.
"I am very happy with the contribution you made on Zimbabwe so that there was no havoc," said Mr Museveni.
He told Mr Nyusi that Ugandans were grateful for the support Mozambique offered the liberation struggles of the 1960s and 70s.
"When you see the Uganda army involved in protection of humanity in the region, the credit goes to people of Mozambique who provided the ground for military training," he said.
"The Uganda army is built on the background of the first group of 28 people we trained in Mozambique", President Museveni said, adding that he would soon visit the memorable training sites in Mozambique.
"When we say we commemorate Mozambique, it is because of these fundamental issues," the President stressed.
On his part, President Nyusi said the political situation in his country was calm after the population rejected the violence of the rebel movement, RENAMO, opting for dialogue.
"We believe by next month we shall have a consensus for the next general elections which is very important," he said.
Mr Nyusi said his government was working hard to ensure the country's GDP grows from the current 4.7% to 6%, adding that they were trying to achieve self-sufficiency.
President Nyusi also said his country was playing a critical role in the political stability of Southern Africa region.
"We are happy to see that our political fathers and liberators are being protected," he said, citing  President's Robert Mugabe and Joachim Chissano.
President meets President Jacob Zuma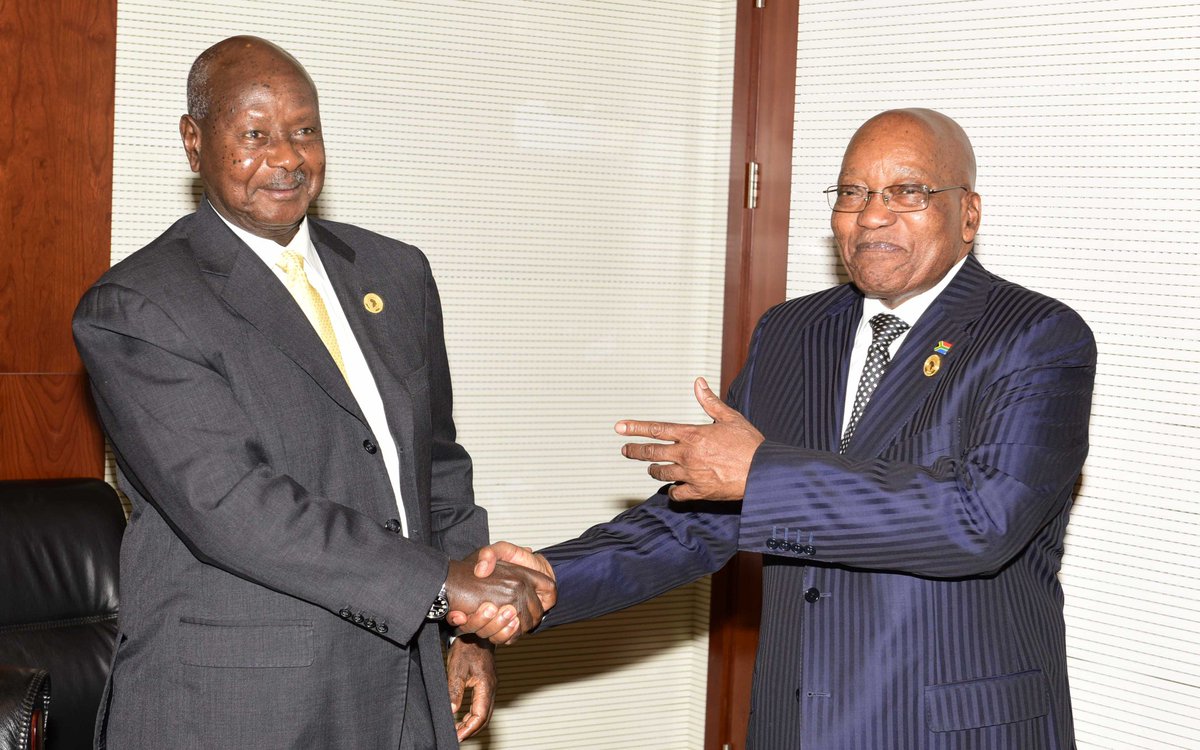 In another bilateral meeting, President Museveni met his South African counterpart, Jacob Zuma. At the end of their discussion, they signed an agreement on defence, peace and security cooperation between the two countries.
Museveni meets President Kiir, Jaoa, Abdullahi
Later, President Museveni held more bilateral discussions with President Salva Kiir of South Sudan and President Jaoa Lourenco of Angola. The President also met the Somalia President Mohamed Abdullahi Mohamed of Somalia with whom they discussed issues to do with Amisom and regional peace.