Lawyers presenting property mogul, Sudhir Ruparelia have asked Commercial Court Judge Paul Walimbwa Gadenya to disqualify lawyers of Sebalu & Lule Advocates from representing DFCU Bank in case filed against it by Crane Management Services Ltd, citing conflict of interest.
Crane Management Services owned by Sudhir last year sued dfcu bank over rental arrears amounting to Shs2.9b and $385,728.54 in respect of tenancies of suit properties that were formally owned by Crane Bank and have since been sold to dfcu bank by Bank of Uganda.
Sebalu & Lule Advocates is representing dfcu in the case.
Sudhir's lawyers led by Joseph Kyazze told Court on Wednesday that Sebalu & Lule Advocates were in 2016 hired by Sudhir to draw and review tenancy agreements of Crane Management Services Ltd and in the process they came into contact with his confidential information. Sudhir's son Rajiv Ruparelia was in court for the hearing of the case.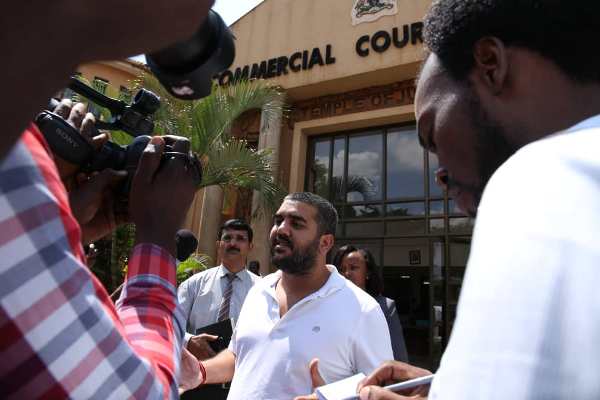 "The applicant (Crane Management Services) and Meera Investments are part of the Ruparelia group in which the shareholders are the same. Since the first respondent (Ssebalu and Lule Advocates) acted for one company(Meera Investment), they acted on behalf of all the companies in the group," Kyazze told court.
He added: "All the companies were addressed through Ruparelia group and not as individual companies as the respondent (Sebalu and Lule Advocates) alleges."
In his suit, Crane Management services contend that when DFCU took over management of Crane Bank , it illegally took possession of the rental facilities from which the real estate company seeks to recover its arrears.
The lawyer explained that the law firm was contacted in regards a review of tenancy agreements for Meera Investments, the same matter both Crane Management and dfcu are battling over in the main case.
Kyazze presented an email dated February 17, 2016 in which Ssebalu and Lule Advocates were given instructions by Meera Investments and a February 26,2016 letter in which the law firm was asked to review several tenancy agreements.
"He was tasked to draft the tenancy agreements into the simplest forms and was paid for the services rendered. He promised to always be available for consultancy and advice. By representing dfcu in a matter regarding the same tenancy agreements, there exists an advocate-client relationship in which confidential information was discussed between the two and the same information might be used to our disadvantage in the main case."
Sudhir's lawyers insisted that the law firm is conflicted and can therefore not be the same to represent dcfu in the main suit.
In responses however, the firm of Sebalu & Lule Advocates which is represented by Peter Walubiri asked the judge to dismiss the application for lack of merit saying the tenancy agreements drawn in 2006 are not confidential in any way to dent Sudhir's case.
Court has set the 24th April 2019 to deliver its ruling.