Uganda Revenue Authority (URA) has awarded a certificate of appreciation to Business Focus, Uganda's leading business website that simplifies money matters, for its media support provided towards domestic revenue mobilization 2019.
This was during a media party dubbed "Media Unwind Cocktail" where the tax body hosted friends from the 4th estate at URA headquarters on Friday 10th January 2020.
The URA Commissioner Internal Audit and Compliance, Dr Protazio Begumisa, who represented the Commissioner General at the event commended the good working relationship between URA and the media.
He added that without media, the URA clientele would find it hard to not only understand business, but also why it is important to pay taxes.
He pledged continued working relationship with the media.
Ian Rumanyika, the Acting Assistant Commissioner Public and Corporate Affairs at URA was pleased to have the media members turn up in big numbers.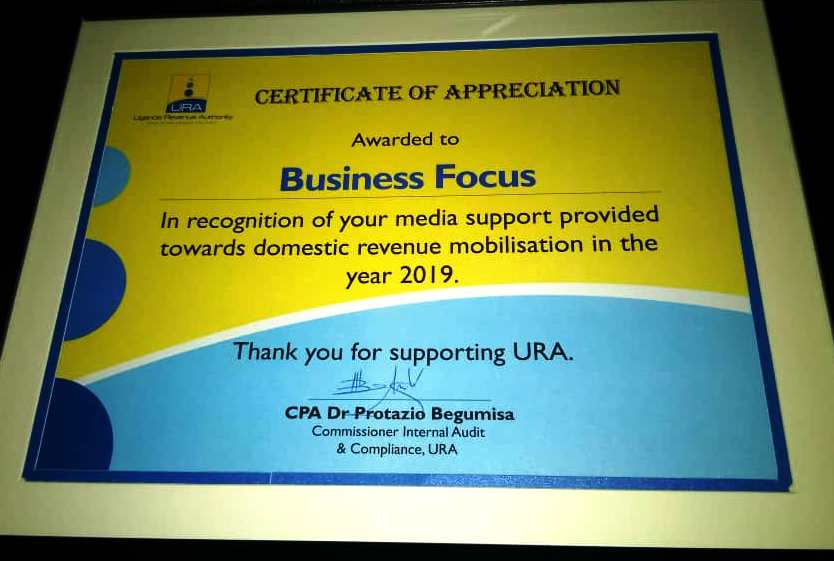 The media persons were rewarded with certificates and several gifts appreciating them for the good work they have done.
Speaking about the URA recognition, Taddewo William Senyonyi, the Managing Editor at Business Focus said: "We are delighted to see URA recognize the media support we provide to it. We pledge to continue working with URA in revenue mobilization so that we build Uganda together."
He added that Business Focus will continue innovating to remain the leading business website that simplifies money matters in Uganda and beyond.