Zakalia Lubega (C), the Head of Corporate Affairs at CNOOC Uganda speaking to journalists. On his Left is Gloria Sebikari, the Manager, Corporate Affairs & Public Relations at Petroleum Authority of Uganda
Uganda is set to discover more oil from the Albertine Graben in the ongoing explorations.
The East African country has already discovered 6.5 billion barrels of oil in the Albertine Graben and bout 1.7 billion of these are recoverable.
Speaking to journalists during a media tour of the Kingfisher Development Project on Thursday, Gloria Sebikari, the Manager, Corporate Affairs & Public Relations at Petroleum Authority of Uganda (PAU), revealed that besides Tilenga and Kingfisher, there are ongoing explorations to discover more oil.
"The area in which the 6.5 billion barrels of oil that have been discovered in Uganda today is less than 40% of the Albertine Graben which has been explored," Sebikari said.
She added that of the 40% explored area, the area under license is about 10%.
"Much of the area is still unlicensed. So, what Government is doing through the Ministry of Energy is attracting [more] companies to come and undertake more work to see if we can get additional resources (oil)," she said.
Sebikari says there are two companies currently doing exploration work. One of them is Oranto Petroleum International that is working in Ngassa which had a discovery that was operated by Tullow but the period expired for their license before they had done all the work, forcing Government to re-license it to Oranto petroleum.
Armour Energy from Australia is also carrying out exploration to discover more oil in Kanywataba area located in Ntoroko district.
It should be recalled that Energy Ministry announced the second licensing round in 2019 before the COVID-19 pandemic hit the world. There are five blocks on offer including Avivi in Arua, Omuka in Nebbi, Kasuruban located between Buliisa and Packwach, Turaco in Ntoroko District and Ngaji stretching along the borders of Bushenyi, Rubirizi and Ntungamo.
According to Sebikari, negotiations are in the final stages with two companies; Uganda National Oil Company (UNOC) for Kasuruban  and DGR Global for Turaco.
CNOOC Intensifies Works on Kingfisher
Zakalia Lubega, the Head of Corporate Affairs at CNOOC Uganda said that land acquisition for Kingfisher is 99% complete and most of the Project Affected Persons (PAPs) have been compensated, paving way for serious construction works.
Kingfisher which is located on the shores of Lake Albert in Kikuube district will produce 40,000 barrels of oil per day at peak, while the Tilenga project which is managed by TotalEnergies EP Uganda will produce 190,000 barrels per day.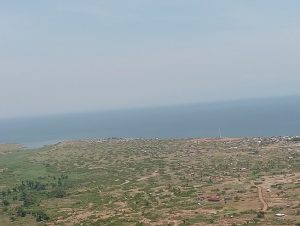 It is worth noting that the oil projects are managed by joint venture partners including TotalEnergies EP Uganda with 56.67% shareholding, CNOOC Uganda 28.33% and UNOC with 15%.
Lubega says the project is expected to offer 2,726 direct jobs and that 70% of the jobs will go to Ugandans. The Kingfisher project is worth US$1.8bn.
Trucks for Excel Construction Limited, a Ugandan company, which scooped the US$23.2m (UShs81.9bn) PC1 deal for the Kingfisher Development Project in February this year, are seen busy moving the equipment as work to construct the well pads, access roads, and water intake points intensifies.
Lubega says Kingfisher will have four oil well pads from 31 oil wells.
Just like Tilenga, Kingfisher will also have a Central Processing Facility (CPF) where oil will be collected through flow lines. At  the CPF, cleaning of oil will take place; oil will be separated from the gas, water, sand and other solids.
The oil will then be transported through a 46.7km feeder pipeline to the refinery in Kabaale, Hoima.
From Kabaale, the crude will be processed to the international market level ready for transportation through the East African Crude Oil Pipeline (EACOP) to Tanga in Tanzania.
Lubega says besides the CPF, CNOOC is setting up a number of critical facilities as Uganda moves closer to her first oil expected by 2025.
CNOOC has already set up a drilling camp that is currently accommodating a number of workers.
A truck buffer yard that will store the equipment for the Central Processing Facility is also already in place.
CNOOC will also have a supply base, a permanent camp and the safety check station at the top of the escarpment.
Currently, PCI works are at 18.55% completion rate.
Lubega says the Kingfisher oilfield will be ready for startup by the end of 2024.
"That means we should be able to realize first oil by the end of 2024 but this is a joint development," he said, adding that the EACOP project will be ready by mid 2025 and that's when the first shipment of oil is expected to be undertaken.
Lubega adds that there was an environment and social impact assessment undertaken for the Kingfisher project and the certificate was issued in March 2020.
Besides the certificate, he says the Company does everything possible to meet its environment and social related obligations.