"When I was young, I always knew I wanted to be a doctor but alas life doesn't always move as we plan it. In primary six, I lost both my parents and that's when everything started to go uphill. I struggled for the next couple of years without having a clear vision of how my life would turn out. I had to drop out of school because there was no one willing to support me through school," Says Nakaye Romeo.
Romeo's case is not isolated as there are many girls who have faced similar situations or worse. Without an education or any special skills to earn a living, most girls find themselves in a path of destruction as sometimes they resort to prostitution, early marriage and other behavior that may jeopardize their future. Every Girl deserves control over their future, this is only possible if they are economically empowered in order to chase after their dreams.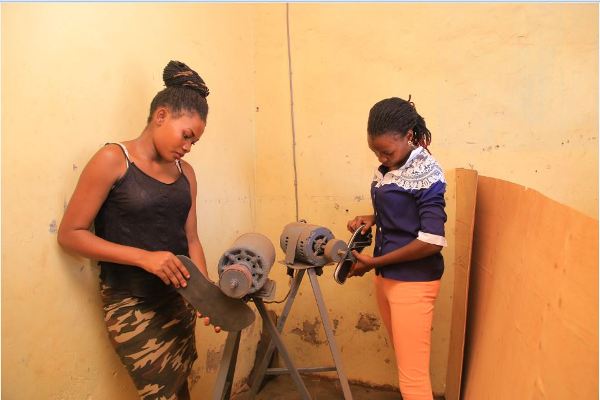 In 2017, Romeo came across Skilling of the Girl Child Program, an initiative of the president to empower girls with hands-on skills to make an honest living for themselves. "When I heard about the program at church, I realized I had to take advantage of this opportunity. I went to Wandegeya Centre and signed up for shoe-making. I am happy that I have found a purpose and a direction for my life, before I was just wandering through life being tossed by the wind to any direction".
Despite life not turning out the way she envisaged it, she is happy with the fact that she is in charge of her life now.
After six months of vigorous training, she graduated and was given capital of UGX1,000,000 and a shoe making machine. Romeo decided to partner with Primrose a friend she met at the centre and they opened up a workshop where they make and sell their products at Masanafu in the outskirts of Kampala. In a month, the dual is able to earn UGX500, 000 that they use to sustain themselves.
Both girls want to grow their business to a point whereby they are able to employ others and teach other girls to learn their trade.
Primrose's story is no different from Romeo's, both girls are in the same age bracket 21 & 24 full of passion and determination to put the skills they acquired to work.
Primrose dropped out of school after her senior four due to financial constraints. Having this business has renewed her hope to be successful in life.
Skilling the Girl Child Program continues to change the lives of different girls with different stories. So far the centres have increased to 7 with a recent addition at Katanga. Over 5,000 girls have benefited from the program.
The program is also venturing out to empower the boy child and so far has established 3 centres in different areas of Kampala.