Standard Chartered Bank Uganda Ltd (StanChart) has overcome the economic headwinds in 2016 to post an impressive Shs112.1bn net profit, up from Shs28.3bn recorded in 2016. This represents 296.1% growth.
According to the bank's audited financial results for the year ended December 2016 released on Thursday, customer deposits increased by 8% to Shs1.9trn in 2016, up from Shs1.8trn in 2015.
In a statement, Albert Saltson, the StanChart Chief Executive Director, who replaced Herman Kasekende early this year, attributed the great comeback to substantial changes in strategy, deposit mobilization on products that give them competitive edge and increased focus on recoveries.
"We continued to take bold measures to simplify our organization structure by stripping out inefficiencies and shifting greater accountability towards performance.
We have made significant progress in executing our strategy, creating a bank that will generate improved financial performance following from our improved cost efficiency, tightened risk controls and focus on our many advantages," Saltson said.
StanChart's total income increased to Shs486.7bn in 2016, up from Shs419.1bn in 2015. Positively also, the bank saw its total expenditure reduce to Shs357.2bn in 2016, down from Shs378.9bn in 2015.
Total assets grew by 10% to Shs2.7trn in 2016, up from Shs2.6trn in 2015.
As the bank focused on recovering loans, it also remained cautious towards lending. Loans advanced to customers reduced by 7% to Shs1.2trn in 2016, down from Shs1.3trn in 2015.
However, Non-Performing Loans (NPLs) still remained significantly high.
The bank's NPLs reduced slightly to Shs112.1bn in 2016, down from Shs113.9bn recorded in 2015.
On a positive note though, the bank's shareholder's equity increased by 22% to Shs542bn in 2016, up from Shs442bn in 2015.
This impressive recovery can be attributed to Kasekende, who was early this year moved to Standard Chartered Bank Zambia as CEO and Managing Director.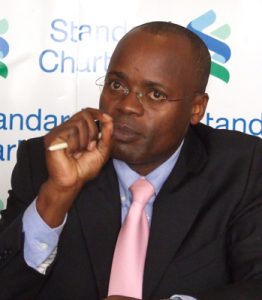 Commenting on the bank's outlook, Saltson said: "We have a clear strategy. We are investing in our business and employing experienced people. There's no doubt that we will continue to change with the changes in our environment and technology will continue to change the way banks work and compete. Yet by sticking, by staying true to our culture, and by innovating and adapting, we will continue to be successful."
He added: "The actions we took in 2016, are us fitter, nimbler and better able to find and execute the various opportunities that come our way. We are now better positioned to weather these challenges. Having worked hard last year to secure our foundations, we are now building deliberately and patiently to deliver safe business growth."