Minister for Kampala, Misi Kabanda (3rd Right) and Sarah Kagingo (2nd Right) visiting Hot Loaf Bakery at the Women's Day Katale.
 On March 10th and 11th, 2023, the Private Sector Foundation Uganda (PSFU) in partnership with Mastercard Foundation hosted the second annual Women's Day Katale at the UMA multi-purpose hall in Kampala. The event brought together over 250 exhibitors to showcase their businesses and honor the accomplishments of women entrepreneurs in Uganda.
During the opening ceremony, Hon Misi Kabanda, Minister for Kampala and Metropolitan Affairs in her keynote speech stressed the value of investing in innovation, technology, and the skill-building of women entrepreneurs to aid in the sustainability of women-owned businesses. The Minister also emphasized the significance of gender parity and women's access to equal opportunities in the business world.
"Gender equality has been the subject of numerous campaigns. Although women now make up a significant portion of the economic sector, their enterprises still operate at a subsistence level with low production and profitability. There is a need to investigate and provide female entrepreneurs with the tools they need to succeed like their male counterparts," said Kabanda.
She further added that by giving women entrepreneurs the tools and training they need to succeed, we can help to build a more inclusive and prosperous economy for all Ugandans.
"I pledge on behalf of the government to work with all stakeholders to create an environment that is conducive to women's and girls' economic empowerment. This entails, among other things, developing and implementing more policies and initiatives that encourage the expansion and development of enterprises owned by women and girls," she added.
This sentiment was re-echoed by the organizers of the event, who stressed the importance of providing women entrepreneurs with the resources they need to succeed.
"Empowering women entrepreneurs is not only the right thing to do, but it's also smart business. Women-led businesses contribute significantly to the economy. That is to say about 40%. We need to support and enable them to reach their full potential," said Mr. Stephen Asiimwe, CEO of PSFU.
Additionally, Mr. Adrian Bukenya, Country Head of Mastercard Foundation said that the foundation celebrates women and girls as well as partners who challenge the status quo and break down barriers that keep women from achieving their full potential. He also applauded PSFU for initiatives like "Katale" that empower women and girls. "Initiatives such as "Katale" contribute to accelerating women's journey towards economic empowerment. In reference to last year' Katale, I am excited to see a bigger and better Katale this year," he said.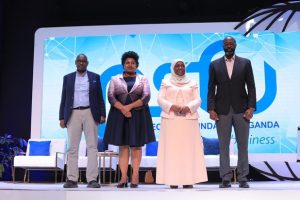 The Women's Day Katale gave female business owners a chance to connect with one another, exchange knowledge, and showcase their products and services to prospective clients and investors.
"This is an excellent platform to network, learn, and showcase our products and services to potential clients and partners. I am impressed by the number of attendees who came to the event, as well as the diversity of the exhibitors," said Ms. Stella from the-accessoryalleyUg.
Other exhibitors acknowledged their appreciation for the chance to participate and voiced a desire for more occasions of this nature in the future. "I want to thank PSFU and everyone involved for their hard work and dedication in making this event a success. I look forward to future opportunities to collaborate and support each other in our entrepreneurial endeavors," said Ms. Apio Oliver from KawaCom.
Exhibitors ranged from small businesses to larger enterprises, representing a diverse range of industries, including agriculture, fashion, and technology. These include among others;–Hot Loaf Bakery Ltd, Bird Uganda Safaris, MacDough Foods, Abbas Chicken, Iganga Municipal Council Emyooga Tailoring Sacco, New Man's Food LTD, KawaCom, Crafts with Lizzy, Yalelo.
The event also featured business clinics, where entrepreneurs could receive one-on-one advice on a variety of topics, including business management, financial management, marketing, and access to finance among others. For many of the women who attended, these clinics were an invaluable resource. They provided them with the skills and knowledge necessary to thrive in today's cutthroat business environment. The clinics were led by experts in their respective fields and provided a platform for women entrepreneurs to ask questions and learn from each other. They include;
One-Stop-Centre facilitated by URA, URSB, UNBS, and Opportunity Bank designed to offer financial skills, business development, tax education, access to finance, and business registration among others.
Beauty clinic facilitated by Movit Uganda designed to help clients feel confident.
The Boss Babe Business clinic facilitated by Claire Muhire designed to offer insights on entrepreneurship, leadership, personal branding, and business growth strategies for female entrepreneurs.
Creative Business Clinic facilitated by Zeus the Agency designed to offer branding and design, digital marketing, innovation consulting, and creativity to help businesses unlock their potential and thrive in the increasingly competitive marketplace.
Tech Clinic facilitated by SafeBoda designed to offer safe boda app, safety features, digital payments, customer support, and social impact initiatives.
PSFU Women's Day Katale 2023 was attended by about 2,500-3,000 walk-in participants from various sectors, including the government, private sector, civil society, and academia. The event provided a platform for dialogue and collaboration toward achieving gender equality in business.
It is without a doubt that, the second annual Women's Day Katale was a resounding success, giving female entrepreneurs a platform to showcase their businesses, network with like-minded people, and gain valuable insights and advice. The event also demonstrates how women-owned enterprises have the power to spur economic expansion and bring about significant societal change. With continued support and investment, these enterprises are poised to make an even greater impact in the years to come.