The National Planning Authority (NPA) Executive Director, Dr. Joseph Muvawala has commended the International University of East Africa (IUEA) for its innovation and invention.
Muvawala, who is also the Busoga Kingdom Prime Minister made the remarks during his official visit to the university on Wednesday.
Led by the acting Vice-Chancellor of the University, Prof. Dawoud Shenouda Dawoud, Muvawala was briefed about innovations the university has undertaken in the last six years.
"Our University has one of the best programs that pass the African education standards. We have a fully stocked library, world class laboratories and above all the best, motivated and willing staff. We are not yet at the top but we are going and very soon we shall be there," Dawoud said.
The Dean of Science & Technology, Dr. Emeka Akaezuwa said  IUEA is looking at going beyond Africa.
"IUEA is rooted deeply in Science, Technology and Innovation. We produce students who are practical about problem solving as soon as they enter the job world," Emeka said.
He added that IUEA's faculty of law will start operations very soon. This is in addition to the state of the art science equipment from Germany that have been stocked in the science laboratories.
In his speech, Muvawala said that he was humbled with what is taking place at this young university.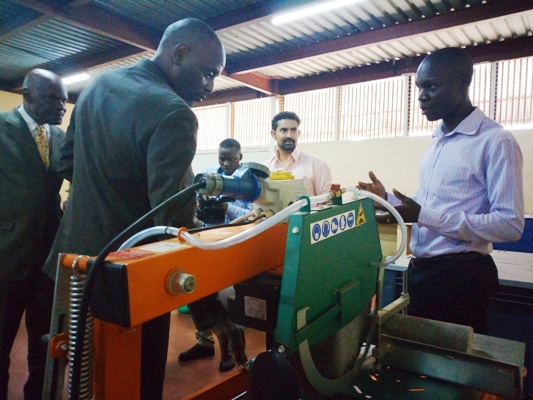 "I am aware that there are so many universities producing students not relevant in the job market. I am so pleased that IUEA has decided to take a different path to help the graduates easily catch up with the world," Muvawala said.
As Busoga Kingdom Premier (Katuukiro), Muvawala thanked IUEA for the educational support they have offered to the kingdom. "IUEA is the first university that gave Busoga Kingdom university bursaries to students who had no future. On behalf of the kingdom, I can't stop thanking you," he said.
According to Muvawala, this visit was aimed at verifying the university where his subjects are studying from and further cementing the education relationship between the kingdom and IUEA.
The University  offered full scholarships to five students including Nicholas Isabirye (procurement), Fahad Bakaki (Environmental Science), Salaam Mukyala (I.T), Faridah Nanteza and Adram Wokowera (both Civil Engineering). These are in their 2nd year.