The authorities at both Ministry of Justice and Uganda judiciary are investigating how what is considered to be a forged court order came to be served unto the Attorney General (William Byaruhanga) chambers claiming to be a genuine court document whereas not.
Very reliable ministry of justice sources have showed that insiders are being investigated as well to see if any of them knew something about the forged court documents and went ahead to receive it as genuine.
Reliable sources have now connected this false document to the battle at the Health Service Commission and Nakasero based Ministry of Health.
It's not clear who benefits from this or is behind it but what we are clear about is that the fight is about the position of Director General (DG) which the IGG, Irene Mulyagonja investigated and gave guidance on how to solve the impasse.
Matters concerning forgery can lead to police investigations and criminal prosecution.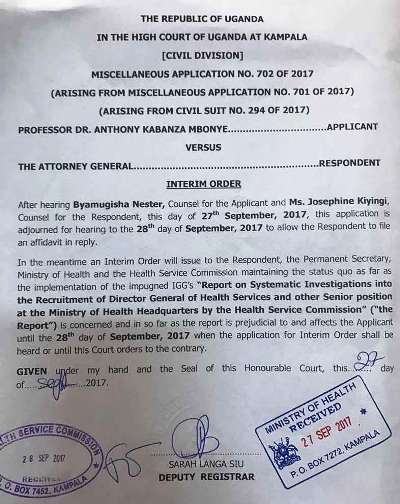 Just take a look at the two court orders that have become source of confusion in the judiciary, ministry of justice and the AG's office.
For more info or feedback on the war at Ministry of Health, contact: 0775170346