Kenyan opposition figure Miguna Miguna says he was beaten and drugged before being forcibly removed from the country for a second time, the BBC reports.
The deportation came hours after a court held top officials in contempt for failing to release him from the airport where he was being held.
Kenyan officials have argued the lawyer – who holds dual Canadian nationality – is not a citizen.
But Mr Miguna, who was flown to Dubai, says their motives are political.
He has now appealed for help through his social media accounts.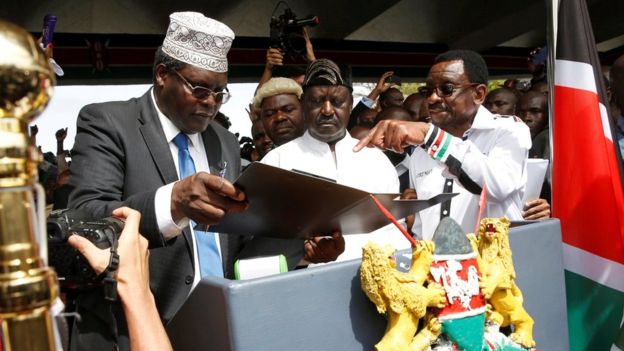 "I was dragged, assaulted, drugged and forcefully flown to Dubai," Mr Miguna wrote in a Facebook post on Thursday.
"I woke up in Dubai and the despots are here insisting that I must travel on to London."
He added he was being threatened, and wanted to fly to Nairobi and "nowhere else".
"I'm sick. My ribs and body is hurting all over. This is a travesty of justice," he wrote.
The interior ministry is expected to release a statement shortly, news agency Reuters reported.
A much larger fight
Amid the confusion over the precise details of Miguna Miguna's status as a Kenyan citizen there's a bigger issue – the conflict between the Kenyan government and the judiciary.
Since a mock swearing-in of Raila Odinga as "people's president" in February, government officials have refused to implement a number of court decisions.
When TV and radio stations were taken off air for showing an event widely seen as an opposition publicity stunt, a court order to allow them to broadcast was ignored.
Then Mr Miguna was deported despite a High Court decision he should be released.
The chief justice, David Maraga, criticised the government, saying: "Disobeying court orders is inimical to the rule of law."
The government claims it tried to obey the court by providing Mr Miguna with paperwork to reinstate his passport, but says he refused. The courts say he should have been allowed to enter the country.
But by convicting the interior minister, inspector general of police and head of immigration for contempt of court, high court judge Justice George Odunga has raised the stakes.
President Kenyatta and opposition leader Raila Odinga have apparently done a secret political deal – how that affects Mr Miguna's case will be an indicator of the state of the opposition.
The vocal opposition figure was first deported in February after taking part in the mock inauguration of opposition leader Raila Odinga as the "people's president".
He disputes President Uhuru Kenyatta's victory in last year's election.
Authorities said Mr Miguna only held Canadian citizenship, and took away his Kenyan passport.
He tried to re-enter the country on Monday, but was held in Jomo Kenyatta Airport in Nairobi after trying to gain entry with his Kenyan ID card.
Footage of security guards manhandling Mr Miguna as they tried to force him onto a plane the same day went viral, while a number of journalists covering the story were allegedly assaulted.
Mr Miguna told the BBC's Focus on Africa earlier on Wednesday that he was being held in a toilet, and his family had been denied access to see him. These, along with his other allegations, were denied by an MP from the governing Jubilee Party.
"I am telling the world nobody should believe anything which comes from Miguna Miguna – he is a man who will make all manner of allegations," Kimani Ichung'wah, told the BBC's Newsday.
On Wednesday, Kenyan High Court judge George Odunga said the country's interior minister, the head of police and head of immigration would be in contempt of court if they failed to release him from custody.