Makara says his stainless steel tanks are of high quality
Brighton Makara is a Ugandan youth who is passionate about the environment. His dream is to see as many Ugandans as possible using environmentally friendly items. It's against this background that he ventured into the business of making stainless steel tanks that have many health benefits compared to plastic ones.
Makara is the brain behind Smart Storage Solutions Ltd, the makers of stainless steel tanks under the brand name Green Tanks.
In an exclusive interview with Business Focus at his factory base in Ntinda Industrial Area, Makara, a graduate of Business Administration with a bias in banking and finance from Kampala International University, reveals how the whole idea of making stainless steel tanks started.
"I like traveling. While in Kenya a few years ago, I saw some stainless steel tanks that fascinated me. They added beauty to the buildings. When I returned, I shared the idea of making these tanks with a friend. We started making research on how to make the best stainless steel tanks yet affordable," Makara recalls.
He adds that he's also into rotary that emphasizes protection of environment and use of natural resources sustainably.
"After a thorough research, we concluded that making stainless steel tanks was the way. We mobilized resources and kick-started the project. Stainless steel tanks are recyclable, don't decompose and are environmentally friendly. That's why our tanks are called Green Tanks because green represents the environment," Makara says.
He reveals that the raw materials used to make the tanks are standard (304 SS Grade), thus quality and durability are guaranteed.
He says they started operations in 2019 but have been badly hit by the COVID-19 pandemic considering the fact that the raw materials are imported.
His tanks start from 1000-litre capacity upwards. He also makes customized tanks.
Asked about his production capacity, Makara revealed that they make tanks mainly on orders. He however says, on average he is able to sell 10 tanks in a month.
On the issue of prices, Makara says: "The prices are affordable because our tanks start from Shs480,000 at factory price. The prices depend on the capacity of the tank. We offer the best in terms of quality and prices," he says.
He reveals that their buyers have mainly been shops dealing in plumbing materials, hardware shops, schools and Non-Governmental Organizations (NGOs).
"We are yet to get many hospitals buying stainless steel tanks yet they should be one of our top clients," he says.
Why Stainless Steel Tanks?
Makara says stainless steel tanks are food grade tanks recommended for people dealing in beverages, water and food.
He adds that stainless steel tanks don't allow the growth of algae unlike plastic tanks which contaminates water.
He adds that his stainless steel tanks are easy to clean because they have a wash out option.
"Our tanks are oval shaped at the bottom and the cleaning point is well positioned," he says, adding that stainless steel tanks are more durable than plastic ones.
"It is recommended that you change your plastic tank every two years but stainless steel tanks can serve you for up to 10 years uninterrupted," Makara says.
He adds that stainless steel tanks keep constant body temperature regardless of the weather conditions.
Challenges
Makara says shipping costs are way too high which ultimately affects the prices. This, he says, has been worsened by the COVID-19 pandemic.
"The taxes are quite high. We are young people trying to create employment for fellow youth. Before COVID-19 struck, I had seven people in production and more seven in marketing. All of them were graduates. I now have three people in production. I now do marketing myself using my own tactics. Taxes are so high, so I have to cut costs," Makara says.
He says there are no raw materials for stainless steel tanks in Uganda, therefore the BUBU (Buy Uganda Build Uganda) policy doesn't apply to him.
He however says, the tanks are locally made in Uganda with a major objective of protecting and saving the environment.
"I think people like us deserve incentives because these tanks are not only healthy, but we are saving the environment. Prices can easily come down if taxes of our raw materials are reduced," Makara says.
He adds that product knowledge remains a big challenge for his nascent company.
"People still compare prices of stainless steel tanks with those of plastic ones yet the two are incomparable. They forget the health benefits and the life span of stainless steel tanks," Makara says.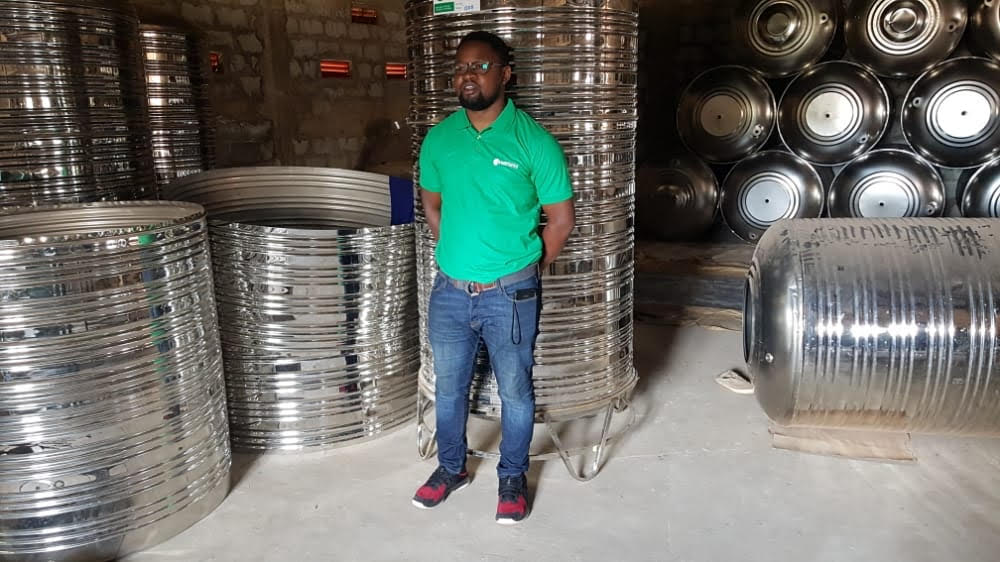 Future Plans
Makara says the company is looking forward to providing water solutions to Ugandans.
"We want to start making affordable water filters to Ugandans. Our people should be able to drink safe water and reduce on water borne diseases," he says.
For comments/inquiries about this story/tanks, contact us via: 0775170346/0703828741. If you have an inspiring entrepreneurship story also contact us using the same contacts above.