Traditional trees species in Kasaija's farm/Taddewo William Senyonyi
A few months ago, two friends and I visited Kisombwa Ranching Scheme Ltd, an expansive modern farm owned by Matia Kasaija, Uganda's Finance Minister.
It is located about 170km, West of Kampala in Kitenga Sub-County in Mubende District. We were directed by bodaboda riders and bystanders to get to the farm, which many described as 'popular.'
The farm was founded in 1978, implying that it has been in existence for slightly over four decades.
The purpose of our visit was to pick a Boer buck to improve on my local and cross breeds at my farm in Kakumiro district.
Although I had already made research about goat rearing business, as an inquisitive farming journalist, I asked Kasaija's workers several questions.
I also observed a lot of things at the farm. I learnt that the farm sits on about six square miles of land. It has a huge dam that ensures water supply throughout the year.
The farm is so big so much that we got lost while inside it!
At the time of our visit, the farm had about 700 goats (we were told they had reduced and were only selling bucks at the time).
It also had over 1,000 Boran cows (they are good for beef). The farm also has several hectares of eucalyptus and pine trees. They also grow maize on a large scale and pasture among others.
I was fascinated by so many things at this farm, but I will share key ones so that you may borrow a leaf to improve your farm operations.
Setting the price
At Kasaija's farm, prices are standard. Whereas many farmers are price takers, Kasaija determines the price at which he sells his products/animals.
There's no room for negotiation. For example, his bucks attract different prices; Shs500,000, Shs700,000 and Shs1m depending on the breed and gene percentage.
If you choose one of Shs1m, that's what you must pay. Additionally, we were told most of his farm products including goats and cows are sold abroad.
Smart governance
This is perhaps the biggest lesson farmers -whether small or big should emulate from Kasaija's farm. The farm has strong systems of record keeping so much that it's hard to steal from the farm.
Firstly, they don't receive cash. Before you go to pick your goats or cows, you must pay the agreed amount in the bank. The farm is hardly accessed by people not on appointment. For our case, the bank slip was our entry ticket. The security man (askari) asked us how he could be of help to us. I told him of how we had come to pick a goat we had paid for. He asked for the bank slip before letting us in. He recorded details about me and the vehicle. This was key for me because you are denying human beings an opportunity to 'touch' the money. Additionally, you can't conspire with workers to steal the farm. For example, you can't pay for a goat of Shs500,000 and compromise workers to give you a superior one of Shs1m. This is because the goats are marked with unique tags. If a worker is compromised, then you risk being arrested by the askari while checking out. He ensures that you've taken a goat/cow that you paid for. That's the power of strong systems and record keeping.
Environmental concerns
We visited the farm during the dry spell. However, we were shocked to find the farm's grazing area not only green but with enough pastures.
The secret to this is traditional tree species which I last saw in my home area when I was growing up, looking after animals.
Trees have since been cut due to population pressure. Trees at Kasaija's farm not only provide the shade to his animals during the dry spell, but they also provide cover to the pastures. They make the farm beautiful! Farmers should therefore endeavour to preserve trees/forests and plant traditional tree species around their farms.
Access roads, costs and structures
Every corner of the farm is easily accessible with good murram roads. Kasaija beats most farms that I have visited before on this.
Farming, like any other business, requires cost-cutting in order to make decent profit. This is what Kasaija does best. We only saw one 'modern' house for goats. We were told it houses pure Boer goats (those whose gene percentage is above 90%) because they need extra care.
Most of his structures for goats are constructed on anthills. Equipped with metallic poles, chain-link and iron sheets, Kasaija is able to have a house for goats.
"Goats like anthills because they are raised; the iron sheets provide them with the shad and when they want sunshine, they go to the playing area that is protected by the chain-link," one of the staff said.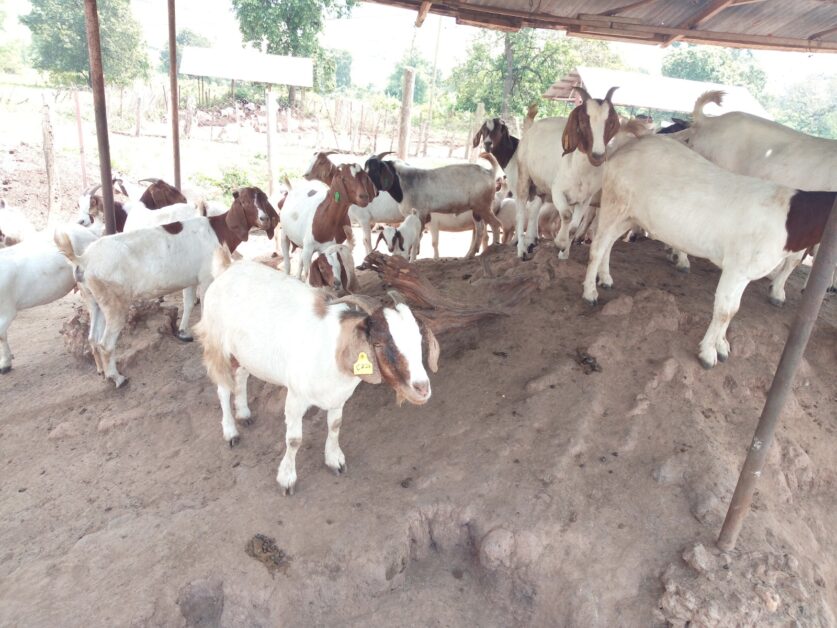 Kasaija also has good houses for his workers including top management. It's surely a good farm for agri-tourism.
Sustainability
Over the years, Kasaija has built a strong system to ensure that the farm thrives even when he's not around. I was told his son is in charge of the day-today operations of the farm. He is assisted by professional section heads. For example, the person in charge of goats is a professional veterinary person.
This helps in cutting costs as many of the diseases are prevented. If they attack, he knows what to do.
I'm sure, you have picked a thing or two that will help you improve your farm operations for better results.
The author is a farming journalist and Managing Director at Pearl Model Farm & Agric-Consult Ltd. Twitter: @TaddewoS @PearlFarmsUg @BusinessFocusug, Tel: 0775170346