Tumusiime during Friday's graduation ceremony
Patrick Tumusiime Kamulegeya ,55, a former taxi driver on Friday February 17, 2023 graduated with a Master's Degree in Clinical Psychology during Makerere University's 73rd graduation ceremony.
After 23 three years out of school, Tumusiime decided to advance his education in 2012 with the aim of solving some of challenges the society is facing.
He graduated with a Bachelor's Degree in Guidance and Counseling from Ndejje University on 13th October 2017. Earlier, he held a diploma in guidance and counseling of Uganda Martyrs University having graduated on April 22, 2016.
The story of Tumusiime, who has been in transport business for many years including being a taxi driver, is quite inspiring and full of lessons for everyone especially those who keep postponing going back to school to pursue their dreams.
Although his fortunes and career have since changed, some people still refer to him as a 'taxi driver'.
Before joining the transport business, Tumusiime was a professional Primary School Teacher.
"I am therefore a teacher by profession, a counselor, researcher and a clinical psychologist. I hold also hold a certificate in acceptance and commitment therapy from United States of America (online)," Tumusiime says in an interview with Business Focus.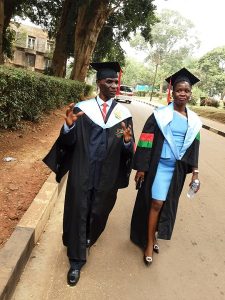 On what inspired him to go back to school despite being generally successful financially, Tumusiime says: "I also thought I was successful, but later on discovered that success without value was nothing in life.  I then made a choice to go back for studies to add value to my success. This is because "its choice but not chance that determines one's destiny". But most importantly, like the old adage, a fruit doesn't fall far away from its tree, I was inspired by my brothers and sisters of whom more than ten of them hold Master's degrees; one has PhD and more than twenty post graduate Diplomas, ordinary Diplomas and several certificates. This made me feel odd man out of the family, thus fueling me to further my studies. I had to further my studies seeking for new ideas other than claiming new resources in order to visualize and actualize my capabilities so as to make my dreams and realities come true. I aimed at fitting in the family and society, being a role model, inspiring the younger generation, impacting society, bettering my life, acquiring more skills not only knowledge, but above all to satisfy the desires of my heart."
On the key lessons he has learnt since he decided to go back to school, Tumusiime says: "At any given time or age, you can still achieve your heart's desires, you can be even more useful and contribute to your children, family, community, country and the entire globe. And like the saying goes 'respect is owned but not given', I have indeed lived to witness myself owning respect as a mental health consultant despite the decades I have lived like a common person."
ALSO READ:
Meet 54-Year-Old Focused Taxi Driver Pursuing Masters Degree With Ambition To Transform Society
He adds that he has saved and changed many lives of vulnerable persons in the field of mental health.
"I intend to use the knowledge I have acquired in the field of mental health to benefit myself and the country by genuinely offering the best services through conducting mental health outreaches, workshops, seminars and training more clinical psychologists as a way of reducing etiologies of mental illness among our communities," he says.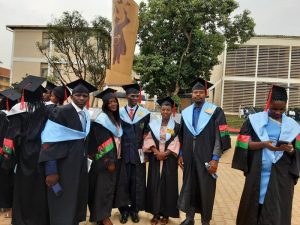 He also plans to enroll for a degree of philosophy in psychology majoring on child and adolescents mental disorders "since they are the most affected yet they are the future leaders."
Tumusiime, who has also educated his children, has priceless advice for people who keep postponing going back to school.
"To the people who keep consoling themselves that 'I am aged, let me educate the younger ones', those are defense mechanisms; you should learn to to love yourself before you love others, the most precious thing of all is dying after achieving the desires and dreams of your heart."
He adds: "The most difficult yet manageable thing in life is making a first step (decision making). The day I took that step to register for UACE (Uganda Advanced Certificate of Education) as a private candidate, my life changed in many aspects, the  way I think, reason and interpret things has turned me into a role model and an inspiration to many people who admire my levels of resilience and commitment which has totally changed my status and life at large."