Uganda's kickboxing champion Moses Golola excited female MPs after he (Golola) appeared in Parliament's gallery during today's sitting.
Excited to see Golola, Franca Akello (Agago Woman) wondered if it was safe for female MPs to attend to Parliament business with Golola seated in the gallery yet he had earlier bragged about being the only man capable of making a woman become pregnant by merely looking at him.
While fighting to hold back her laughter, Akello said, "I wonder whether we aren't at risk."
In response, Kadaga who was taken by laughter cautioned the female MPs not to ogle at Golola who was dressed in a vest saying, "What I can advise is that ladies shouldn't look at him."
Golola had earlier paid a courtesy call to Deputy Speaker Jacob Oulanyah, who congratulated World Kickboxing Federation Champion Golola following his defeat of Umar Semata in the Century Fight in which he used the moment to present his championship belt to the Deputy Speaker this morning.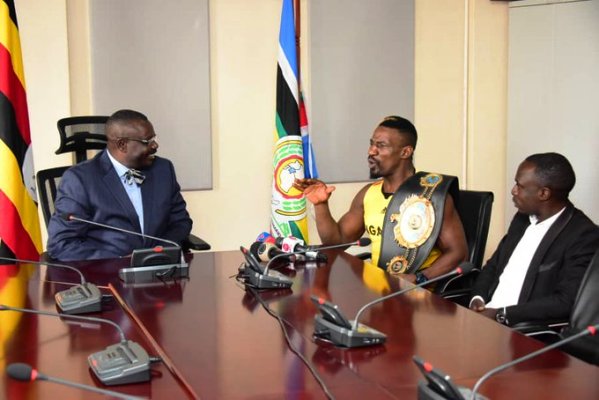 Oulanyah pledged to work with Golola to realise his dream of building Golola Talent Academy with a state of the art fitness centre that will train young talent in professional kickboxing and self-defence.