In 2007, dfcu, one of Uganda's largest banks by assets launched the Women in Business programme. The programme has since grown to touch the lives of thousands of women entrepreneurs in various fields.
In an exclusive interview with Business Focus, Victoria Byenkya (in featured photo), the Manager for the programme revealed how it is empowering women to grow their businesses. She says she wants dfcu to become a leading bank in empowering women in business.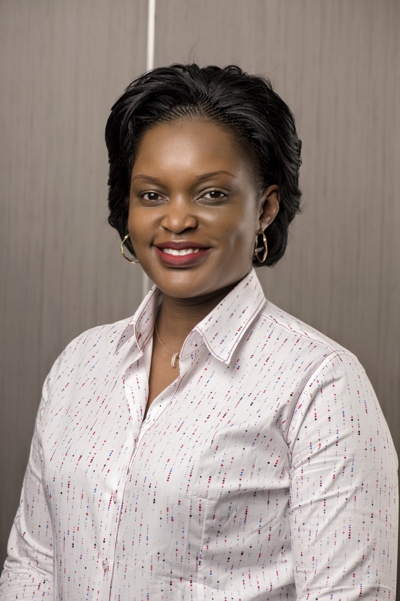 Below are the excerpts of the interview;
Q: Briefly, tell me what motivated dfcu to start the Women in Business (WiB) programme?
A: In 2007, the Bank, with support from the International Finance Corporation (IFC) started this Programme to create an enabling environment for women entrepreneurs to thrive by supporting them with additional financial support, networking opportunities, training, preferential borrowing rates and mentorship to foster business growth. We wanted to help women entrepreneurs professionalize and grow their businesses sustainably by up skilling them.
Q: What does it take for one to join this programme?
A: It is quite simple; open account with us and inform a branch team that you want to join the programme. It is free of charge to join the programme and all trainings and mentorship are free.
Q: The Programme has been running for now 12 years. What key milestones has it registered?
A: We have been able to help women in business realize their potential. The programme has a registered number of women in business of up to 250, 000 of which 40,000 have attended capacity building sessions. 5,000 of them have been able to access credit from the bank.
The programme is still growing to reach out to more women entrepreneurs across the country.
We have strategic partnerships with other women groups and ambassadors across the country; we train women in different aspects of business monthly. It is interesting to notes that women are making good use of the credit; they are paying back their loans and the loan book is clean. We are also seeing more and more women applying for funds.
Q: Many banks still find agriculture a risky venture. How is this programme helping women agripreneurs?
A: Women form an integral part of agriculture in Africa; they are responsible for 50% of agricultural labour. As a Bank, we have facilities in place to meet the needs of women agripreneurs.
We have a product called 'Save for Loan' where savers get micro loans without the need for collateral; this is particularly important for women who tend to have challenges with collateral. This specific product helps small scale farmers buy seeds and other inputs.
We also have the Agricultural Credit Facility mainly for commercial farmers and those interested in value addition. The interest rate is 12%.
Some of our customers on the Women in Business programme have also benefitted from the Annual Best Farmer competition, where best farmers including women get exposure in best practice from the Netherlands. Upon their return, they share knowledge with others resulting in a trickle-down effect in knowledge.
Q: Business survival remains a big challenge in Uganda. How is this programme helping women entrepreneurs grow their businesses sustainably?
A: A critical aspect of this programme is financial literacy. The Bank has a pool of expert consultants and strategic partners through whom it conducts regular sessions intended to skill women in areas like business management, proposal writing, financial projections and leadership skills among others. Our women in business are in a better position to know how to run a successful business.
All those who have gone through business modules at Makerere University Business School (one of the bank's strategic partner) are at a different level; we have seen women join us with minimal skills but after a while, they are able to interpret financial statements.
Q: The programme focuses on women yet you can't separate them from their families/husbands. How does it cater for the men to avoid conflicts and allow smooth running of business?
A: We are cognizant of the fact unless men are involved in the women empowerment conversation; any efforts in this space are futile. So in our engagements with the women we guide them on how they can involve and get buy in from their husbands/ partners. But we also have sessions where we engage the men in our training sessions so that they have a better appreciation for what the women are doing.
Q: You interact with women entrepreneurs quite often. What unique challenges do they face?
A: Many of them don't have collateral; most of the properties are in shared names and most women don't sign. As a bank, we tell them to professionalize their businesses so that they take loans that don't need collateral.
The cost of capital is another challenge; many of them have brilliant ideas but don't have startup capital and access to capital. Whatever money they have is to sustain them on day to day needs.
There's also negative mindset; many women think big businesses are for men. As a bank, we shall keep pushing; we are not about to stop. Work life balance is another challenge. Sometimes you get pregnant at a time when business wants you most.
Q: You've the Rising Woman Initiative under WiB. Tell us more about it?
A: It is an initiative under the WiB programme. We collaborated with Daily Monitor and Uganda Investment Authority (UIA) to celebrate, mentor and promote a culture of women in business. This was born from the realization that we needed to do more in terms of recognizing the women who had made it against the odds but also have these women take on a mentorship role for others that are at a different part of the entrepreneurship journey. As part of the programme, we run training sessions in the four regions of the country targeting at least 200 women per session tackling business basics, planning and management. We also have a proposal-writing component that sees women submit details about their businesses and enter a competition to win a total of Shs30m in addition to an all-expense paid study trip for the top 10 women. To climax the campaign, we hold an expo that provides a platform to the women to show case their businesses. We had at least 635 women take part in the trainings, 83 participating in the proposal writing and 130 in the Expo that attracted close to 2000 visitors. For 2019, we are currently running the trainings and started with Ishaka after which we head to Mbale, Gulu and then close with Kampala in October. Concurrently, we have made the call for the business proposals and close on 20th September before crowning it with an Awards gala in November. 10 best proposals will be awarded; the top three will win added cash; the top 3 winners will walk away with Shs15 million, Shs10 million and Shs5 million respectively and the top 10 will take part in an all-expenses study tour trip to Nairobi in January 2020.
After the trip, our WiB advisory council shall continue to give all the 10 free advisory and mentorship for a year.
Q: How does UIA help women in business in this partnership?
A: UIA receives foreign investors who don't have local investors to partner/work with (yet it's mandatory). Women entrepreneurs under this programme can be selected to collaborate with them. There are also grants at UIA for women businesses.
Additionally, some women entrepreneurs want to set up small factories; UIA can offer them land in Industrial Parks to set these factories if they meet the requirements. UIA also does a lot of research andis part of our training team.
Q: What's your advice to women entrepreneurs not yet under this programme? What are they missing?
A: Those on the programme are up-skilled in a number of areas including managing people and customer service; they have access to financial consultants, a dedicated relationship manager, and preferential interest rates, local and international linkages/networks.
We have MoUs with MUBS Entrepreneurship Centre where they are trained and graduate with a certificate in Business Management. MUBS follows them to ensure that they have put the acquired skills to good use.
Q: What's your message to upcoming women entrepreneurs?
A: Joining entrepreneurship world is quite intimidating; for those already in it, it's a bit easy. The good news is that startup failure rates are now reducing. Before you join business, know your passion, know your market, have accountability and prepare to make sacrifices; if you don't, you are bound to incur losses.
Q: What's the future outlook for WiB?
A: The reasons for which the programme was started are still relevant. We believe the contribution of women to the economy has been growing over the years. We won't sleep; we shall continue to research and innovate to make it better.
We want to be a preferred women bank in Uganda; we want women in business with challenges to run to us; we want to be a speed dial for them. We want to be the number one programme for the women in business.
I encourage women out there with hindrances and financial constraints to join the programme; we shall help them at no cost to take their businesses to the next level.