Kigoye is earning millions from Vanilla farming
Vanilla has emerged as one of the top lucrative crops not only in Uganda, but globally.
This explains why the Ugandan Government has started setting dates for vanilla harvesting to conform to the international practice.
Vanilla is one of the high value crops grown in 25 districts of Uganda, mainly in Central, Eastern and Western parts of the country. Vanilla is used as a spice ingredient globally. It is also used for several medicinal purposes.
Godfrey Kigoye, an agronomist and a vanilla farmer based in Kyotera explains why farmers should embrace vanilla farming. Kigoye has three and half acres of the cash minting crop.
"Vanilla is a high value crop. Even if prices go down, they can't go below Shs20,000 per kilogram of fresh beans. When you compare it to our leading cash crop coffee, the maximum a kilogram of kiboko ( dry unshelled coffee) goes up to Shs2,500 and under good management, one will get 5-15kgs from a tree," Kigoye says. This means one is expected to earn between Shs12,500-Shs37,500 from a tree during the main season.
He explains that on a mature plant of vanilla (at three years plus), a farmer can get an average of 4kgs of fresh vanilla beans under good management.
"Even if you sell a kg at Shs20,000, you will earn Shs80,000 from a vanilla plant," Kigoye says.
He reveals that due to COVID-19 restrictions and the uncontrolled market, farmers sold a kilogram of fresh vanilla at Shs60,000 during lockdown because some farmers were impatient or didn't bother to add value to it.
"Personally I added value to my vanilla. We call it curing (drying it professionally). From three kilograms of fresh vanilla, I got one kilogram of cured vanilla that I sold at Shs600,000 but this was still on a lower side," he says.
ALSO READ:
How To Earn Over Shs23m From An Acre Of Coffee Annually
10 Profitable Crops That Will Make You Rich In 2018
Lessons For Farmers From Africa's Largest Coffee Plantation
He encourages farmers to embrace vanilla, noting that the crop grows well in shades and therefore can be intercropped with bananas (matooke) and coffee. He says it takes about three years for one to start reaping from the investment.
Starting Out
Kigoye says vanilla grows well in loam topsoil.He explains that vanilla farming requires little capital because one only needs living plants where vanilla will hang as it grows. He says Jatropha tree (commonly known as Ekiryowa in Luganda) is preferred because it matures faster. Each Jatropha tree can cost between Shs500-1000 depending on location. It can also be acquired freely. He adds that one can also plant Ficus natalensis (omutuba) to support Vanilla as it grows.
The roots of vanilla are very susceptible to disturbance. Therefore, animals like pigs and chickens do not mix well with vanilla. Vanilla roots don't extend far from the support species and therefore should be planted nearby.
He explains that a Vanilla cutting (acquired from healthy mature plants) is sold between Shs3000-Shs7000 depending on location. The cuttings should be 1 to 1.5 meters long.
"The longer the cutting, the faster it will produce flowers," he says.
About investment capital needed to grow an acre of vanilla, Kigoye says one will need about 1,000 vanilla vines for an acre. He says he uses 20ft*20ft spacing but plants three vines in one hole (on one Jatropha tree) or 10ft*10ft and plants two vines in each hole.
This means one would require Shs7m to purchase 1000 vines if each is bought at Shs7,000. If each cutting is bought at Shs3000, then Shs3m will be required.
One will also need between 250-500 Jatropha trees which will cost between Shs250,000-Shs500,000.
"The total investment for an acre including manure can go up to Shs10m," he says.
Kigoye encourages small scale farmers to start small and do the right thing as they scale up.
"This is a kind of project that will give you good money at once. This is a crop that has ready market," he says, adding: "Within a short time, you can become a millionaire."
He says if a farmer harvests 2kgs from each vine, he will be able to get 2000kgs of fresh vanilla bean.
"If you sell each kg at Shs80,000, you can earn as high as Shs160m gross profit," he says, adding that the revenue can increase if it is cured.
Management
Kigoye says vanilla benefits greatly from a regular schedule to guide the vines. Once per week the plants should be checked for any vines that are trying to climb high, run along the ground or reaching for other plants, he says.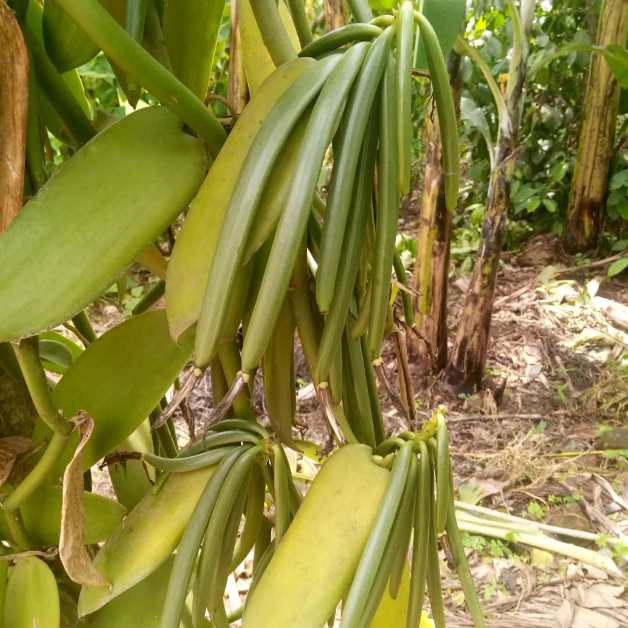 He says these vines need to be tucked back toward the living posts or draped around the branches of the post. The idea is to slowly create a figure eight with the vine, draping it back over itself.
"Vanilla plants won't flower well if they only climb upwards and if they do, the flowers will be out of reach," he says. He adds that pollination of vanilla is done by people using hands.
"During flowering, you need about four workers. Vanilla flowers between August and November and we have two harvesting seasons in a year (June-July and December-January). However, the main season is June-July," he says, adding that the four people can do pollination at Shs400,000 each.
He adds that as vanilla approaches harvesting, a farmer needs to hire guards and the number depends on size of the garden.
"You can spend like Shs5m on security," he says, adding that before COVID-19 farmers sold a kilogram of fresh vanilla beans at Shs300,000.
Market
Kigoye says market for vanilla is readily available.
"I can bet and it's on record that market is available. You can do your own research on international vanilla prices," Kigoye says, adding that according to international prices, a kilogram of cured vanilla has never gone below USD100 (Shs370,000).
"Before you sell your vanilla, look at international prices to get a clear picture. Farmers should also cure their vanilla to get higher prices," he says, adding that he is now training farmers on how to cure/dry vanilla in order to avoid price fluctuation and get better prices.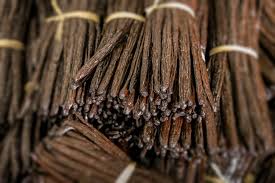 In 2017 and 2018, the major importing countries for Ugandan vanilla included USA, France, United Kingdom, Germany, Japan, Canada, Denmark, Netherlands, Israel, South Africa, Turkey and Hungary.
In 2018, Uganda produced about 300,000Kg of Vanilla and exported 23,000Kg of cured vanilla worth USD 6.40 million.
Challenges
Like another crop, vanilla farming has its unique challenges. According to Kigoye, theft is one of the key challenges.
"It attracts thieves when it is approaching maturity. That's why we hire security people to guard the crop which increases the cost of production," he says, adding that diseases are another challenge yet they must be controlled using organic means.
"Hailstorms are yet another challenge. If it comes, it will hit the vanilla and leave it with spots making it substandard," he says.
He explains that harsh weather conditions including prolonged drought and too much rainfall remain a challenge.
"Vanilla needs moderate weather conditions," he says. He says during drought, vanilla plants can rot and dry, thus leading to losses. He encourages farmers to water the crops during drought.
He adds that maintaining fertility is also a challenge because Jatropha trees compete with vanilla vines for water and other nutrients.
"This requires a farmer to add manure to the plant seasonally," he says, adding that every six months, he adds manure so that the plants grow well and healthy.
Achievements
Apart from earning millions at once, Kigoye says he is known and consulted internationally on matters regarding vanilla farming.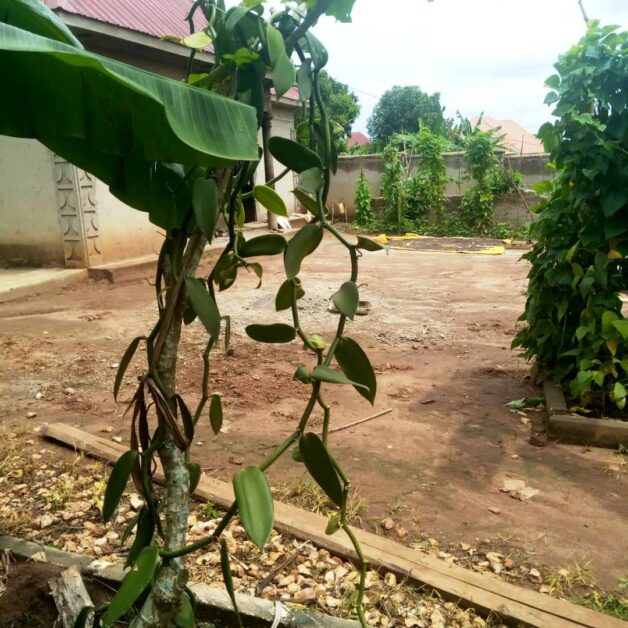 "I have also bought land, built rentals and houses from vanilla earnings," Kigoye says, adding that he also takes his children to good schools and takes care of his family from Vanilla proceeds. He says with money earned from Vanilla, one can venture into other businesses that require huge capital like real estate.
For tips or inquiries on this story, contact: 0775170346/0703828741/ [email protected], Twitter: @BusinessFocusUg, @TaddewoS