Many successful entrepreneurs turn challenges into money minting opportunities.
For Regina Nakayenga, 59, a former lecturer of Microfinance and Entrepreneurship at Kyambogo University, it was menopause that inspired her into business.
She left the University four years ago to start Rena Beverages Limited, a company processing Hibiscus that comprise many medicinal components.
How She Started
In 2009, Nakayenga recalls the dark moments she faced after hitting the menopause stage. During the onset of her menopause, she developed hot flashes—a hormonal imbalance which often sets in when a woman reaches menopause.
Her life was so unbearable with lots of miseries lingering around her. After trying hibiscus juice, she felt stress free; her life was revamped and regained her lost glory.
It's at this moment that Nakayenga thought of making money from hibiscus.
"When I gave it a try, it worked out and I have never looked back," she says, adding:  "As I interacted with consumers during exhibitions, my products were always bought in huge volumes. This gave me strength to continue expanding my business in order to serve my clients."
Starting with Shs50, 000 as start-up capital, Nakayenga recalls starting with small produce of hibiscus flowers and other juice components especially pineapples and passion fruits.
Her business has been growing since so much that now her family is fully involved in the operations of the company.
Being a family business, Nakayenga introduced her children (Dr. Josehph Gyagenda, Juliet Mirembe, Grace Nalukwago, and Regina Nantege) into this business and they equally have shares as directors into her venture. Nakayenga adds that Rena Beverages can now produce over 3000 cartons per month and production capacity can be doubled once there's actual demand from her distributors and clients.
The ever joyous Nakayenga operates the business at home (in a garage sitting on a 25FTx15FT) and employs 12 people so far excluding farmers who supply her.
Located at Masiga Close, Kinawataka Road in Kampala, Rena Beverages Ltd has improved the lives of over 40 hibiscus farmers who supply her with flowers. "Our farmers have never complained about our relationship with them. In fact, we are devising means of making sure they (farmers) can also increase production such that we don't get deficits in supply," she says.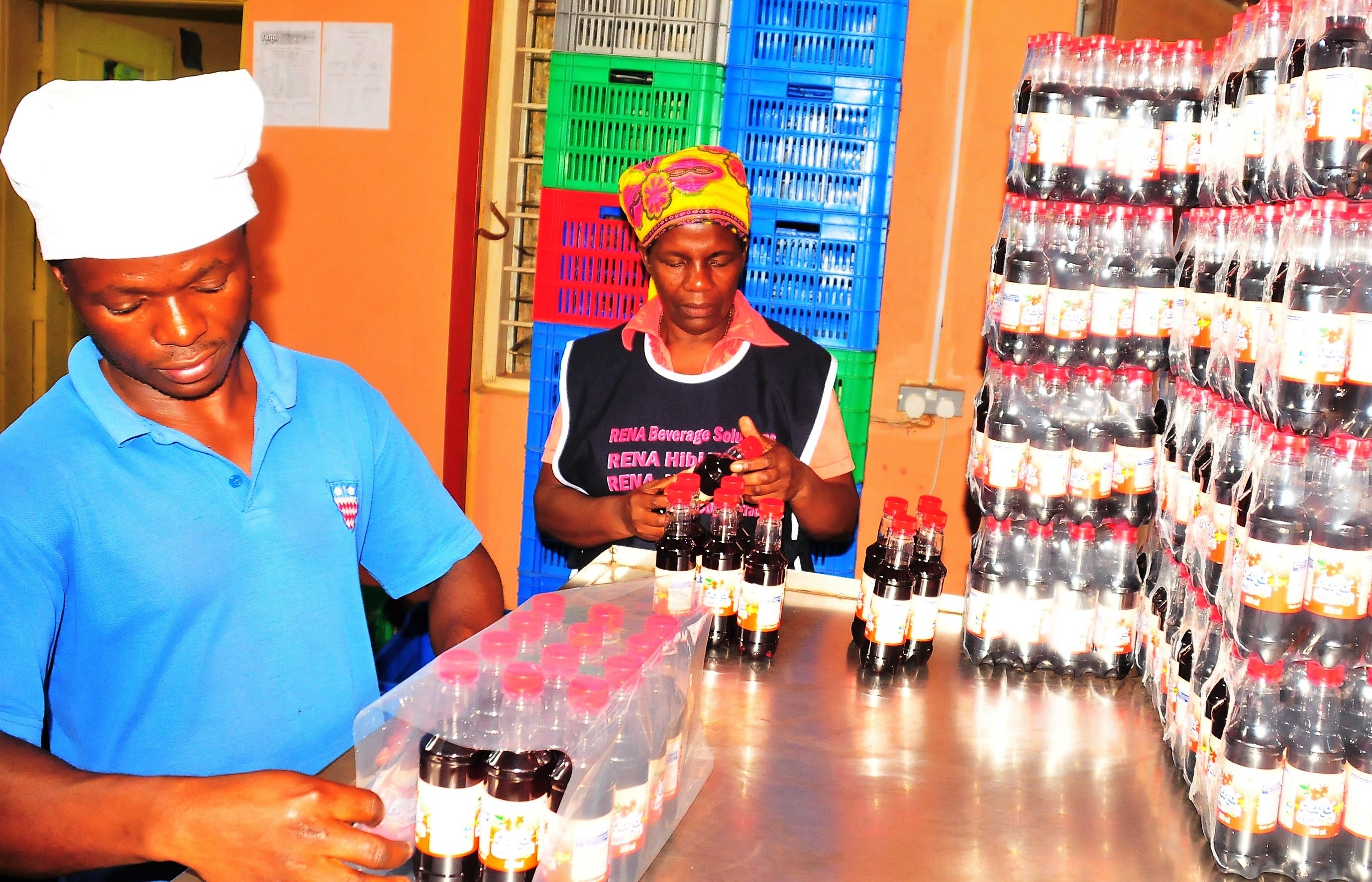 Achievements
Statistics clearly indicate that very few Ugandan businesses celebrate their 5th birthdays. Nakayenga is happy that her business has continued to strengthen every day. Rena Beverages has been able to create a Shs20m capital base from the Shs50, 000 that she started with a few years ago.  "I think having been a business related lecturer; this has helped me understand the dynamics of hibiscus business. I count my success on a number of factors and our product is almost in all major outlets in Kampala," she says. Her interest is to see that Rena brand takes lead in the outskirts of Kampala and other districts. Her work at the moment involves expanding to Masaka, Mbarara, Kasese, Nebbi, Arua, Jinja, Mbale, Lira, Soroti and countryside distributors.
After acquiring the 'S' mark  (Standard Mark) in 2014 from Uganda National Bureau   of Standards (UNBS) which focuses on hygienic and good practices, Nakayenga explains that they were happy to get a 'Q' Mark (Quality Mark) last year.
"This company is lucky to be one of the few certified in beverage industry. Now that we have such marks, we have made more market surveys of hibiscus in Uganda; the results indicate once well handled, the skies shall be a limit for our expansion programs," notes Nakayenga.
Challenges
Nakayenga says many Ugandans are not knowledgeable about the nutritional values of hibiscus. This, she says, at times reduces her sales.
The former lecturer also complains of substandard and counterfeited beverages claiming to be hibiscus yet sold cheaply.
"Selling a new product on the Ugandan market is so hard to be achieved. Many are convinced that Ugandans can't produce quality yet once one passes all tests, the end product is good and consumable," adds Nakayenga.
The Future
Nakayenga explains that her dream is to increase production such that Rena becomes a family name product in Uganda.
Today Nakayenga has expanded her product catalogue starting with Rena Hibi tea (powder from hibiscus flowers) and Rena hibi juice. She processes wine as well plus hibiscus coffee which is full of zinc.
"The future of Rena is brighter because we have tried to minimize all other key hiccups. Ever since I ventured into this business, I have got more exposed and this is a strong factor that has seen us move places," she says, with a beaming face.
Business Advice
Nakayenga advises that anybody intending to venture into business to start small, noting that capital shouldn't be a big issue. The success of any business is about the concept that one develops, she says.
"I advise all intending entrepreneurs to avoid fear and huge capital investments. One is only mandated to be passionate at their work," she says.
Being a professional business consultant, Nakayenga says being passionate makes one to have more commitments and time dedication which are principles for any business to grow and expand.