Dr Masaba is earning big from farming
About 5 years ago, fresh from the medical school and employed as a medical doctor, Dr. Daniel Masaba, had the idea of a side business.
He wasn't sure what it would be. The search for "what" took him to greenhouse farming.
However, an expert he talked to advised him to instead do poultry. That is how Dr. Masaba's poultry journey started.
Today, his hatchery delivers over 120, 000 chicks every week. His farm has over 20, 000 birds and 300 goats and sheep.
Starting up
Dr. Masaba tells YouTuber Wode Maya that he had saved money after months of working as a medical doctor. His saving could only afford to buy 750 birds.
With the blessing of his father's land, he started in 2019 in a semi finished structure.
A year later, he added 2, 000 birds to the farm.
"I have been doing poultry for about 4 years now.I started out with a rather small farm in a half completed building. 750 chicken on land that wasn't my property," he said.
At first, Dr. Masaba said people described him as "crazy."
"When I quit my job, people said I was crazy," he says.
"I knew what I was doing, despite the comments from people," he says, adding: ""The farmers want to go back to school to become doctors and here I am going the other way. I believe I was crazy in my nice way."
He explains that low pay for medical doctors partly contributed to his poultry venture.
"Honestly, what we earn here in Uganda as doctors is not the best. I had bigger mission. While researching, I decided to greenhouse farming but while doing my greenhouse farming, I met an expert who told me to do poultry. In 2019, I decided to put up a chicken structure. I put up a structure on my dad's land and bought my first batch of birds. The first few months were quite tiresome but after that, I got some gist of it. I noticed this thing can actually make money," Dr. Masaba explains.
Dr. Masaba, the Founder  of Farm Up, says quitting medicine was the best decision of his adulthood.
"I feel like this is the best decision of my adult life. To be better and change the world. There is no ceiling. People look at U.S or U.K and everyone get inspired but I feel like anyone can. What they can do, anyone can do. In anything that you do, as long as you made up your mind and heart, it is possible," he says.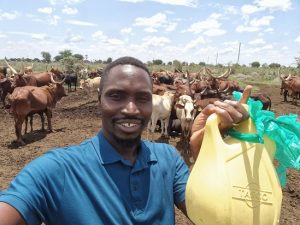 He says that "farming is a way of life" but admits that he left medicine for money.
"It's something I could do forever. Everyone needs food. This is even a bigger impact. In addition to sharing food, we kill animals and go and distribute to the villages on big days; people can feel the impact of having this farm in the area," he adds.
Strict measures
Dr. Masaba went into the poultry business aware of the risks associated with the business.
"Birds die. So, the less number of times people enter here, the less risk of birds catching diseases," Dr. Masaba explains.
He says that systems at his farm are either automated or semi-automated.
For instance, water and feeds are automated. Only when technology fails is when manual systems are required.
Otherwise, he says automation means less contact with the birds.
He says that workers in charge of picking eggs too do not have contact with the birds. The system is semi automated in a sense that birds lay from inside while eggs roll outside the structure.
"Not many people access the structure," he said. The structure is a two-storied one one 100 meters by 100 meters.
To cut costs, Dr. Masaba says that the birds consume over 10 tons of feeds per day.
"We grow our maize. Last season we grew on over 200 hectares," he says, adding: "We make our feeds from here.  We grow as much feeds as possible even for our consumption. We employ over 200 people people. Poultry alone has 100 people. It's expensive. So, we make our own feeds/food."
Today, Farm Up hatches over 120, 000 chicks per week on 400 hectares of land which also has goats, sheep and cattle (150) on top of crops and plants.
Dr. Masaba says that if it was not for poultry, it would have taken him two lifetimes to achieve what he has achieved.
Challenges
The biggest challenge is feed, he says.
"Despite the fact that i grow maize, its little. I need so much maize. That means i need to buy. The cost of the feed can double or triple sometimes. That's the biggest problem. The volatile increase in the price of feeds. It might decrease sales. Even buyers when the price of feeds go up, people don't want to buy," he says, adding that the labor force is challenging too.
"Workers are very complicated as possible. The human resource is very complicated. You train, they disappear, you trust, they steal," he says.
On diseases, he says "I don't allow anyone on this farm because of the risk of diseases."
"Diseases are brought by people. The risk is too high. The need to contain the risk is why I don't allow people here," he adds.
Advice
Dr. Masaba says that the thing about poultry is that "you can start from anywhere."
"It has nothing from where you start from. Have the vision, the right principles, and some amount of resources. I saved what i could while working as a doctor. Work, save money and you will understand the value of that money. You can do anything if you put your mind to it. But, go outside and learn. Get as much information as possible. Be committed, have the desire and push through with it," he says.
While he says that he has heard about the government support towards poultry farmers, he says he would have loved for the support to reach small scale farmers so that he has the market to sell his checks.