Adult HIV prevalence in Uganda is higher among women at 7.5% compared to 4.3% among men, a latest survey about the state of HIV in Uganda indicates.
It was also higher among residents of Urban areas (7.1%) compared to 5.5% in rural areas.
The Uganda Population HIV Impact Assessment (UPHIA) 2016 survey results were released by Health Minister, Dr. Jane Ruth Aceng on Thursday at Uganda Media Centre.
However, the national HIV prevalence has dropped to 6%, from the previous estimates of 7.3%.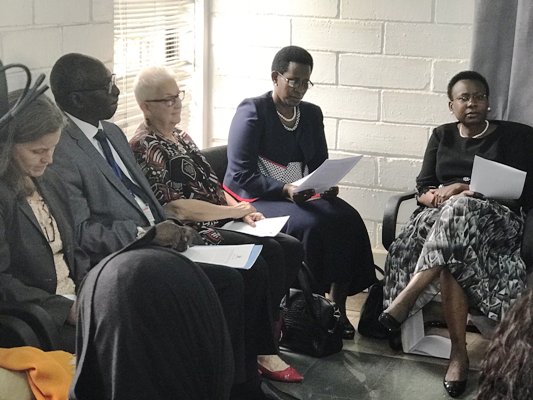 Aceng revealed that the total number of adults and children of all ages living with HIV in Uganda is estimated to be approximately 1.3 million.
Among women, HIV prevalence is highest in the age groups of 35 to 39 years and 45 to 49 years, at 12.9% and 12.8% respectively.
According to the survey which was conducted in all districts of Uganda, HIV prevalence among young people (15 – 24 years) was 2.1% (0.8% in men and 3.3% among women).
Aceng added that almost 60% of people living with HIV have suppressed viral load which means that treatment programs have been generally successful.
"People living with suppressed HIV viral load live longer and have less chances of spreading the virus," Aceng said.
How Regions Compare
According to the survey, the magnitude of HIV varied considerably among the 10 geographic regions in the survey. It was lowest in West Nile at 2.8%, North East region 3.4%, East-Central (for Busoga region) at 4.4%, Mid-East region at 4.8% and Mid-West 5.5%. In Kampala it was 6.6%, Central (Greater Mubende, Luwero and Mukono) at 7.4%, Central Region (Greater Masaka) at 7.6% and 7.7% in South-Western region.
These findings are similar to those of 2011 Uganda AIDS Indicator Survey results that showed Mid-Eastern with the lowest prevalence and Central with the highest estimated HIV prevalence.
Reactions
Deborah Ruth Malac, the US ambassador to Uganda was happy to see a drop in the national HIV prevalence rate.
"HIV prevalence is 6%. Previous estimates put it at 7.3%. We celebrate the drop. It is evidence that our collective efforts and investments are not in vain," Malac said, adding that Ugandan youth especially the girls carry the burden of HIV infections.
"We need to make sure that the successes (in the fight) of Mother to Child transmission are not reversed," she said.
Malac  however said that the burden of HIV infection in the country is still unacceptably high.