Dr. Joseph Muvawala, the Executive Director at the National Planning Authority, speaking to Indian investors
Dr. Joseph Muvawala, the Executive Director at the National Planning Authority (NPA), has urged Indian investors to invest in Uganda, noting that the country is endowed with massive investment opportunities and offers unmatched incentives to investors.
He was speaking as a keynote speaker  at the India-Uganda Trade and Business Forum themed "Opportunities Between Uganda And India: Leveraging The Uganda Airlines" held on Monday October 9, 2023 at St. Regis Hotel, Mumbai.
Muvawala said Uganda provides a number of opportunities to the Indian Government and Indian Investors who are keen on labour and human capital development.
"Particularly, opportunities exist in health, education, apprenticeships, skilling and certification, trained and skilled labour externalization; creation of education hubs, BTVET institutions; and higher education institutions, among others," Muvawala said.
He added that over time, Uganda has enjoyed and continues to assure sustainable peace, security and a stable macroeconomic environment.
"This is characterized by long-term stability in prices. Uganda's economy is among the few countries that remained resilient during and after the COVID-19 pandemic. This environment offers the best confidence indicators for investors. Beyond that, Uganda offers a strong incentive package to investors, including concessions on land, tax, electricity, and other Government-specific support," Muvawala said.
He noted that Uganda has a population estimated at about 48 million people, the majority of whom are young people.
"Uganda is land-linked and has a bigger hinterland of the East African Market that connects to several countries, including Kenya, Rwanda, South Sudan, Tanzania and the Democratic Republic of Congo. The current population estimate for the entire East African Community (EAC) is 285 million people," he said, adding: "This provides a ready market for several ventures that India and the Indians are involved in, ranging from pharmaceuticals, education, health and to technology, especially for the youthful market, among others."
He added that Uganda's population offers an opportunity to invest in the housing industry, with the country having a housing deficit of over 2.2 million housing units.
On agriculture and agro-industry, Muvawala said Uganda is a predominantly agricultural economy, with a bigger part of the population involved in agriculture and with a bigger part of exports (70%) coming from the agricultural sector.
However, he said, there still exist challenges in value-addition.
"This is where the opportunity lies for Indian investors. Investors can exploit several agricultural value chains to their benefit and to the benefit of the Ugandan economy. Value-addition in key growth areas is one of the priority focus areas that the Government of Uganda is looking to harness more. This has a number of positive ripple effects across the economy, including realization of more income per value of produce; more jobs created and forex realized, among others," he said.
He added that Uganda has a wealth of natural endowments and tourism potential that can be exploited by prospective Indian investors.
"Uganda is endowed with unique attractions like mountain gorillas, the Nile River, lakes, proximity to the equator, good weather, rich cultural and historical heritage, and a hospitable population, among others," Muvawala said, adding that Uganda's industrial sector contributes about 27.6 percent to the country's GDP, just above agriculture which contributes 24 percent and way below services, that contributes about 44 percent.
"This contribution is still below the required percentages to cause Uganda's socio-economic transformation," he said.
In terms of manufacturing, he said,  the major industries that are based on processing are mainly from agricultural products like: tea, tobacco, sugar, coffee, cotton, grains, dairy products, and edible oils.
Others include: beer brewing; cement, fertilizers, matches, metal products, paints, shoes, soap, steel, textiles, and motor vehicles.
"There is an opportunity for India and the Indian businessmen to exploit opportunities in these and other sections of the industry that are not fully exploited yet. There specifically exists opportunities in Mining, Oil and gas, especially with Uganda's Oil and Gas Industry," he said.
He explained that Uganda is keen to locally/nationally "replace" (substitute) imports of some commodities that are predominantly imported so that they are produced locally.
"These then become an opportunity for the prospective Indian Investors. These priority commodities (goods and services) for import-replacement were selected based on some or all of the following 10-point criteria, that is: value/volume of imported goods and services; existence of some domestic production capacity; presence of raw materials; technological complexity involved; strategic importance of goods and/or services; high potential for job creation; essential commodity or service; linkages with other sectors or industries; capital requirements; and previous/ongoing Government investment," he explained.
He said some imports though of small value, are essential for the livelihood of Ugandans and are susceptible to disruptions in global value chains, for example, salt and fertilizers among others.
"These are also prioritised in Uganda's Import Replacement Action Plan," he said, adding that based on the 10-point selection criteria, the 14 prioritised commodities (goods and services) for Uganda's import replacement (substitution) are: Petroleum and Petroleum Products; Iron and Steel; Medical and Pharmaceutical Products; Veterinary Drugs; Cereals; Plastics; Vegetable Fats and Oils; Textiles; Salt; Fertilizers; Sugars and Sugar Preparations; Transport Services; Construction Services, packaging, and Medical Services.
He further said that opportunities exist to the Indian Government and investors through provision of affordable and long-term credit for Ugandans and Uganda's development needs.
"Particularly, there exist opportunities in reduction of the cost of capital and Expanding Options for Long-Term Capital. There is need to think of and implement innovative capital and financing mechanisms, including bonds, partnerships and PPPs, among others," he said.
He concluded by urging Indians and Ugandans to take advantage of Uganda Airlines flights to Mumbai and exploit the opportunities in both countries.
"The Uganda Airlines will contribute to harnessing these opportunities mainly through the transportation of the requisite factors of production, raw materials and finished products to and from both Uganda and India," he said.
India-Uganda Relations Excellent
Speaking at the same event, Uganda's High Commissioner to India, Prof. Joyce Kakuramatsi Kikafunda, the bilateral relations between the two countries are excellent.
"This direct flight marks a significant Milestone in Uganda- India Relations. From travel times of 10+ hours, going through capitals of other countries, this flight of about six hours directly from Uganda to India is indeed a true game changer that will boost two way movement of Trade, Investment, imports, Exports, Tourism to see the wonders of beautiful Pearl of Africa and the wonders of beautiful India, Medical Value Travel of both Patients and Doctors and People-to-people connect for Technology Transfer, Education and Cultural exchanges, to mention but a few," Kikafunda said.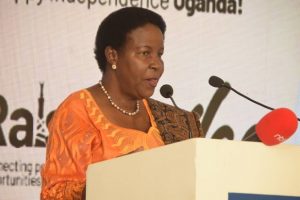 She thanked the management and staff of Uganda Airlines, and management and staff of Uganda Civil Aviation Authority, for working tirelessly to make this flight a reality.