Finance Trust Bank has been awarded the Best Visionary Bank of the Year at the 7th Visionary Awards 2019 under the category of Banking and Finance.
The awards are organized by the Government of Uganda. The award is presented by The People of The Republic of Uganda in appreciation for Finance Trust Bank's outstanding contribution towards Uganda Middle Income Status Aspiration and Vision 2040.
Over the years, Finance Trust Bank has given women unprecedented access to financial services at affordable rates.
The award was received by Annet Mulindwa Nakawunde, the bank's Managing Director and other bank officials.
"As Finance Trust Bank, we are so grateful to all those that make our progress possible," Nakawunde said upon receiving the award.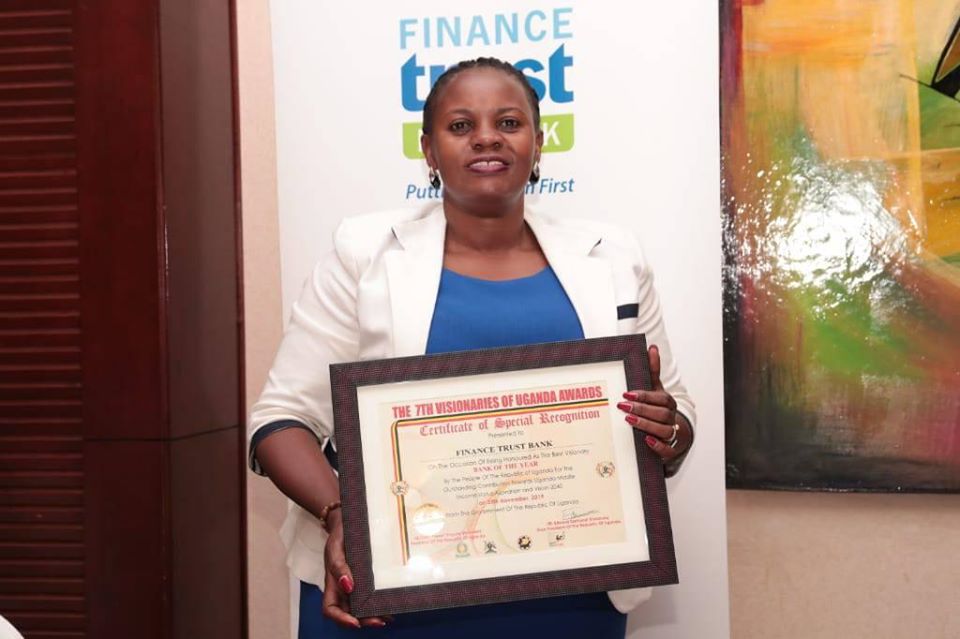 Finance Trust Bank (FTB), a Tier 1 Financial Institution was granted an operating license on 11th November 2013 taking over the business of Uganda Finance Trust Limited (MDI).
Finance Trust Bank was first registered as an NGO in 1984 as "Uganda Women's Finance and Credit Trust Limited" which later changed its name to "Uganda Women's Finance Trust Limited" in 1997. On 12th October 2005, Uganda Women's Finance Trust Limited was licensed as a Microfinance Deposit taking Institution.
The Bank offers a broad range of financial solutions, including loans, deposit accounts, money transfer services, utility bills collection and insurance services to small and medium income people companies, SMEs, institutions and net-worth individuals. Finance Trust Bank is also active in trade and finance and treasury services.
It is estimated that FTB has close to 300,000 clients, the majority being women.
Growing Stronger
Nakawunde and her team have done a commendable job since the institution became a bank seven years ago.
FTB was the 13th most profitable bank in 2018 in a market of 24 banks then. Uganda now has 26 commercial banks, with two having joined the market late this year.
The bank made a net profit of Shs5.84bn in 2018, up from Shs2.37bn in 2017.
The bank's assets have increased tremendously from Shs92.2bn in 2013 to Shs206.5bn in 2018.
Customer deposits have also grown to Shs124.3bn in 2018, up from 46.1bn in 2013.
Additionally, loans advanced to customers have grown to Shs122.7bn in 2018, up from Shs60.2bn in 2013.