Emmanuel Njuki will join Eskom Uganda effective August as Head of Corporate Affairs and Communications
Eskom Uganda Limited (EUL), the largest generator of energy in Uganda has recruited Emmanuel Njuki as their Corporate Affairs Manager, Business Focus has exclusively reports.
Njuki, who is the Head of Corporate Communications & Marketing at Orient Bank Limited, will start the new job effective August 2020, sources confirmed to this website.
At Orient, he will be replaced by Ronnie Zalwango.
Njuki has a wealth of experience in corporate affairs, Public Relations (PR) and Communications.
Before joining Orient Bank in 2018, Njuki worked as Manager, Brand & Communications at KCB from 2015. He also worked as Ag Head of Client Service at Fireworks Advertising (U) Limited.
Before joining the corporate world, he worked as a Business Reporter at NTV Uganda.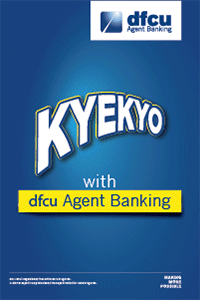 He holds a Master of Business Administration in Marketing and Business Management from Uganda Martyrs University. He attained his Bachelor of Arts in Social Sciences from Makerere University in 2003.
Eskom Uganda was incorporated in 2002 for a 20 year concession under a government regulatory framework. EUL is responsible for operating, maintaining and repairing two government-owned hydroelectric power stations. The older station, Nalubaale, which opened in 1954, has 10 generators with a capacity of 18 megawatts each. The newer station, Kiira, has five generators with a capacity of 40 megawatts each. The power generated is sold to the Uganda Electricity Transmission Company Limited (UETCL), the sole authorized bulk purchaser. UETCL in turn sells it to Umeme, the distributor, who in turn, sells it to end users.
Eskom Uganda Limited is a wholly owned subsidiary of Eskom, the South African energy conglomerate.
Eskom has invested USD 32m into the plant to date against the target of USD 47m.