Ecobank Uganda on Tuesday joined its parent Group in reaffirming its commitment to help save the planet by supporting World Environment Day celebrated every June5.
Led by Managing Director, Clement Dodoo, Ecobank Uganda staff and management planted trees at Nkonkonjeru Primary school in Mbale, a region that has been affected by landslides in recent years.
The bank is sponsoring planting of 10,000 trees in this Mbale region.
"Do your part to make the earth a better place," Dodoo said, adding: "When the last tree dies, the last man dies."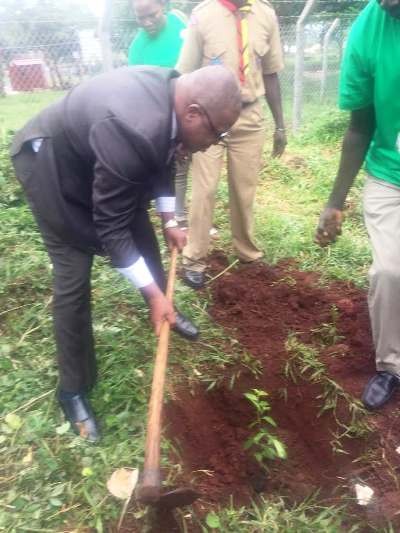 Through this initiative, Ecobank management and staff will plant trees across all 36 countries of its pan-African footprint.
In addition, garden implements will be donated to local authorities to help nurture and grow planted seedlings.
Globally, it is estimated that between 3.5 billion and 7 billion trees are cut down every year.
To counter this, Ecobank's charitable tree planting initiative, 'Planting today. Protecting tomorrow', illustrates the bank's firm belief that its long-term success is intertwined with the sustainable development of the economies, societies and environment in which it operates.
Ade Ayeyemi, Group CEO of Ecobank said: "Ecobank's presence across 36 African countries gives us many advantages but it also imposes on us a huge corporate responsibility. It is absolutely right that we demonstrate our passion for preserving the environment for future generations through our actions as opposed to just mere words."
"As a pan-African bank we strive to give back to our communities, to society and to the environment as a core tenet of our culture. Our 'Planting today. Protecting tomorrow' initiative is part of our strategy to make a real difference and to ensure that we save the planet for all future generations: for everybody's children, grandchildren, and great grandchildren."
Ecobank takes its social responsibilities very seriously, regularly taking part in activities that illustrate its social and environmental conscience. Since 2013, on the first Saturday of every October, Ecobank Day sees the bank giving back to its communities through volunteering in each of our 33 countries.
In 2017, Ecobank Day focused on 'Safe Water, Healthy Living' to raise awareness of the millions of Africans who cannot access safe clean water, and it saw Ecobank management and staff give over 10,000 hours of their time volunteering for community development projects.