A number of Ugandans don't know that one can accumulate wealth through investing in various asset classes regulated by the Capital Markets Authority.
In fact, low and middle income earners as well as Small and Medium Enterprises (SMEs) wrongly believe that Capital Markets are designed for wealthy individuals and giant businesses/companies.
According to David Ogong, the Acting Chief Executive Officer at Capital Markets Authority, there are many ways one can become prosperous through investing in different products in capital markets.
"One of them (products) is Collective Investment Schemes (CISs)," Ogong said, adding that CISs are regulated by CMA not to give confidence to the investor by ensuring that the invested money is secure, but also ensure that the investor gets a return on investment.
Ogong made the remarks during the release of CMA's Unit Trust Manager's Survey Report at Golf Course Hotel today morning.
Collective Investment Schemes which are licensed in Uganda as Unit Trust Schemes refer to an investment product which gives an investor the opportunity to pool savings with those of other investors, thereby creating a large pool of funds to be invested on their behalf by a professional manager.
Dickson Ssembuya (in featured photo), the Director Research and Market Development at CMA urged SMEs to tap into CIS, noting they provide cost-efficient spread of risk for retail investors, institutional investors and corporates.
"Collective Investment Schemes aim to mobilize savings of small investors, which might otherwise remain in bank deposits, into capital markets," Ssembuya said, adding that CIS can play a significant in investing for retirement.
There are currently five licensed Unit Trust Managers in Uganda including ICEA Asset Management Uganda Ltd, UAP Old Mutual Financial Services Uganda Ltd, XENO Investment Management Ltd, STANLIB Uganda Ltd and Britam Asset Managers Company Uganda Ltd.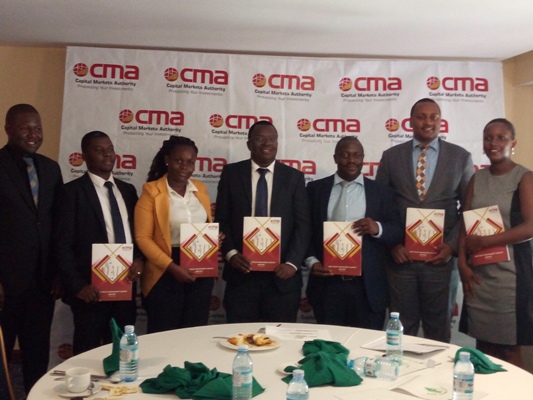 According to the survey report, the CIS industry has grown over the last six years.
"Assets Under Management (AUM) increased from Shs1.55bn as at the end of December 2013 to Shs173.5bn as at the end of June 2019. This represents 0.16 percent of Uganda's Gross Domestic Product," says the report.
It adds: "Despite the growth seen over the last six years, the size of the Ugandan CIS industry remains small compared to CIS industries in other African markets."
In Africa, South Africa has the largest CIS industry with AUM of US$181.76m, while in the East African region, Kenya leads with AUM of US$603.96m.
The report says that the total AUM of Unit Trust Managers surveyed as at end of May 2019 stood at Shs157bn.
"UAP had the largest market share with a total of Shs119.4bn in AUM, representing 75.8 percent of the total AUM," the report says.
However, the report doesn't state the dividends paid out to investors. According to Fund Managers, return on investment is dependent on many factors but in most cases it's always above 10% especially when the economy isn't doing badly.
According to the report, AUM are spread in Money Market Fund, Balanced Fund, Umbrella Fund and Equity Fund as at the end of May 2019.
"The Umbrella Fund had a total of Shs117.4bn in AUM, representing 74 percent of the total AUM held by Unit Trust Managers," it reads.
The report adds that local individuals are the dominant investors accounting for 85 percent of the total Shs157bn AUM. Other investors include investment clubs, institutional investors, SACCOs, local companies, foreign individuals and East African individuals.