Kampala Capital City Authority (KCCA) Executive Director, Jenifer Musisi has asked Sarah Kizito, wife to former boxer and Kampala Central LIII Chairman, Godfrey Nyakana to pay Shs900m losses incurred by National Water and Sewerage Corporation (NWSC) as a result of a spat involving the City Authority and the businesswoman.
Musisi made the revelation on Tuesday while appearing before the Parliamentary Committee on Commissions, State Authorities & State Enterprises (COSASE) at Parliament that is investigating the Centenary Park saga that has been ongoing for years.
KCCA argues that Nalongo Estates Ltd, a company owned by Sarah Kizito, has frustrated public projects by unlawfully continuing to occupy Centenary Park that is located along Jinja road opposite the Electoral Commission head offices.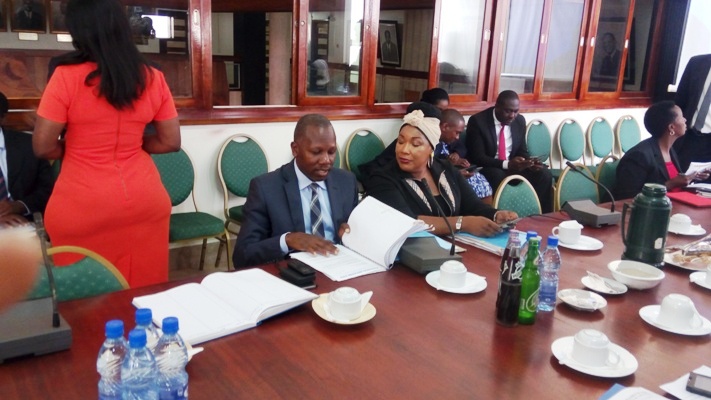 Musisi said the "financial loss occasioned to National Water and Sewerage Corporation caused by interference of the blockade by Nalongo Estates Ltd" should be met by the latter (Nalongo Estates Ltd).
NWSC has reported losses amounting to Shs979.9m as of May 2017, according to documents tabled before Parliament.
Uganda National Roads Authority (UNRA) and Umeme are the other entities whose projects have stalled due to the controversy surrounding the property.
Tycoon Kizito was accompanied by her husband Nyakana, who said was a personal consultant to Kizito.
During the interface with the lawmakers, Musisi asked MPs to prevail over Nyakana, whom she accuses of mobilizing goons to disrupt government works at Centenary Park. Hearing into the matter will continue tomorrow after Kizito admitted not to have prepared any response to the allegations raised by Musisi.
Background
Investigations are to fulfill a request by the Inspector General of Government (IGG), Justice Irene Mulyagonja, asking Parliament to investigate the matter.
The Committee is expected to report back to Parliament in 10 days.
According to Mulyagonja, the controversy surrounding Centenary Park has resulted into  three public projects stalling, but her office doesn't have the mandate to investigate the matter owing to the fact that Nalongo Estates Limited is a private company.
The company is embroiled in a battle with KCCA over failure by the latter to renew lease for the former to manage Centenary Park.
KCCA claims that the lease and management executed with the company in question expired in May 2016, and the company owners should have vacated the premises by December 31st 2016.
However, Sarah Kizito has continued with business as usual regardless of the Court orders demanding that she hands over the property to KCCA.
On May16 2006, the then KCC and Nalongo Estates Limited executed a management agreement to keep the park as a green open/public space, but the latter allegedly breached the contract by constructing temporary structures.
Consequently, KCCA terminated the contract on June26, 2012, but Nalongo Estates dragged the Authority to Arbitration Tribunal in September 2013. It won the case and was awarded Shs732.5m in damages.