By Peter Abaanabasazi
He is 75 years old, but he goes about his farming activities with ease.
Sedrach Mwijakubi Munyema, 75, is one of the leading model farmers in Kigorobya and neighboring Sub-Counties-for he is earning over Shs20m annually from mixed farming.
In summary, he is already living President Museveni's dream of every Ugandan earning Shs20m per year.
Mujakubi says he has been practicing farming for many years and it has helped him educate his children.
He says when he completed primary  six , he moved to Lake Alert and started fishing, but in 1969 he quit  fishing and started dealing in already made clothes, but the business collapsed after it was looted during former President Idi Amini's regime.
In 1980, Mwijakubi went into farming and his main crop has been maize until a few years back when he diversified into other enterprises.
His hard work and determination has seen him get recognition from the government.
Like the biblical saying, 'Whoever has will be given more, and they will have an abundance', Mwijakubi's efforts were rewarded by government in 2013 when he received 200 birds (chicken) from government.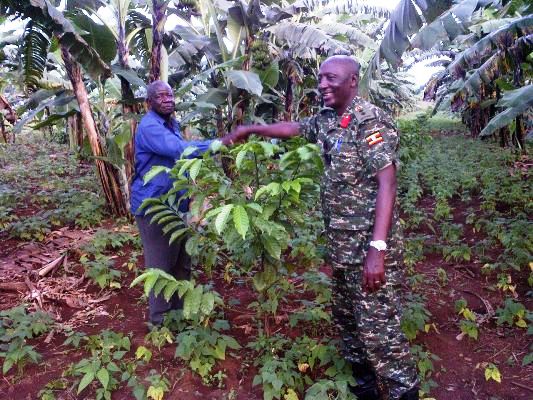 He also got 20 iron sheets to help him to set up the shelter for the chickens.
He reveals that his poultry project has since grown big so much that he earns Shs300, 000 every week from selling eggs.
Other Projects
Apart from poultry, Mwijakubi is also engaged in coffee and banana (matooke) farming.
Mwijakui's coffee is mixed with bananas and sits on five acres of land.
"I have started harvesting from both coffee and matooke.  I earned Shs900, 000 from my first coffee harvest," he said, adding that he is also practicing fruit farming.
He has a young mango plantation which is sitting on two acres of land and cocoa on one acre.
He is also practicing livestock farming with 30 herds of cattle and he has one acre of eucalyptuses trees.
He is currently having over 100 acres of land which he intends to put into proper use.
Mwijakubi isn't an ordinary farmer; he is practicing value addition on his maize grain since he has a maize mill.
"After processing the maize, I use the maize bran to make feed of my poultry," he says. He also has a tractor which is helping him practice commercial farming with ease.
Achievements
"Other people use loan money to sustain their ventures, but this project is self-sustaining. What I earn from it is what I re-invest back. I am happy that I have never got a bank loan," he says.
He adds: "I have been able to educate my children from farming money. I did not complete primary seven, but I have eight degrees in my house and two other are studying medicine, thanks to farming."
He says he has also been able to look after his three families.
"I have an extended family, but I am enjoying it because I have sources of income and I am free and peaceful," he says.
 Challenges   
He says unreliable markets for agricultural products, poor roads and lack of agricultural machinery as some of the big challenges affecting him as well as other farmers.
"Farmers are making a lot of loses because of middlemen. They exist because we have no clear market," he says.
Mwijakubi advises government to restore cooperative Unions, improve on infrastructure, provide Agricultural machinery and establish agro-processing factories across the country if it is to fight poverty through agricultural sector.