Aloysious Ssendegeya wants to empower youth through coffee
Ugandans are increasingly venturing into coffee value addition as the country's volumes continue to increase. This is a result of Uganda Coffee Development Authority (UCDA) efforts to increase coffee production to 20 60kg million bags by 2025.
Aloysious Ssendegeya, 25, is one of the few Ugandans adding value to Uganda's coffee through Roy Coffee Processors and Exporters Co Ltd. His dream is to touch many lives of fellow youth through coffee trade and value addition.
Focus Focus had an exclusive interview with Ssendegeya about Roy Coffee Processors and Exporters Co Ltd and what motivated him to venture into coffee business. Below are the excerpts of the interview;
Qn: Briefly tell me about yourself?
A: My name is Aloysious Ssendegeya aged 25 years. I am a born again Christian and the founder and Chief Executive Officer of Roy Coffee Processors and Exporters Co Ltd. I hold a Bachelor's degree in Commerce from Makerere University Business School.I always loved to be employer as opposed to looking for a job and I am already walking this path.
I am motivated by the huge potential of the coffee industry that has not been fully taken advantage of to transform the livelihoods of youth in the country.This keeps me pushing to see to it that we fully benefit from the industry.
Qn: You founded Roy Coffee Processors and Exporters Co Ltd. What does the company do?
A: Roy Coffee Processors and Exporters Co Ltd is a youth-led company incorporated in Uganda, in accordance with the Companies Act 2012 of Uganda. The core business of the company is coffee trade, sale and export. The company started business in 2019 and produced its first product in December 2019. As at this date, the company packages coffee ready for brewing which is packed in packages of 125g and 250g. The company specializes in Arabica Coffee and trades under the brand name Roy Coffee. The company is undertaking the process of obtaining the UNBS certification for its products.
The company's strategic plan is to diversify into the trade of green coffee with the intention of using coffee as a vehicle to transform the livelihoods of youth at the different value chain stages while creating opportunities at the different value chain stages through not only passing on skills but also creating jobs at the different stages of the value chain.
The company also has an approach that seeks to improve the value benefits of coffee through developing capacity for players involved in the coffee value chain but majorly smallholder coffee farmers to see to it that they adopt the best agronomic and post handling practices that improve both the quantity and quality of their coffee produce which eventually improves their incomes and hence self reliance. Ultimately, the company hopes to become the beacon of coffee farming and trade in the country, one from which budding farmers can bench mark and learn.
Qn: What inspired you to start this coffee company?
I loved coffee and its lucrative nature when I was still young but was still undecided on whether to take it on since it's highly capital intensive. In April 2019, I received prophetic insight from Prophet Elvis Mbonye when he picked up on the fact that I wanted to get involved in the coffee business. This gave me much hope and confidence to set out and start my coffee business well knowing it's going prosper and grow big.
I also identified the fact that there is minimal youth participation in the coffee industry and realized coffee is a vehicle we can take advantage of to reduce youth unemployment. This inspired me to birth a unique idea that I hadn't seen before hence the production of Roy Coffee roasted beans and Roy Coffee roasted and ground coffees. Our production of high quality coffee has enabled our youth led company to have more interactions with smallholder coffee farmers as we source our Arabica green beans which has also enabled us an opportunity to involve more youth in the different value chain stages.
Qn: How and where do you source your coffee from? How do you ensure and guarantee quality?
A: Our coffee is made out of Arabica coffee beans and we source our coffee from Kanungu in western Uganda where we work directly with smallholder coffee farmers under a cooperative.
We have a standard cupping percentage that we consider while sourcing our coffee. Our quality is guaranteed by our quality control officer who works closely with the different farmers to ensure that the coffee undergoes the best post agronomy and post handling services to ensure that quality of coffee is kept at its best since the quality of the final cup is determined right from the garden.
Our farmers dry their coffee on raised platforms and also ensure that coffee is stored in the best ways given the fact that it is hygroscopic so that it doesn't take in different substances that reduce the quality of the final cup.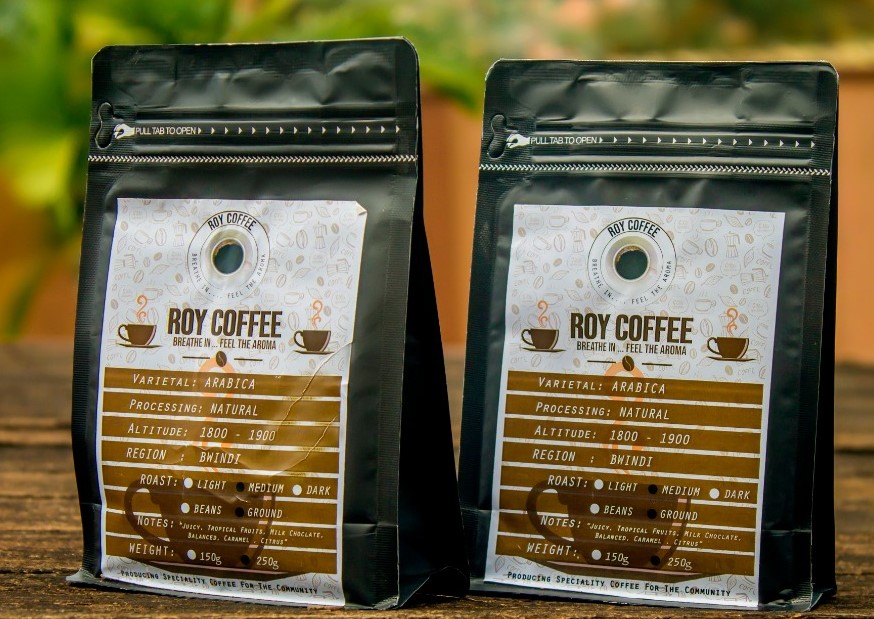 Qn: You talk about involving and empowering the youth, what are you doing to achieve this?
There is empowerment and involvement of youth at a company level and through other available opportunities for the noble cause. At the company level, the company started out with three youth, but we have been able to reach out to other youth and have skilled them with knowledge for value addition and we have also gotten four other youth to join the company which currently makes us seven people.
The other approach to impact and empower youth is through a community club called The Circle Club under the National Christian Students Association that I am part of where we go to different communities and reach out to youth and pass on knowledge in regards to how they can participate in the different value chain stages which include coffee growing, coffee processing to mention but a few. We also identify training opportunities for the youth at different levels that are intended to not only equip them with skills but to also avail different inputs such as seedlings.
Qn: What achievements has the company registered so far?
A: We have been able to register our company so that we are operating legally and as well prepare ourselves for possible opportunities that we can take advantage of as a youth focused company.
The company has been able to come up with two products which are; roasted Arabica beans plus roasted and ground coffee under the brand name Roy Coffee. We are still working towards obtaining a UNBS certificate that can enable us have our products be in different supermarkets and other possible sale points. Our coffee has been highly appreciated by those that have been able to consume it. One of the most predominant feedback we have received from our clients is its sweet aroma and delicious taste. We have also received positive feedback from people who previously didn't love coffee but started taking coffee because of the quality of our brand of Arabica coffee. This has kept us motivated to produce high quality coffees. We currently have a customer base of more than 100 customers in a period of one and a half years of our existence as a company and brand. We are anticipating a more targeted growth in the trend of our customer base as we continue our production.
We have also established strategic networks within the coffee value chain and the sector. Existing as a youth start up coffee company, these networks are intended to enable us benefit from the available opportunities in the sector.
We have been able to reach out to different organisations to help us access major training opportunities that have equipped us with skills such as price risk management, quality control and assurance among others. These organizations include Agribusiness Development Center and NUCAFE among others. Through the continued exposure and engagements with the different stakeholders, we have been able to access various platforms as young entrepreneurs where we are recognized as valid stakeholders in the coffee value chain. This has helped us realize that there is a lot that the youth can do to add value to the coffee industry.
Qn: What key challenges are start ups like you facing?
A: The major challenge that startups face is difficulty in accessing finances that would be used to operationalize their activities. This is evidenced by the stringent rules and conditions levied by the local financial institutions for one to access finances from them.
Yet still if the youths are organized into working groups, they can easily have higher negotiation power to access not only government resources but also private resources. As the founder of Roy coffee, there were several times when I reached out to different financial institutions and they always told me about how the project was not bankable. Through persistence and resilience, I kept on pursuing the vision of the company and project this far. Therefore, nothing should limit any aspiring young entrepreneurs out there who intend to set out into business. They should keep their eyes focused on the end as opposed to the process.
The other challenge is lack of access to the necessary information. It is important for any young entrepreneur to have adequate information in regards to the industry they are venturing into. This information is meant to guide them with the different ways on how to thrive in the industry. It is therefore my request that the Uganda Coffee Development Authority puts into consideration the possibility of availing such information to these youngsters. This will not only empower them but also encourage them to be very active participants in the different stages of the coffee value chain.
Having been faced with a similar challenge, we were encouraged to aggressively do our personal research. Beyond the research, we also took part in different training and skilling opportunities that were organized by stakeholders in the coffee sector. This enabled us to grow in knowledge and expertise which we used in the company.
Above all, it is of the essence that one recognizes that because Christ is the author and the beginning of our faith, it is always a sure end for anyone who starts up anything in the Lord. This principle has kept us as a company steadfast to pursue our vision over the years.
Qn: What are your future plans?
A: I want to stand out in the coffee industry to inspire and be a role model to the youth not only in Uganda but world over. As a company, we want to be the biggest producer and exporter of high quality coffee. I also want to be a leader and voice of the youth out there to see an increased number of youth participation in the coffee industry.
As a company,we want to open up processing plants across the different regions within the nation and also have a franchise of top coffee shops across the different nations all over the world.
The company aims to be at the forefront of promoting vibrant youth engagement in the coffee value chain especially in the export of high quality coffee
Qn: What's your last word…
A: I believe that there are very many youth out there that have brilliant ideas that can transform our nation if the right structures and resources are put in place to enhance the materialization of their ideas. So I call on the different stakeholders within the coffee value chain at government and private sector levels to strongly support youth projects with human, information and financial resources.
I also request the government and key stakeholders to create platforms that actively involve youth like us in focal discussions that are intended to transform not only the mindsets but also the livelihoods of the youth through creation of opportunities. This is because we are in direct touch with several youth and know what their challenges are and what ought to be done to overcome them.