The sixth edition of the coveted Innovation Prize for Africa (IPA) culminate on Monday with a bang as the African Innovation Foundation (AIF) awarded three more African innovators for their incredible innovations. The awards ceremony took place in Accra, Ghana.
Out of the total of over 2500 applications, 10 nominees were selected, and from these Aly El-Shafei of Egypt emerged as the Grand Prize winner, with Philippa Ngaju Makobore of Uganda landing the Second Prize, and Dougbeh-Chris Nyan of Liberia winning the Special Prize for Social Impact.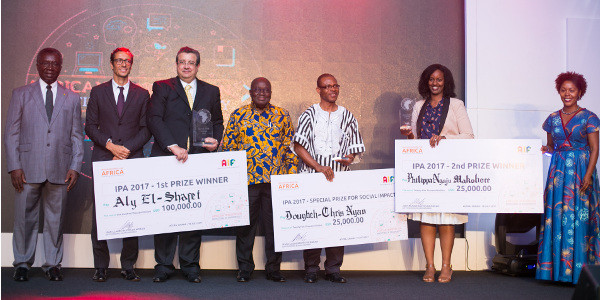 Each one of the seven remaining nominees also went home with US$ 5 000 voucher to be used to further develop their innovations.
Additionally, all nominees and winners will benefit from IPA post prize activities aiming at moving their innovations to the next level.
Makobore won the second prize because of her innovation: Electronically Controlled Gravity Feed Infusion Set (ECGF).
Inadequate medical solutions to efficiently administer drugs or to diagnose diseases continue to affect the quality of healthcare delivery in many parts of the continent.
ECFG by Philippa, who bagged the Second Prize of US$ 25, 000 (Shs89.9m), is designed to accurately administer intravenous (IV) fluids and drugs by controlling the rate of fluid flow based on feedback from a drop sensor.
It is easy to operate and has key safety features, which include alarms for rate of infusion (rapid or slow), total volume (over or under) and faulty sensors. A battery utilizing a hybrid (AC mains and solar) charging bed powers the device. IV infusions are critical for both adults and children in various situations. Over 10% of children admitted to East African hospitals need immediate infusion therapy.
Findings from the FEAST trial indicates that over-infusion in children increased the absolute risk of death by 3.3 % at 48 hours.
Erroneous delivery rates can result into serious adverse effects. The ECGF has the potential to save lives by providing accuracy and safety at 8% the cost of a brand new infusion pump.
AIF Founder, Jean-Claude Bastos de Morais, Founder, African Innovation Foundation, commented, "This edition of IPA has been all about galvanizing support for African innovators in order to mobilize increased investments to help them commercialize and scale their innovations at a greater rate. AIF has rewarded IPA 2017 for developing solutions that can truly add value to the lives of Africans, and I believe that these innovations have incredible commercial potential and will succeed in attracting the right investments to go to the next stage."
Speaking at the Awards ceremony, President Nana Addo Dankwa Akufo-Addo, the President of Ghana, commented, "As Ghana marks 60 years of independence, there is no opportune time than now to reiterate our nation's commitment towards investing in innovation-led growth and prosperity. Our decision to partner with the African Innovation Foundation (AIF) to host the 2017 edition of the Innovation Prize for Africa is a result of our commitment to support African innovation not just at a national but at a Pan-African level."
The 2017 awards welcomed hundreds of entries from outstanding innovators. For the first time, IPA nominees include innovators from Democratic Republic of Congo, Liberia and Zimbabwe, and featured a stronger presence of women that in any of the years past. The exceptional quality of entrants, finalists and winners delighted this year's judges and made for a thrilling awards celebration night.