The United States State Department has voiced its displeasure with actions in Kenya that saw opposition leader, Raila Odinga swear himself in as president in a symbolic inauguration.
The US made its concerns clear on Thursday in a statement in which it asked that grievances be sorted in the courts of law.
"The United States is gravely concerned by Kenyan opposition leader Raila Odinga's self-"inauguration" on January 30. We reject actions that undermine Kenya's Constitution and the rule of law. Uhuru Kenyatta was elected as President of the Republic of Kenya on October 26, 2017 in a poll that was upheld by Kenya's Supreme Court. Grievances must be resolved through appropriate legal mechanisms," the statement reads.
It adds, "We commend the restraint shown by security forces and urge them to continue to refrain from any unnecessary or excessive use of force. Any arrests and prosecutions must be made in full accordance with the rule of law and demonstrate transparent due process."
However, the statement also 'expressed concerns" over the shutdown of media outlets that broadcast the 'inauguration.'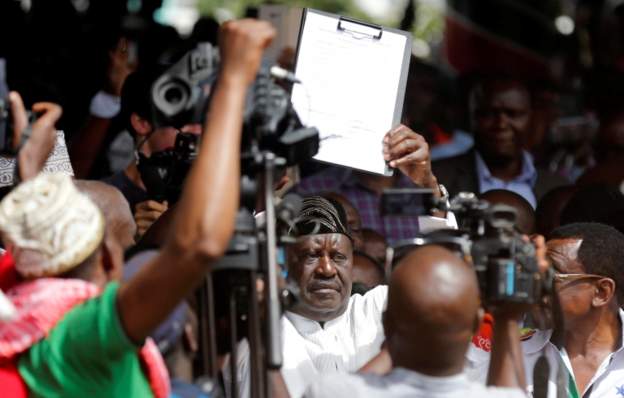 The government took three private television channels off the air on Tuesday as they began to cover of the opposition ceremony. They remained off the air on Friday at 0730 GMT despite a court order on Thursday that overturned the government-ordered shutdown.
"We are also deeply concerned by the Government's action to shut down, intimidate, and restrict the media. Freedom of expression, including for members of the media, is essential to democracy and is enshrined in Kenya's Constitution. We urge the Government and all Kenyans to respect freedom of expression and implement court orders calling for the restoration of television broadcasts," the statement says.
Meanwhile, a Kenyan lawyer present at the symbolic "swearing in" of opposition leader Raila Odinga was arrested on Friday, the opposition coalition said.
Miguna Miguna was taken from his Nairobi home to a police station, the NASA coalition wrote on its Twitter feed.
An Odinga ally, Miguna has declared himself a leader of the opposition's National Resistance Movement, which the government this week declared a criminal group.