Revenue Authorities in Kenya, Uganda and Rwanda have officially unveiled a Regional Electronic Cargo Tracking System (RECTs) enabling them to jointly track movement of goods from port to destination electronically; that is from Mombasa Port to Kampala and Kigali.
The US$4.4 (UShs1515.7bn) Million System was unveiled on Friday February 24, 2017 at Uganda Revenue Authority (URA) offices in Kampala, Nakawa.
The system will reduce the cost of doing business by reducing transit time, enhancing cargo safety and helping traders to better predict arrival of goods.  The service will be free as Revenue Authorities will meet all operational costs.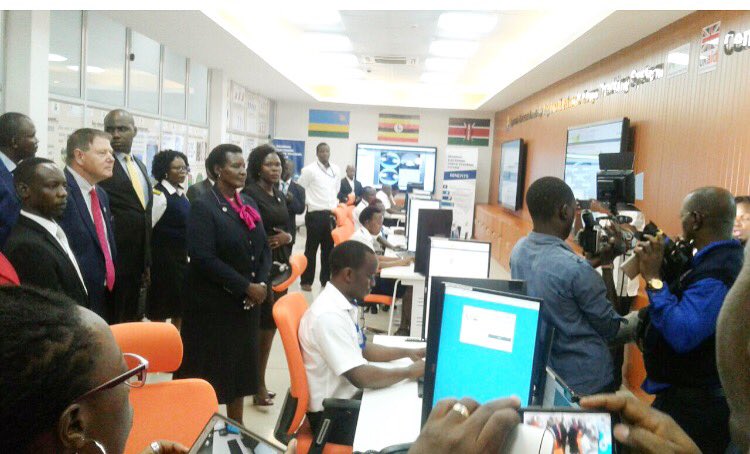 Speaking at the unveiling of the system , URA Commissioner General Doris Akol said, "The partnership with Kenya and Rwanda helps us monitor goods from end to end, easing cargo handling, improving revenue collection and reducing diversion of un-taxed goods into the market.
"It will lead to improved fair trade as goods that have not been taxed will not be diverted to distort the market. This will benefit our traders and assure potential investors of level playing field in our region". The United Kingdom Department for International Development (DFID) has supported the project by giving USD4.4million grant through TradeMark East Africa.
RECTs comprises satellites, central command centres in each of the revenue authorities in Nairobi, Kampala and Kigali, smart gates and rapid response units.
An electronic seal is attached on transit cargo vehicles and communicates with the command centres giving real time updates such as vehicle location, speed, and if the container is tampered with or not.
Importers, transporters, and the revenue authorities can see this information. Rapid response units are stationed along sections of the Northern Corridor identified as notorious for diversion of goods.
These rapid response units respond to alerts, received from the command centres, about suspicious behaviour like diversion from designated route, unusually long stop over, or attempt to open a container, which they investigate and resolve on the spot.
It is expected that the system will enable transporters to reduce their transit costs and increase the productivity of their fleet.
Kenya, Uganda and Rwanda will seal loopholes that lead to revenue loss because of diversion of un-taxed goods into the market.
RECTs will eliminate the need for physical escort and monitoring of sensitive cargo, such as batteries, fuel, cigarettes.
Frank Matsaert, TMEA CEO said: "Transit trade is an important element of any economy and we are glad to be the catalyst of this partnership.  
"RECTs is one of the many innovations that TradeMark is supporting and which is geared towards easing and improving local and international trade in East Africa.
"RECTs efficiency will ingrain fair terms of trade by creating a level playing field for both importers and local industries as it helps in eliminating diversion of cargo. Surely, with this strong partnership among the private sector, the revenue authorities and TMEA it is possible that we can reduce transit time from Mombasa to Kampala down to two days."