By Ian Gumisiriza Jeremiah
Wednesday 18th begun like any other Ugandan beautiful day, peaceful and promising. The hardworking, law-abiding citizens headed to their respective places of work to eke out a living while the propagators of chaos and mayhem set on yet another provocative course of action in Luuka.
Why call them propagators of chaos and mayhem? During nominations of Presidential candidates at Kyambogo Cricket Grounds, the Chairman Electoral Commission Justice Byabakama being the Returning Officer for that exercise read out guidelines to each Presidential candidate as mandated by the Presidential Elections Act, 2005 as amended.
Some candidates even before nomination had vowed to defy the traffic guidelines as issued by Uganda Police Force. They set on implementing that threat by attempting to congregate at Najjanankumbi where they would match from to Kyambogo in total defiance of the set guidelines. By God's grace and the vigilance of our intelligence agencies the worst was avoided. Uganda Police swung into action, picked the presidential aspirant, who would ordinarily be the rallying point, and delivered him to Kyambogo barefoot. Luckily, he has turned this incidence into a rallying cry, otherwise what message would he give to the people?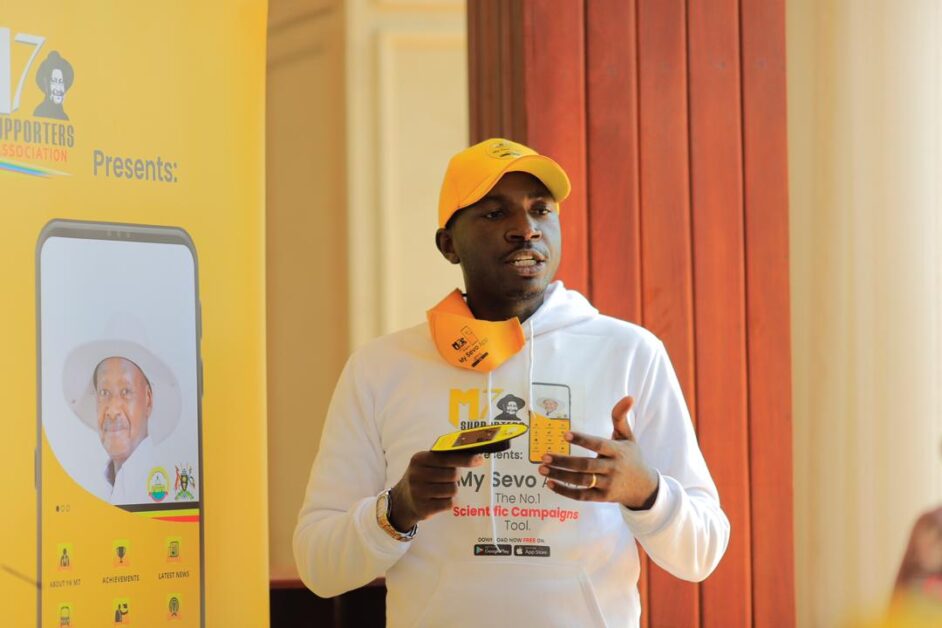 In the meantime another propagator was at Magere devising plans of how to move while he "collects" as many hangers-on on the way as he possibly could. Whereas, these people always want to fool Ugandans by claiming the crowds are spontaneous they fall flat in the mire of their gimmickry. Otherwise how did the thousands of Boda Bodas get a uniform kind of sticker they used to cover their number plates? How did they spontaneously map out the routes each group used in order to make an impression that they had the whole city covered? Fortunately, their colleagues realized that group had obviously been hired and did not join them.
The "Lion of Magere" as his worshippers love to call him was duly nominated, the Returning Officer Justice Byabakama Mugenyi Simon did the honors of reading to him the guidelines as follows;
Appoint an official agent who will coordinate your campaign meetings
Avail the commission with a schedule of your campaign meetings.
Sign an Memorandum of Understanding with the Electoral Commission in compliance with the harmonized campaign program and adherence to the campaign guidelines including the Covid-19 Standard Operating procedures.
The Chairman went ahead to emphasize; "We also wish to urge the aspiring candidate that one of the guidelines issued by the commission is that processions along public roads are prohibited."
At that point Candidate Robert Kyagulanyi Ssentamu lost his innocence. He could no longer feign ignorance of the rules of the game as he would have done before they were expressly read to him. Less than an hour later he was violating the very same guidelines, waving to people through the roof of his vehicle and provoking security personnel by attempting to use routes that were off his chart. Again the police acted in time to mitigate the extent of mayhem, they picked him and delivered him safely to his Magere "State House" albeit in a condition where he could not "Kulaba" but at least could "Kulengera" the multitude of people he had gathered in his wake.
One would have expected that such kind of behaviour had come to an end and Candidate Robert Kyagulanyi Ssentamu would now act in a manner deserving a presidential candidate. The Uganda Police made it clear they would be on standby to enforce the guidelines as issued by Electoral Commission and Ministry of Health. The Ministry of Health relaxed on the condition of how many people should be permitted to congregate from 70 to 200; probably on the account that the heads there are also politicians. I still believe that even if one mobilized 1000 people and put them in a designated place where they could partially observe SOPs like hand washing and wearing masks, the security organs would close one eye.
But alas! The propagators of violence have never been fans of organization. In the state where they could not "Kulaba" but could "Kulengera" they promised to change Uganda in a similar fashion Libya, Sudan, Iraq and Tunisia were changed. Without a vestige of consideration about the quality of human life in those States where regime change was violent but that is a debate for another day.
So from Pakwach, to Arua to Kotido to Mbale all the way Candidate Robert Kyagulanyi Ssentamu went on to hold massive processions in total violation of the rules. Uganda Police tried to use reasonable force to limit these processions. In some areas they succeeded like Kitgum while in others their efforts were in vain. Electoral Commission issued threats that they would disqualify anyone who continues to violate the guidelines. Of course this is not among the legal grounds on which a candidate can be disqualified. A dialogue was called on Monday 16th November to caution, among other issues, candidates of the possible repercussions in case they continued to violate the laws, Candidate Kyagulanyi was duly represented by his able Secretary General Lewis Rubongoya.
On Tuesday 17th Candidate Kyagulanyi made it clear the words of caution had fell on deaf ears and held a massive procession in Butaleja, Tororo and Busia.
Some escapists have said even NRM people hold processions. Yes, its true. It could be equally true that some overzealous supporters organize these processions but there is not a single incident that candidate Yoweri Kaguta Museveni has stopped or emerged from his open roof to wave at people like he used to. Does this mean he doesn't want votes? Of course he does but he cares more for people's lives, it's the living that vote.
On Wednesday 18th Uganda Police could no longer stomach this kind of provocation, they picked Candidate Kyagulanyi and whisked him off to the infamous Nalufenya (which of course is no longer as scary as it used to be back in the day), we all await to see which formal charges will be preferred against him.
As the norm has always been, chaos erupted in Kisekka market, blocking of roads, burning of tyres, illegal roadblocks of goons extorting money from innocent motorists, looting spread into various areas of the city. One needs to know that this has nothing to do with the arrest of Kyagulanyi. We have had these kind of riots before. They are always escalated by gangs of criminals who populate this city and are on standby ready to use any opportunity to profit from lawlessness. In other cases, external influence has been sighted.
What however, is as of a result of Kyagulanyi's arrest is the attack on NRM supporters and the distraction of Candidate Kaguta Museveni Tibuhaburwa's billboards, posters and those of other NRM candidates. Ugly images of mothers stripping for fear of their lives, a driver of a Museveni branded vehicle running for his life and loosing control of the vehicle leading to gruesome lose of other innocent lives, hundreds of threats flowing into our inboxes of how they are going to deal with us. All these are carefully crafted to instil terror in the minds of those who support candidate Yoweri Museveni. Our candidate fought for peace and has been preaching unity and inclusiveness for over 3 decades, thus due to that ideological orientation we haven't retaliated. However, those who think they have a monopoly on violence shall learn a bitter lesson. The security forces shall continue to do what they are trained and mandated to do. Uganda is peaceful and it shall remain so. We shall continue to put on our yellow attire as you freely don your red colours and as you attack us, keep it in mind that we are willing and able to defend ourselves.
The writer is the Chairman Museveni Supporters Association.