Oil prices have risen after a political rift in the Middle East escalated with Saudi Arabia, Egypt, Bahrain and the United Arab Emirates severing ties with Qatar.
As a result Brent crude, which is a global benchmark for oil value, climbed 1.24% in early trading in Asia on Monday to $50.57 a barrel.
West Texas Intermediate, the US benchmark, was up 0.9% to $48.08.
The Qatar Stock Exchange fell 7.65% amid the Gulf diplomatic crisis.
The four Arab nations announced they would withdraw their diplomatic staff from Qatar, accusing the country of supporting terrorism and destabilising the region through its support of Islamist groups and its relations with Iran.
Abu Dhabi-based airline Etihad said it was suspending flights to Qatar "until further notice".
Emirates, the Dubai-based carrier, announced it too would be suspending flights to the gas-rich nation from Tuesday.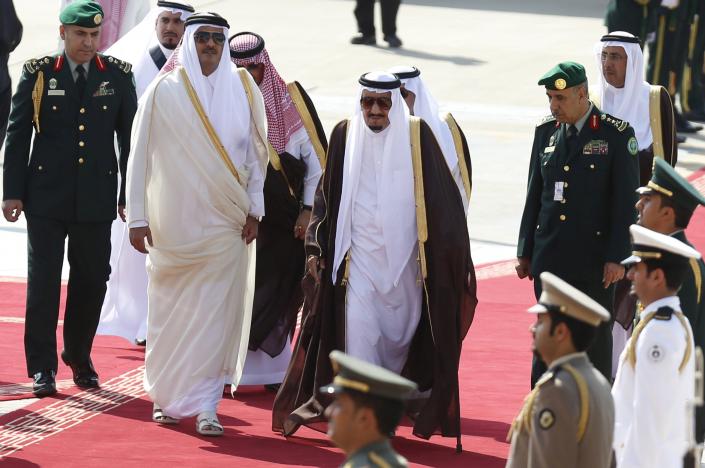 Qatar said there was "no legitimate justification" for the coordinated action, adding that its citizens would not be affected by the "violation of its sovereignty".
Meanwhile, Qatar Airways said it was suspending all flights to Saudi Arabia.
The price of Brent crude plunged last week by over 4% to $51.32 a barrel after oil-producing nations agreed to continue production cuts.
The 13 members of the Organisation of the Petroleum Exporting Countries (OPEC) made the decision in the hope of tackling a major global glut which had pushed the price of oil down to less than half of its mid-2014 level.
Saudi Arabia is the world's biggest exporter of crude oil. Abu Dhabi in the UAE is also a major player in the industry.
Qatar is the biggest supplier of liquefied natural gas (LNG) and a major seller of condensate – a low-density liquid fuel derived from natural gas.
OPEC accounts for a third of global oil production and includes many of the world's largest oil exporters such as Saudi Arabia and Qatar.
SKY NEWS