Charity Atukwatsa Mutagamba (Seated, left-right), the CEO, Fincom Technologies Ltd, George Mutekanga, the Assistant Commissioner In Charge Of Private Schools And Institutions at the Ministry of Education and Sports, Mathias Kamugasho, Managing Director, Service Cops Ltd together with company staff.
SchoolPay, a digital school management and payments platform, is a brainchild of Service Cops, a Ugandan technology company with a presence in the Great African Lakes region. The service premiered in 2016 with just one school but has since grown to serve nearly 11,000 schools and over Six million students in Uganda alone, with over 20 partners that include banks, telecoms and other non-bank fintechs. The SchoolPay service can now be accessed through over 33 payment touchpoints. The developers are now upgrading the platform with more enriched functions for schools, teachers, parents and students.
The just-ended back-to-school season is one of those tough days for most parents; for different reasons. The usual hustle and bustle of parents and learners all over the country mad dashing, with shopping lists, trying to get ready for the crucial third term. Above and beyond this pandemonium, there are also unspoken and often unseen endeavours and struggles by parents to make sure they raise all the necessary financial resources to be able to pay tuition fees and all the other associated costs of sending a child to school.
Perhaps the only beautiful and relieving part of this story is that unlike 8 to 10 years ago, this time, parents and or students do not have to add to this rat race, hours upon hours as well as travel several kilometres to make long queues at the banks to be able to pay school fees. The more the number of learners a parent had, and the variety of schools multiplied the pain and cost each family had to endure. As if this wasn't enough, some parents and or students would end up losing money to some clever fraudsters, disguised and good samaritans trying to help the parents/students beat the queues.
On the other end, schools too, had to go through the pain of receiving and reconciling the massive stacks of bank slips, as well as the associated stationery costs. Some schools which chose to accept cash at school also suffered losses in the form of counterfeit money as well as armed robberies and fraud as well as the so-called 'eating' of school fees by learners or the risk of it being lost or stolen at school. Add that to the costs associated with storage of all the paperwork, and several other inconveniences⏤ back to school was some form of pain to almost everybody in the education system- including the financial institutions.
Fast forward, this time around, after raising the school fees, all that a parent has to do, is use SchoolPay⏤ a digital payment solution, that allows parents to pay school fees from the comfort of their homes, via multiple channels, that include mobile money or off their bank accounts, direct to the schools' bank accounts. Parents can pay school fees, from anywhere in the world.
How does the System Work?
Learner details are captured in the SchoolPay system and each learner is issued with a unique student code. If a school already has its own unique student number in place, these are maintained or may slightly be modified to suit system needs. The school also issues codes to parents/guardians who can then pay through multiple channels. The SchoolPay system integrates student identification numbers to the respective institutions' bank accounts, allowing real-time settlement of fee collections from all the various channels to the School Bank Accounts.
The payment channels include:
MTN MOMO/ Airtel Money: Using any registered mobile phone, users dial *165*80# for MTN MoMo or *185*62# for Airtel Money, and then enter the student code and follow the Parents are advised to confirm the School and Student details before authorising payment with their mobile money PIN.
SchoolPay App:Download the SchoolPay Uganda App from Google Play or App Store and follow the prompts to pay.
SchoolPay Website:Visit https://schoopay.co.ug, select pay school fees and follow the prompts.
WhatsApp Chatbot: Send a Hi to +256 773 676 857 and a menu will pop up that guides users on how to pay.
Agency Banking/Banking Hall: Depending on the school's banker, parents/guardians can walk to any agent or branch outlet of their school's bank and simply present the student code and the amount to pay.
Mobile Banking:Where applicable, parents/guardians with bank accounts within the same bank as their school may pay school fees using funds in their account via the respective bank's mobile wallet option or through the bank's mobile banking App.
Others include PayWay and Interswitch platforms.
To monitor payments,  school administrators are provided access to a free web portal/dashboard to have a real-time aggregated view of all payments made from various channels supported in the school. The portal also helps to register new students and manage existing ones, print receipts, set school fees bills, and block or allow part payments.
SchoolPay can be used by educational institutions at all levels; from daycare centres, all the way to Universities in both Rural and Urban settings.
Much more than just paying school fees⏤ a digital resource for improving  the delivery of education services
"SchoolPay is an entire education value chain platform," explains Joseph Ndiho Kiiza, Group Board Chairman, Service Cops, a Uganda digital services company that built SchoolPay from scratch.
"When we talk about the education value chain, we talk about all the actors in the education value chain⏤ the schools, students, teachers, parents, and then the financial system that connects with the schools or the banks that receive the payments, the telecoms where payments are made. This also includes all the other actors around the school ecosystem, such as the suppliers of the school," Kiiza adds.
Indeed it has grown into a movement, a digital movement⏤ that started with just one convert,  Seeta High School in 2016. Today it serves 10,667 education institutions and 6,123,000 students, with 32 partners that include banks, telecoms and other non-bank fintechs.
Now that it's done, it looks like it was easy, but it never was, according to  Patrick Muhumuza, the Head of Operations, at SchoolPay.
"In the beginning. I won't say it was a smooth journey. When we started in 2016, if you ask someone to pay their school fees, worth UGX1 million, using mobile money, it was very hard to convince someone that actually you can make a payment and the school receives it in real-time," Muhumuza recalls, adding, "But now, parents are happy schools are happy. And that drives us to do more as a fintech committed to Africa's growth".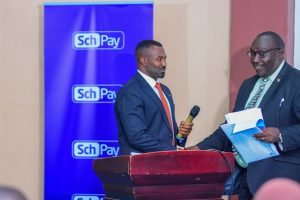 According to Patrick Muhumuza, other than the obvious financial and automation benefits, SchoolPay has helped schools improve the digitisation, storage and retrieval of vital school records and data.
"In the digital age, data and associated analytics are one of the biggest assets you can have and therefore the ease of storage, retrieval and usage is a game-changer. Previously, more than 80% of schools didn't have usable databases that could be relied upon to make decisions and projections. That has changed with SchoolPay," he says.
Transformative financial and administrative benefits⏤ school owners and parents speak out
"We had several issues such as forgeries- where parents could forge bank slips showing they had paid and yet when we did reconciliation, two months down the road, you would find that money was not paid or if it was, it wasn't paid at the time they said they did. But now we can carry out real-time reconciliation online with SchoolPay. That has been a big, big relief on our side," John Eyaku, Finance Manager, Victorious Education Services, one of the early adopters of SchoolPay, who joined in 2017 recalls.
Kakooza Moses, a Director of MK Learning Centre in Bweyogerere, says that SchoolPay has "relieved parents and students of queues, created better turnaround time, and improved security in cash management".
"Because all the monies are paid in the bank, there is better accountability for every coin. This has improved our cash flow management ability to plan and save. It has also allowed us to build a good portfolio with our bankers. Before SchoolPay, there would be a lot of cash collected at school and spent at source as well as exposed the school to cases of fraud. Some cunning staff could issue their own receipts, but all this is no more," he adds.
Mariam Mukisa, Director, Happy Maria Primary & Nursery School, Bweyogerere, told a meeting of other SchoolPay users, school managers and administrators, organised by Service Cops, that her school has been able to expand and grow rapidly because of improved financial management, afforded by SchoolPay.
"We were getting most of our payments in cash. Most of it would be spent at source, sometimes on unbudgeted items. There were no savings. Then we got introduced to SchoolPay. Because all the payments are made straight to the bank, we have learnt how to save money, because it is easy to know how much money we have and plan for it. Our cash flows have greatly improved and we pay our salaries on time," she testifies.
"Receiving cash at School is very dangerous. It is had to account for. But with money which goes to the bank, we can keep statements and track our revenues and expenditures. Thank you SchoolPay; we are really grateful. We started as a small school, with largely wooden structures, but now we have a storied permanent structure, all because of better management facilitated by SchoolPay," she adds.
Steven Bugembe, the Quality Assurance Executive, at Makindye Junior Academy whose school enrolled in 2017, tells of the transition from manual to digital school management.
"I remember very well, we were used to doing things manually ⏤ a large counter book where we would record everything. I remember the stacks of receipts and bank slips," he recalls, adding: "But when I attended a training that was organised by Centenary Bank in partnership with SchoolPay, I got to know about this brilliant idea and the services that SchoolPay, provides. We have never been the same again."
"To us as a school, we've got rid of cash at school, which used to be dangerous. Over and above the many other financial and administrative benefits of SchoolPay, we can send SMS messages to our parents from within the SchoolPay system, since we already have all their contacts and details in the system," Jolly Kamishani, Director, Mirembe Primary School testifies.
"I would like to urge my fellow directors and head teachers of different schools, to join SchoolPay because the benefits are there for all to see," she reiterates.
Lugemwa Charles, a parent, at St. Marks College, Namagoma, also urges other parents to embrace SchoolPay "for its convenience".
"I thank SchoolPay. They have made the school fees burden easier. Back then, we had to pay school fees in one lump sum, but with SchoolPay, there is an option that allows parents to work out an arrangement with the school, to pay school fees in instalments," he says.
Other school owners and administrators, also testified that SchoolPay has allowed them to reduce other operational costs such as the printing and storage of paperwork as well as man-hours spent in the reconciliation of manual receipts.
"It is also good for the environment," one other parent also testifies.
SchoolPay is a win-win for all, SchoolPay public and private partners testify
Mwanja William George, the Inspector of Schools, in Wakiso District hailed SchoolPay as a transformative solution that has "wholesomely transformed the management of schools as well as helped school owners easily and sustainably manage their establishments".
"SchoolPay has many embedded platforms and functions to help teachers and school owners run schools, trace learners, get fees defaulters and generally improve the running of schools as sustainable entities. I would like to urge all school owners to embrace digitalisation," he told the stakeholders meeting.
"I want to thank Service Cops, the developers of SchoolPay. I would like to encourage you to develop more systems," Mr. Mwanja said.
Albert Yiga, the Sector Head, Education, at Stanbic Bank hails SchoolPay as a key driver of financial inclusion, for parents and schools.
"Our partnership with SchoolPay has since benefitted the sector by having financial inclusion of most of the schools but also making it convenient to bank with us," he says.
Stanbic is one of the many banks and financial services partners of SchoolPay.
Viola Namuyaba, the Snr Manager, Payments and Commerce, MTN Momo, testifies that "over the seven years that we have offered school fees payments on MTN mobile money, we have witnessed the shifting of the mindset of the customer away from lining up and physically paying cash at various points of payments, onto accepting the reliable and digital option of paying school fees over mobile money."
"In line with our ambition 2025⏤ leading the digital solutions for Africa's progress, SchoolPay is one of the service offerings that brings this ambition to life," she adds.
George Mutekanga, the Assistant Commissioner in charge of private schools and institutions at the Ministry of Education and Sports hailed SchoolPay as a stitch in time as the ministry itself is holistically embracing the digitalisation agenda in earnest.
"Uganda today, like the rest of the world, is shifting from analogue to digital in everything we do. As a ministry, we are also digitalising the entire education ecosystem, so we can practice what we teach. As you are aware we also recently, changed the lower secondary curriculum, to include elements such as innovations, critical thinking, creativity and ICT.  All these are very important attributes of the 21st century. Am glad that SchoolPay is also introducing parents and school owners to digitalisation," he said.
"As the Ministry of Education and Sports we are not only looking at payments, we are also looking at expanding digitalisation to include online teaching, accessibility of information etc. No one should be left behind, regardless of their geographical location," Mr. Mutekanga, says, adding: "We are here to support and thank you for the good work you are doing for the country and also to support you, support us to ensure that we leave no child behind."
"My concern is how do we bring on board all the other remaining schools? How do we bring on board all the other government schools? How do we bring on a board all the different partners, the different stakeholders, i.e. the DEOs office, the District, Municipal Inspectors of schools,  the foundation bodies, management committees, boards of governors, head teachers, school management committees, centre management committees such all these central school management committees in the education sector are on board and they are on the right track," he concluded.
Africa is our home. Transforming its education system is our commitment
"As Service Cops, we have, for the last 7 years, been innovating in the education space, to make sure that, transform and enhance efficiency in the education sector. This is because education is the heartbeat of the economy and of the world. That is why we are dedicated to creating innovations and products in the education sector," Mathias Kamugasho, the Service Cops Managing Director further explains.
"We have improved it several times and continue to build it into a digital resource, that schools can rely on to improve the delivery of education services, managing students, making school fees collections etc.," Kamugasho adds.
Patrick Muhumuza says that SchoolPay has been made sweeter and more functional with enriched functionalities such as capturing staff data and monitoring attendance via digital clock-in, an SMS gateway to communicate to stakeholders especially stakeholders, an e-learning platform for teaching and distributing homework, and a parent's dashboard to monitor learners' performance, discipline, class attendance etc.  Other functionalities include a timetable scheduler, human resource management tools for school administrators as well and purchase and supplier management, among many others.
"In the near future we will add other vital functions such as pocket money management for parents and schools to help track and manage pocket money, credit facilities for parents to pay school fees, school fees insurance and back-to-school shopping," Muhumuza says.
"The digital age is here. We can't get anywhere to hide. Technology has touched every facet of our lives, be it payments, lifestyle, financial services, travel, or tourism, and it has not spared the education sector," Kamugasho adds.
We are collaborating with different partners ⏤schools, banks, government etc., to make sure we deliver extra value to the education sector. No single entity has the answer to all solutions needed," he said adding, that Service Cops was committed to working with the schools' ecosystem, to bring it up to speed, including skilling programmes.
"We plan to in future have the skilling of school owners/directors/administrators to be ready for the digital era. In the years to come, SchoolPay and Service Cops will be delivering some skilling training to help school administration be well-placed for the digital era. We are committed to the education sector because education holds the key to our present and the future⏤ that can impact all facets of socio-economic development," he reiterated.
Charity Atukwatsa Mutagamba, the CEO, Fincom Technologies Ltd a Service Cops subsidiary licensed by the Bank of Uganda (BOU) to run the school pay platform assured users of the privacy and safety of their information.
"We are an ISO 9001:2015 and ISO/ICE 27001:2013 certified company for Quality and Information Security Management respectively and our solutions are certified to International Standards," she assures stakeholders, adding: "SchoolPay, as a product, is now categorised as a systems operator and is licensed to Fincom Technologies by the regulator, Bank of Uganda who gives us guidelines on how we should treat the data that we collect from schools and all the other financial information we have".
"We follow the guidelines of the Bank of Uganda and are also registered with the Personal Data Protection Office, which is under the National Information Technology Authority of Uganda (NITA-U) which also guides us on how to collect, store and protect this information so that it is not breached in any way. With guidance from the different regulators that we have, we will be able to continue to protect our users' information as we evolve and grow," she adds.
With significant and transformative milestones back at home, Joseph Kiiza says Service Cops is now actively eyeing to take School Pay to the continent and the world.
"Over the last couple of years we've been doing expansions⏤ We are in Zambia, Ethiopia and we've opened up in Tanzania, and are registered in Kenya and also have our eyes on DRC; we've completed our registration there. We have our eyes in the western part of Africa, largely starting with Ghana and we will be carefully getting into Nigeria," Kiiza says.
"We have partnerships with other international players, where we are looking at expanding into markets that have similar settings like the ones we are operating in and these markets are largely in Southeast Asia, they are in Latin America," he optimistically projects.