Dr. Mary Goretti Kitutu (L), the Minister of Energy and Mineral Development launching UNOC's bulk trading business at Stabex in Nansana. Looking on are officials from UNOC and Stabex International
Uganda through the Uganda National Oil Company (UNOC) has officially started bulk trading of petroleum products in a move aimed at not only avoiding supply disruptions but also make the company profitable.
In simple terms, going forward, UNOC will import and sell petroleum products to local Oil Marketing Companies (OMCs), thus the term bulk trading.
The launch of UNOC's bulk trading business took place Monday morning at Stabex International head offices in Nansana.
Stabex, a locally registered company largely owned by Kenyans is the first customer of UNOC; the National Oil Company started by supplying Stabex with 400,000 litres of fuel.
Speaking at the event, UNOC Chief Executive Officer, Proscovia Nabbanja said this is the start of a long journey expected to strategically position the Company within the petroleum products supply chain.
Nabbanja added that the move is in accordance with the Company's mandate of handling Government's commercial interests across the petroleum value chain.
"Bulk trading is one of the UNOC's downstream projects alongside petroleum products storage terminals and pipeline developments," Nabbanja said, adding that the company will sell a fraction of Stabex's monthly fuel requirements.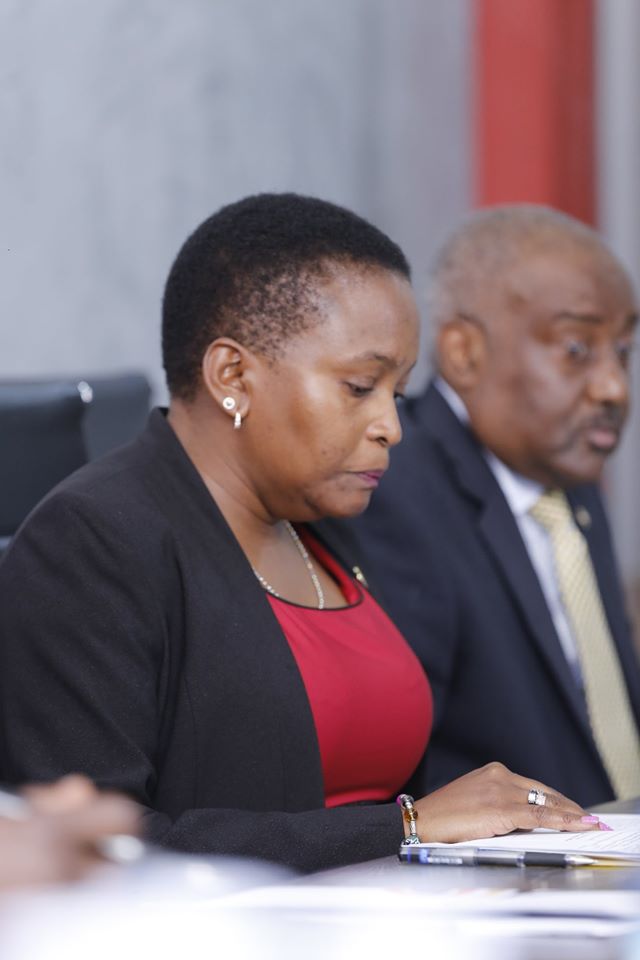 She added that the company will enter into further MoUs with other OMCs.
Nabbanja revealed that UNOC is investing US$71m in the Kampala Storage Terminal and US$18m in the Jinja Terminal with the aim of improving stocks and carrying out bulk trading business successfully.
Presiding over the launch, Dr. Mary Goretti Kitutu, the Minister of Energy and Mineral Development commended UNOC for taking a step in the right direction.
"In addition to performing its mandate and making profits from the business, I believe it will enhance the country's security of supply for petroleum products and therefore, support our capacity to withstand external shocks," Kitutu said, adding that Uganda currently consumes six million litres of petroleum products per day.
"This demand has been growing at an average rate of 9% in the last six to ten years. In addition to this internal market, there is significant forward market that Uganda is positioned to supply," the Minister said, noting that the Company can position itself to supply countries like South Sudan, Rwanda and Democratic Republic of Congo.
She urged UNOC to ensure consistency, timely delivery of quality petroleum products and excellence as they embark on this journey, noting that profits are dependent on happy clients.
The event was also attended by UNOC Board Chairman Emmanuel Katongole, who noted that the Company has acquired all the necessary licenses from Energy Ministry and other Government agencies for bulk trading. He added that they have engaged Uganda Revenue Authority to ensure that UNOC achieves the highest level of tax compliance.
The Stabex General Manger, Daniel Cherutich said they were glad to partner with UNOC on the bulk trading journey but most importantly be the first customer of the National Oil Company.
Having been founded in 2009, Cherutich said Stabex is the 3rd leading Oil Marketing Company in Uganda with a total of 50 stations spread across the country. He added that the Company plans to add an extra 50 stations in the next five years.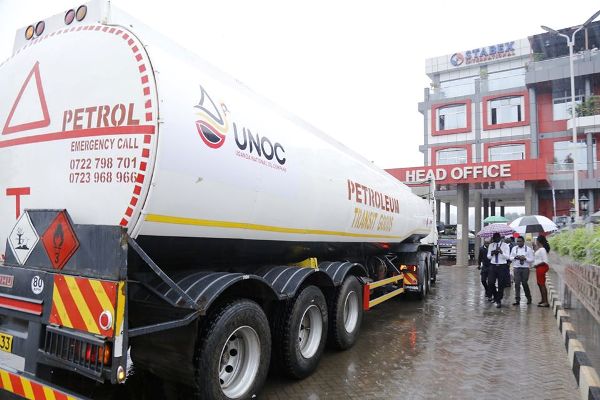 John B. Habumugisha, the General Manager, National Pipeline Company which is part of UNOC, said the Company will learn the logistics process initially and they will be scaling up the volumes as the Jinja terminal is improved and the Kampala one is completed.
He said they are working on linking the 30m litres capacity Jinja terminal to the Lake for efficiency. He revealed that the initial phase of Kampala terminal whose capacity is 60m- litres should be realized in about 18-24 months.
"This infrastructure is critical. You can't deal in bulk trading without terminals," Habumugisha said.
Asked on who UNOC's suppliers are, Habumugisha said: "Suppliers will keep changing. The supply market depends on the dynamics of the international oil markets, so there's no static element to tell you the supplier is so and so. The supplier moves with what is available on the market in terms of price, quality and reliability. All these factors change as the market moves, so we are not able to fix for you who the supplier is because it is a moving target."
About the origin of suppliers, he said the international oil market is so interlinked. For refined products, he said there are the Gulf, India, Singapore and Russia.
On why OMCs should partner with UNOC, Habumugisha said that this will reduce the cost of doing business. He said they are not retailing but addressing challenges of fuel supply in the country.
"Government will have to support us in operating bonded depots. Bonded meaning you are able to bring in volume and pay taxes later as you load. That is one of the best ways to enhance security of supply. If you pay taxes in advance like Stabex told you, you get constrained on capitalization," he said, adding that this makes them a special entity to work with in the oil industry.
On why UNOC partnered with Stabex first, he said: "There is always a first mover advantage. Stabex moved quickly knowing all these things I have told you and we assessed them and met our requirements."