Members of Parliament (MPs) sitting on  Public Accounts Committee (PAC) Monday  tasked the Ministry of Trade officials  to explain circumstances under which the Ministry paid Shs39.36m to political assistants and security guards of Ministers without the institution's structures providing for the posts.  
The Trade Ministry officials led by Permanent Secretary, Grace Adong had appeared before PAC Committee to respond to the 2017/2018 audit report that highlighted that Shs39.36m was charged on a wrong account codes without authority leading to mischarge of expenditure.
Adong told the Committee that the mischarge was a result of underfunding which made it hard for the Ministry to implement some of the activities and that the money was used for payment of allowances for political assistants and security guards for the Ministers.
The revelation raised concerns with MPs, questioning if political assistants were part of the staff structure and why the Police offering security to the Ministers drew two salaries from the consolidated fund.
In response, Adong (Left in featured photo) said there are a number of other items which weren't highlighted in the expenditure other than personal assistants.
"Security guards work with the ministry and political assistants assist the ministers. The political assistants are allowed and they are paid by government. At the time they hadn't been given their formal letters and entered in the system. Each minister is allowed to have one political assistant," she said.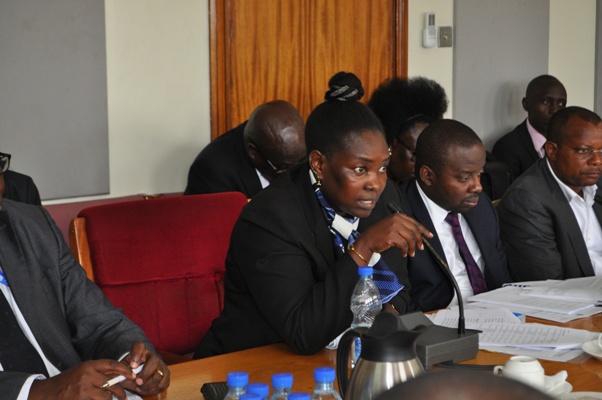 However, PAC Chairperson, Nandala Mafabi wasn't contented with the response given asking, "Which Minister didn't submit in time? Do you want to say all ministers didn't submit on time? Can we have list of these political assistants and money paid to each of them."
Adong replied, "Once a Minister is appointed, the Political Assistant is appointed to assist him with duties in the constituency. Every minister is entitled to a political assistant whose details he submits because that person isn't already employed. It is an entitlement to every Minister. Usually the submission is made for regularization because they aren't civil servants. They are entitled to security guards who are paid by the ministry."
However, Nandala directed the Ministry officials to provide evidence from the Secretary to Treasury authorising the Ministry to spend the money as well as evidence that it was the Ministers that delayed to submit details about their political assistants and failure would leave the Committee with no option but force the Permanent Secretary to refund the money.
Politically, the Ministry of Trade is headed by Amelia Kyambadde, and deputized by Minister of State for Cooperatives Gume Ngobi and Werikhe Gafabusa (State Minister for Trade).