Arinda says Jada Coffee has been received positively by the market
Known in her circles as Madam CEO, Jackie Arinda, is eight months old into the coffee business. However, the passion with which she markets Jada Coffee as its Chief Executive Officer (CEO) is worth recognition.
Her choice of marketing is digital and her widest market is contained within the contacts she made in the last 15 years as she worked as a radio presenter with Vision Radio, presenter, reporter, editor, producer and CEO of Smart 24 TV and her most recent job at Record TV as the Chief Operations Officer and Director Business & Strategy.
However, she chose to step down from employment even when she is yet to clock 30 years. Starting October last year, Arinda decided to give Jada Coffee 100% attention.
In eight months, she's already employing 15 people as Jada Coffee brand continues to take the Ugandan market by storm.
Hows Jada Coffee Idea Started
In an exclusive interview with Business Focus at her Kampala based office, Arinda revealed that the idea that birthed Jada Coffee was conceived in Washington DC, United States. This was after a Ugandan delegation to which Arinda was part of attended Promoting African Coffee event, an initiative of Africa Coffee Bureau between October 7, 2019 and October 10, 2019.
According to Arinda, Ugandan coffee was poorly marketed at the event compared to Brazilian and Ethiopian coffee yet she believes Ugandan coffee is the best in the world.
Arinda says tables that had Brazilian and Ethiopian coffee were well-designed and branded unlike Uganda's table. As a result, Uganda's table didn't attract many people.
She concluded that while Uganda has good coffee, its marketing was lacking.
"We need more people to speak for our coffee," she passionately says.
Arinda says she draws inspiration from many sources. For starters, she talks proudly about the French Embassy and the French Ambassador to Uganda, Jules-Armand Aniambossor. Others on this list are Gerald Katabazi of Volcano coffee and Robert Kabushenga of Rugyeyo farm.
She says Katabazi gave her contacts of farmers to supply her with quality coffee. These farmers are in Kapchorwa, Masaka and Mbale. Even when Jada Coffee is up and running, she has not forgotten her roots. She still goes to Volcano for coffee lessons but also drinks from there. Katabazi buys from her too, she says.
"I am learning from them. We are not shaken by our fellow suppliers. We learn from each other. The market is very big and with huge opportunities," she says.
What makes dealing with other suppliers easy for Arinda is that she deals in Arabica coffee while other suppliers are into Robusta.
Arinda's Jada coffee is branded with khaki colour. She says her kind of branding is eco-friendly and that she is branding for the future.
STARTING UP
Arinda started the operations of Jada Coffee with Shs7 million. This basically went into registration, branding, digital marketing and sourcing coffee.
She however says this money returned in the first month of operation. "This was a test but we are here," she says, advising the young people to start small.
"Start up a business. Don't wait to grow big. Use your social capital. Build a relationship with people. Don't just sit there. Take advantage of a situation (social capital)," Arinda says, adding that she has worked with the youth and women since her university days.
"All I did (from the university) was to teach people how to write applications and proposals. I still do it for free," she says.
However, she is bothered about the level of corruption among the young people.
"…I help women in building their confidence. I have also used my social capital to get the youth and women jobs. On top of these, I mentor and recommend," she notes.
However, she says, young people are scared of trying out things.
"They can't even start and sustain a conversation. They are scared to apply for a job but we need someone to support them," she says. "As CEO of Smart 24 TV, 99% of the staff were the youth. 70% of these didn't have any experience at all," she says, adding that young people should get out of their comfort zones and work hard.
"Read and watch material that will get you a job," she advises.
FIRST SALE
Arinda sells 250g of Jada coffee at Shs15, 000, 500g at Shs30, 000 and a Kg at Shs60, 000. This includes delivery fee within Kampala. She says her first sales went to her family and friends. Although 50% of her family members and friends don't drink coffee, they kept marketing her product.
"I was worried for the second month but they kept referring me to other people. Since October, I have never had a day without a new order," she says.
Arinda says she could not have started if she waited for huge capital as the market demands. She instead started small and she's growing big. For example, for her product to appear on the supermarket shelves and start up a café, it requires over 150m. She is hopeful that one day Jada coffee will be on supermarket shelves and she will own a chain of cafes across the country.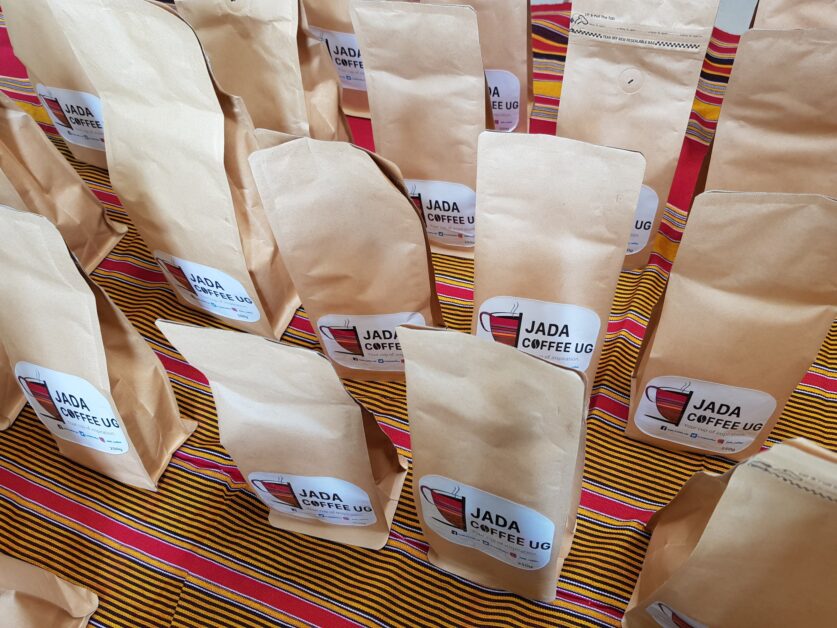 DOMESTIC CONSUMPTION
According to Arinda, domestic consumption of coffee is still very low. She says even the consumption locally is not mostly by Ugandans but tourists or foreigners within the country.
"We get excited when we hear that local consumption is going up but who are the consumers?" she says.
Arinda says baristas need to be properly trained to do quality brewing. She also says that the waiters and waitresses need to be trained to understand what they are marketing so that they are able to convince a client.
She also thinks that the Ministries, Departments and Agencies (MDAs) have the capacity to grow domestic consumption. According to Arinda, Ugandan coffee should be the thing in MDAs boardrooms, and not imported products.
"Let's start with our government and then the private sector," she says.
Tourism also be promoted alongside coffee which is a top foreign exchange earner for Uganda.
According to Arinda, Uganda can for example have a billboard at the airport reading "It's never a trip without Ugandan coffee'. She says lack of advertising is delaying the growth of the coffee sector.
Her experience so far shows that some farmers can sell green beans. To deal with this, Arinda, using her list of farmers, is able to tell who sold her coffee of poor quality. In the end, she says, she talks to them, explaining why they will not be paid for the supply in case of poor quality.
FARMER SUPPORT
Arinda plans to extend financial services including literacy and loans to farmers.This, she says, is meant to empower farmers so that they aren't desperate to either sell off coffee before it is ready or cheaply.
RUGYENDO ON BOARD
Recently, Arinda unveiled Arinaitwe Rugyendo, a digital enthusiast as Jada Coffee Board Chairperson. She says where Jada Coffee is operating digitally, no better candidate emerged as Rugyendo after a months of searching.
On top of digital knowledge and experience, Rugyendo is highly connected. Her social capital and that of Rugyendo, she believes, is what the company needs. Thirdly, she fell for Rugyendo's love and support for Ugandan products. But above all, she chose Rugyendo because he has started a business and run it. These, she says, were the basis for choosing the Red Pepper co-director.
REGISTRATION OF FARMERS
Arinda believes that Uganda Coffee Development Authority (UCDA)'s move to register farmers and other key stakeholders along the coffee value chain is good because it will help in knowing who is doing what in the coffee sector.
Arinda says once the coffee bill becomes law should be translated into local languages for the benefit of the farmers. She thinks that coffee related matters should not only be on radios and television stations in Kampala but the local and 'small' radio stations upcountry but above all, have officials move upcountry to interact with farmers. She urges UCDA to continue with sensitization on post-harvest handling, picking of red cherries, drying and packaging.
FUTURE PLANS
Arinda plans to put up Café's in Kampala, Mbarara and Jinja (in that order) in the near future. In one year, she says, Jada Coffee will be exported to the United States of America. The paperwork to realize this is almost ready, she says.
After one year, she wants to have over 100 farmers registered and working with Jada Coffee.
By Francis Otucu