Abderahmane Berthé, the AFRAA Secretary General speaking at the AFRAA 55th AGA taking place in Kampala
African Airlines are still lagging behind their peers in developed continents on almost all key performance parameters, a report by African Airlines Association (AFRAA) has revealed.
Abderahmane Berthé, the AFRAA Secretary General, gave a sneak peak into the performance of African Airlines during the AFRAA Annual General Assembly hosted by Uganda through Uganda Airlines at Speke Resort Munyonyo on November 20, 2023.
The theme for this year's AGA is " Strides to Transform Aviation for Development" and the event attracted569 delegates from 49 countries.
Quoting the International Air Transport Association (IATA) report,  Berthé said global airlines carried 3.4 billion passengers in 2022 compared to the 2.2 billion realised in 2021.
"In 2022, African Airlines carried 67 million passengers, representing a 55.8% growth Year on Year. However, only 2% of  the global traffic," Berthé said, adding that the average Passenger Load Factor recorded in Africa for 2022 was 71.6%, a 10.6% increase compared to 2021. However, this is 7% less than the global average.
"The mismatch between capacity and demand and the limited commercial cooperation between local carriers may explain this low performance in terms of load factor in Africa," he said.
He revealed that AFRAA estimates the revenue loss for 2022 at USD 3.5 billion, representing 20% of 2019 revenues.
"This will narrow down to USD 1 billion in 2023," he said.
He added that 2022 was a strong recovery year for the airline industry, as most countries reopened their borders and lifted  travel restrictions.
Cargo
AFRAA says cargo activities remained more resilient to the COVID-19 crisis.
According to IATA, the cargo volume increased  68% from 2021 to 2022.
"African airlines moved 960 thousand tons of freight, representing 96.7% of 2019. The African region represents 2% of the world's total Freight," Berthé says.
According to IATA, in 2022, while the global industry posted Net post-tax losses of USD 1.10 per passenger, African airlines posted losses of USD 9.50 per passenger.
"The cap will narrow in 2023, with losses of USD 2.10 and USD 4.4, respectively," Berthé says.
It should be noted that the United Nations World Tourism Organisation (UNWTO) reported 960 million tourists in 2022.
The African continent received 46.6 million tourists, 4.85% of the global number and a 35.2% drop compared  to 2019 before the Covid19.
According to the WorldBank, the Global GDP growth was 3.1% in 2022.
For Africa, economies recorded a slowdown in 2022. The  GDP growth was 3.8%, below the 4.8% in 2021.
"We expect to reach 4% in 2023," Berthé says.
However, according to the AfDB, African economies remain resilient, with average growth projected to stabilise at 4.1 per cent in 2023–24.
According to the International Monetary Fund (IMF), for 2023, Africa's average GDP per capita is $ 2040, 15% of the global average, which is $ 13,330.
"This indicator is essential for our industry, showing the challenge of air transport affordability for African citizens," Berthé  says.
Jet fuel price
In 2022, the jet fuel price averaged $99.8 per barrel, an increase of 29.6% compared to 2021 and higher than the average of $79.7 in 2019 before the Covid19, Berthé  said.
Unfortunately, he said, fuel prices are rising, reaching $123.46 at the end of October 2023.
"This trend of high fuel costs impacts fares and hinders air transport affordability for African citizens," Berthé  says.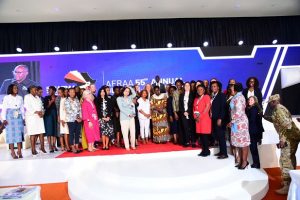 Safety
In 2022, the safety performance is in regression compared to 2021. Berthé  said African carriers were involved in 10 accidents, of which three were fatal, with 25 facilities.
"Promoting and enhancing safety is one of AFRAA's priorities through collaboration. AFRAA and industry stakeholders are working towards
improving safety standards in our continent," Berthé says, adding that AFRAA is currently running with IATA and AFCAC a 3-year project, which aims to identify eligible airlines, conduct gap analyses, and recommend corrective actions to prepare those airlines for IOSA or ISSA certifications.
"AFRAA is assisting one member airline to prepare for IOSA," he said.
Industry Recovering
According to AFRAA estimates, during the 3rd quarter of  2023, "we have reached the number of RPKs (Revenue Passenger Kilometres) for the same period in 2019.
"AFRAA estimates the number of passengers in 2023 to be 85 million in 2023, 89% of the 95.6 million in 2019," he said, adding that in 2023, Northern Africa is estimated to account for 39.5% of the total African traffic, followed by Central and West Africa at 21.7%, Southern Africa at 19.4% and Eastern Africa at 19.3%," Berthé says.
According to World ACD, in 2023, African Airlines represent an average of 30.6% in terms of cargo market share.
AFRAA Priorities For 2024
Berthé says as airline operations increase, addressing the safety challenges and opportunities is more crucial than ever.
According to experts, the traffic will double by 2040.
"Aircraft manufacturers estimate that the demand for new aircraft in Africa will exceed 1,000 units in the next 20 years," Berthé says, adding that stakeholders must work together to reverse the current safety downtrend and minimise safety risks during the next 20 years' growth period.
He said that AFRAA and FlightnSafety Foundation have partnered to organise a landmark Aviation Safety Summit in Addis Ababa, Ethiopia, in conjunction with the AFRAA Annual Convention in May 2024.
"This summit seeks to bring together the stakeholders in the industry to discuss, strategise, and collaborate on shaping a safer future for African aviation," he said.
He noted that currently, 85% of the intra-Africa flights are direct  versus 15% connecting.
"Only 21% of the direct  flights are operated under 5th freedom traffic rights," he said, adding that despite the AU's Single African Air Transport Market flagship project, access to markets and connectivity remains challenging.
He says it is crucial to bring together airlines, airports and aviation stakeholders from across the African continent to engage to build air services within Africa.
He says AFRAA will continue its advocacy actions and organise follow-up meetings in related states to tackle blocked funds and high taxes.
"The African continent must focus on aviation as a critical socio-economic development driver. Cooperation, Collaboration and joint industry actions are essential in this process," he says, adding: "AFRAA intends to play a pivotal role in navigating African airlines by charting a sustainable path in support of rejuvenating the continent's aviation industry through  specific support measures."