Smart farmers are increasingly earning big from agribusiness sector.
Although subsistence agriculture in Uganda stands at 69.4%, a few commercial farmers are enjoying the fruits of their sweat.
Samuel Mpabe is one of a few Ugandans banking clean cash from mixed farming.
He grows bananas, maize, coffee and fruits such as mangoes, oranges, pineapples and guavas among others.
He is also into piggery, goats, cattle and poultry.
A resident of Namisambya village, Kitayundwa Sub-County in Kamuli district, Mpabe, 60, holds a Bachelor's degree in Science and a post graduate diploma in Education both from Makerere University.
Mpabe, a professional teacher together with his wife Justine Namagembe, also a teacher took on agribusiness to supplement their teaching jobs.
The couple taught at Iganga SS for many decades ago while they practiced farming.
However, in 1995, the Mpabes ditched teaching for their own businesses.
He says that they started small and went on expanding as they learnt from their past mistakes. He says he intercrops his bananas with pineapples in order to fully maximise his land. He adds that his banana bunches are big because he applies the best agronomic practices like applying manure and mulching.
Expanding
Mpabe says the fruits of their involvement in farming have resulted into the birth of Dawn Prime Academy (primary school), one of the academic giants not in Iganga district and the surrounding districts.
"From poultry, animal rearing and growing crops such as maize and bananas, I raised the sum that funded the erecting of the school," he says.
He adds that he has since expanded into agro-forestry; he has established a 20-acre eucalyptus forest at Walukuba in Iganga, along Iganga-Jinja highway and a two- acre meria volkensii forest at his ancestral home in Butayundwa.
Mpabe reveals that he has been able to run the school smoothly because it (the school) has a farm that provides milk, meat and eggs to the pupils.
"I have kept my pupils in good health. My farm at the school supplies a balanced diet to them," says Mpabe.
One of his farm at his ancestral home has over 70 pigs, over 40 goats and over 1000 chickens.  This new farm which sits on 10 acres of land started in 2013.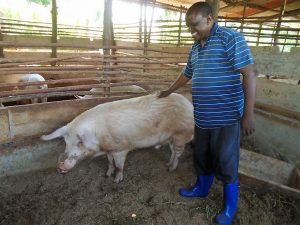 Challenges
Mpabe's greatest challenge especially at the new farm has been the locals who sneak into his farm at night and steal his fruits.
"Sometimes my mangoes, oranges and bananas are stolen," he says. However, he is fencing all his farmland to solve the problem.
Unpredictable weather conditions have also affected his earnings.
"I want to start irrigating my crops because natural rains are no longer dependable," he says, referring to the prolonged dry spell that hit Uganda last year and still present in other parts of the country.
He adds that locals willing to work are few and expensive.
"They charge me highly for their services because very few are willing to offer labour," he says.
The Future
Mpabe says he wants to mechanise his farm to help him solve the inadequate labour supply.
"I intend to rear sheep, ducks and other animals at a new farm," he says, adding that he wants to set up security personnel to ensure safety of his projects.
Advice to Ugandans
Mpabe advises Ugandans to work hard and always have a goal in life. He says people should not minimize agriculture because those who have taken it on as a business, poverty is history to them. He also urges Ugandans to visit progressive farmers like him so that they can borrow a leaf on how they can engage into farming.
"While we can't all go into farming, those with vast idle land shouldn't be lamenting of poverty," he says, adding that the demand for his products is readily available.