Uganda's Ministry of Health has signed a Memorandum Of Understanding the Kingdom of Busoga to promote good health and prevent disease.
This happened on Friday during the Busoga Lukiiko (Parliament sitting) at Bugembe.
Dr Diana Atwine, the Permanent Secretary of the Health ministry represented the ministry, while Owek. Dr. Joseph Muvawala Nsekere, Kingdom Premier signed on behalf of Busoga.
The signing of this MoU was witnessed by the Kyabazinga of Busoga, His Majesty William Gabula Nadiope IV.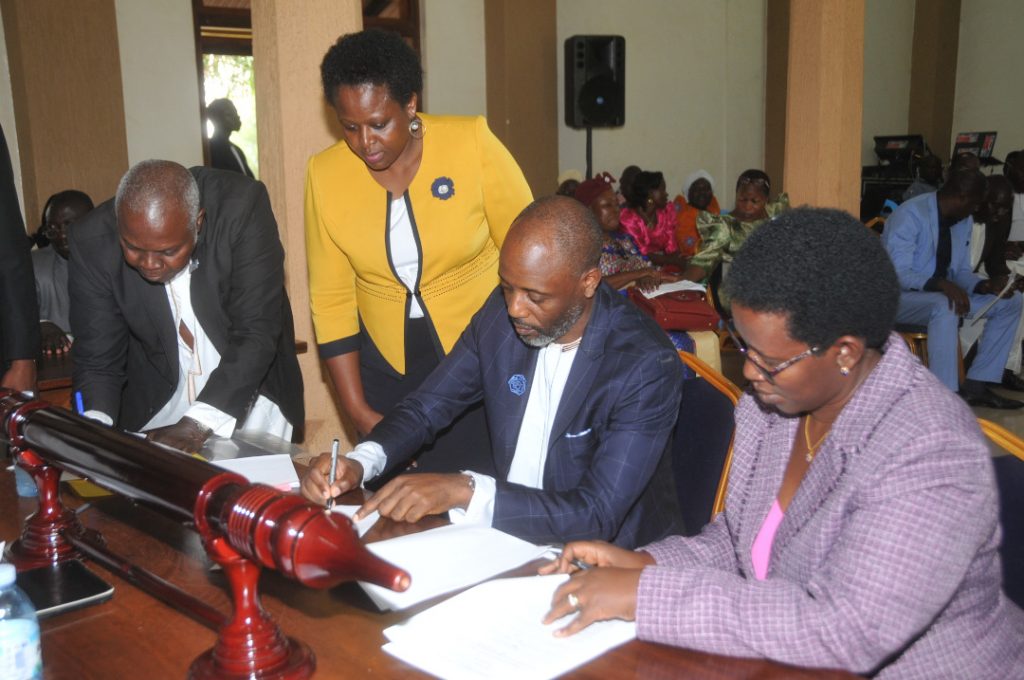 "We have signed an MOU with the Kingdom of Busoga, during the Kingdom Lukiiko. This will guide our partnership in activities aimed at Disease Prevention and Health Promotion in the communities of our people in Busoga. We thank His Highness the Kyabazinga, the Kingdom Prime Minister and entire Lukiiko for supporting the health cause," Dr Diana said after the function.
Dr. Atwiine, who addressed Busoga Lukiiko prior to signing an MoU with the Kingdom, disclosed that Busoga needs a joint effort to address its health complications.
"Am humbled by the Kyabazinga's gesture of being in touch with his people and we wish to tap into the Kingdom structures to sensitize masses about the different health challenges in the area that need a concerted effort," she argued noting that Busoga ranks highly in sickle cell cases standing at 19.42%, 21% prevalence is for malaria in the area, TB and teenage pregnancies are also rampant making it inevitable for the MoU to come into force.
She also revealed that children below 5 years die due to lack of blood while mosquito net usage is wanting in the area.
Dr. Atwiine, who proposed a mandatory sickle cell medical check up for intending couples, informed the Lukiiko that due to the current coronavirus, the health ministry has since suspended shaking of hands to guard against the virus.