The Uganda Peoples 'Defence Forces (UPDF) Chief of Defence Forces, Gen David Muhoozi on Friday told Officers and Militants of Battle Groups XX1, XXV and UNGU (United Nations Guard Unit) V not only to learn but understand the interest, mission and purpose of the force they serve.
He taught them the ideology and the history of UPDF.
This was at the Singo-based Peace Support Operations Training Centre, in Nakaseke District, as he officiated at the closure of the Ideological Orientation Course.
Gen Muhoozi who was giving a lecture of opportunity at the reception of BG XXI and the conclusion of training plus pass out of BG XXV and UNGU V, reminded the trainees that discipline was a core element in the foundation of UPDF and the wanaichi remain an important factor in the success of the army's' mission.
"We are not machines or robots bearing arms but decent human beings with a purpose "he pointed out.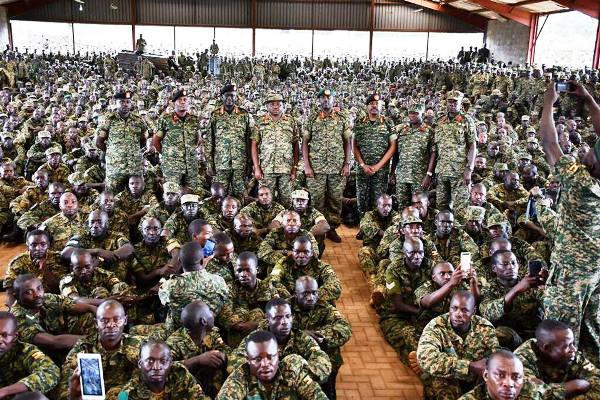 The CDF while welcoming back BG XX1 at the same function, cautioned them to stay out of trouble, to be patient with whatever they find back home, to chose their investments wisely and seek information from experts on finances to avoid being exploited.
"We expect nothing less than loyalty, sacrifice and discipline," he said.
Brig Charles Wacha, who represented the Chief Political Commissar, encouraged the soldiers to enhance the ideology of UPDF and purse all the programmes continuously.
Seven best trainees were awarded certificates and gifts among them were Col Chris Ogwal the Commander of BG Comd XXI.
The function was also attended by the Chief of Staff Lands Forces Brig Leopold Kyanda and other Senior Officers.