Sr. Goretti Birungi taking UCDA team on the farm tour
Four years ago, Uganda Development Authority (UCDA) started working with the Catholic Church across the country in a bid to boost coffee production and productivity. This strategy was formulated following the launch of the Coffee Roadmap which seeks to provide and promote concessions for coffee production on large underutilized tracts of land.
The Banyatereza Sisters (Daughters of Mother Theresa) under Fort Portal Diocese were quick to heed the Government's call to join coffee farming.
As you drive to their 36-acre farm located in Mwegenywa village, Kiyombya Sub-county in Bunyangabu district, you might be forgiven for concluding that coffee does not exist in this area.
This is because all you see along the 40km-journey from Fort Portal to the farm are beautiful cattle farms, banana/matooke plantations, the beautiful Rwenzori ranges and Nyinambuga Crater Lake which features on 20,000 Uganda Shillings note. In fact, the Sisters' coffee farm is a few meters away from this beautiful Crater Lake.
However, as you approach the Sisters' farm, you begin to see coffee trees, an indication that coffee does grow in this area.
Sr. Goretti Birungi, the overall Manager of the farm, says that they started with a coffee nursery bed in 2016 where they would supply seedlings to Government through UCDA.
However, they decided to practically do what they were preaching-plant their own coffee.
They planted 26 acres of Robusta and 10 acres of Arabica. Unfortunately, they realized that the soil and the altitude were not conducive for Arabica.
"We cut (the Arabica coffee trees) and instead nurtured bananas/matooke," Sr. Birungi said.
She revealed this to UCDA Board Members and top management that visited the farm on Friday March 11, 2022. The UCDA team was in the Rwenzori region to appraise and evaluate the performance of the Authority's field activities.
Sr. Birungi said they are not only promoting women in coffee, but also championing coffee growing in the district and the region at large.
"We are a learning centre for farmers around," Sr. Birungi said with a beaming smile.
Having planted the coffee four years ago, the Sisters are beginning to taste the sweetness of their sweat. Last season, they harvested about 70 bags of dry cherry (kiboko) because some trees are still young.
Sr. Birungi also said that some parts of the land are not good and thus, coffee hasn't performed well.
"We are trying to apply manure (poultry litter from our poultry farm) but some parts are not doing well," she said, adding that investment in coffee is a little bit stressful, especially in the early years.
She thanked UCDA and Operation Wealth Creation (OWC) for their support.
Value addition
Uganda Catholic Women Organisation has supported the Sisters with a solar-powered coffee drier and a small pulper machine to add value to their coffee and train other farmers.
"We wanted to have a coffee huller so that other farmers can use it. We have a coffee collection point here and we sell our coffee as one body," Sr. Birungi revealed, adding that she works with 15 workers on the farm.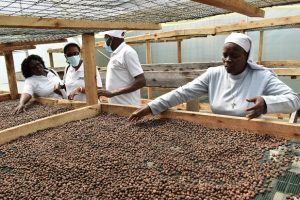 She said although the farm is yet to break even, with best agronomic practices applied, she is hopeful it will soon become profitable.
1m by 3m spacing not supported
At the farm, it was observed that a small piece of land had newly planted coffee trees using the 1m by 3m spacing commonly known as the Brazilian method of coffee planting.
However, Apollo Kamugisha, the UCDA Director Development Services, advised the sisters and farmers in general to stick to the Government recommended spacing of 3m by 3m as they wait for study results from National Coffee Research Institute (NaCORI).
"NaCORI is studying the 1m by 3m spacing method. The results will probably come out this year. Spacing coffee trees at 3m by 3m remains the Government recommended spacing ," he said, urging the Sisters to use the already planted coffee using 1m*3m as a pilot study.
"You may get good results in the first year of harvest but as the trees grow bigger and older, the results will not be good," he said.
Dr. Sadik Kasiim (NARO representative on the UCDA Board), who spoke on behalf of UCDA, said he was impressed with what the Sisters are doing. He pledged that UCDA will continue supporting the Sisters.
"There's value for money in what you're doing…You can cause value out of the little that God has given you. You are grateful for the little contributions and a grateful heart will always lead to development," Dr. Kasiim said.
He added that as Uganda aims to achieve the 20m 60kg bags by 2025, the focus is now on production and productivity.
"More farmers are coming on board to grow coffee. Every tree planted should not die and must be productive," he said, adding that quality should be streamlined along the whole coffee value chain. He also urged farmers not to adopt the 1m by 3m spacing method.
Martha Nalubega Wandera (a representative of coffee roasters on the UCDA Board), said she was impressed that more women are joining coffee farming.
"I am impressed with the Sisters of Mother Theresa. The way they are paying attention to quality is impressive. They are trying to involve the communities around themselves, teaching them the best agronomic practices. This is the way to go," Nalubega said in an interview with Business Focus on the sidelines of the visit.