Telecom Company, Airtel has introduced international money transfer services on their mobile money platform.
According to the Airtel Money Director, Eric Karobia, the first Airtel money customers will directly send money to recipients in Tanzania and Malawi and soon will launch in Rwanda, Kenya and UAE.
"With 10 million customers, 650 branches and 140,000 agents, Airtel will benefit people in the Diaspora and traders," Karobia said.
He said that they are still operating with the normal charges.
"We're going to advertise the rates applicable and we shall have to convert the currency depending on the rates of the day," he explained.
Airtel Managing Director V.G Somasekhar said that the telecom company has more than 15 countries to go as they drive for financial inclusion.
"The service we are launching today stands to ease the convenience with other millions of people who are able to send and receive money from their loved ones abroad driving financial inclusion," Somasekhar said.
He added that the Airtel Money International Transfer Services confirms to the global Anti Money laundering policies enhancing international trade and regional integration.
About 73% percent of Ugandans have mobile money accounts and 19 million with bank accounts.
Bank of Uganda's Assistant Director- National Payments, Lawrence Olubo said this initiative is saving Bank of Uganda from the cost of printing money.
He called upon telecos to support the new National Payment Bill which is before the parliament.
"Bank of Uganda's biggest problem is printing money, the National Payment Bill needs your input to further improve the efficiency of mobile money in Uganda," he said.
Henry Okello Oryem, the Guest of Honour and State Minister for Foreign Affairs said: "I would like to thank Airtel for this innovation and as Government I would like to pledge our support for such a system that will play a big role in making Uganda a big player in integration efforts of the region. "
He added: "I am glad that with this service, I don't have to go to the bank, fill forms and wait for ages. I can do all my transactions from the comfort of my home without extra costs."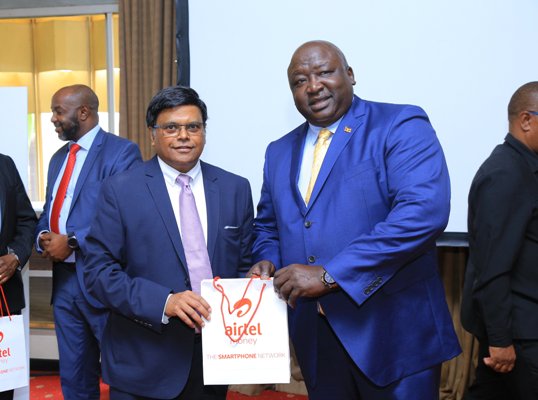 Foreign remittances to Uganda were estimated at about $1.2 billion in 2018, up from$1.1 billion in 2017.