In 2016, dfcu Bank signed an MOU with Makerere University Business School (MUBS) to start a business acceleration program for women entrepreneurs under its program Women in Business that seeks to empower women entrepreneurs in the business space. Recently, the first group comprising of 90 women successfully completed the 2-year Business Management training course and were awarded certificates at MUBs entrepreneurship center.
The course was segmented into 5 modules and the women attended classes every once a month for the last two years.
Speaking while presiding over the awards ceremony on 5th March 2018, MUBs Chancellor prof. Waswa Bulunywa revealed that the launch of the innovation and incubation center will further bolster progress in empowering women as they will be able to acquire necessary skills and expertise to start their own businesses with the help of dfcu bank and MUBs expert lecturers.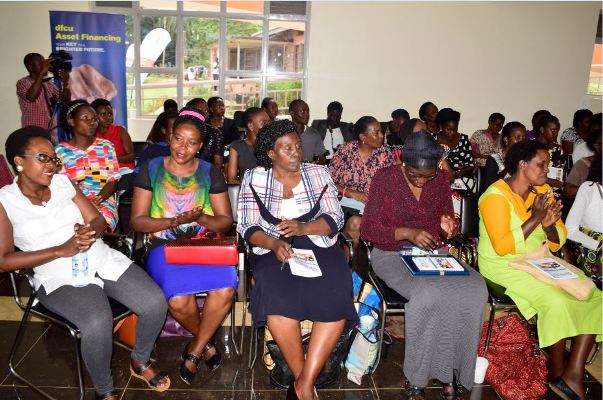 "We put more emphasis on women and girls because they are the most marginalized group. Women are the most vulnerable whose rights have been trampled on. We need economic empowerment projects to empower them financially. Women are the face of poverty as most of them look up to their spouses for financial support," he remarked.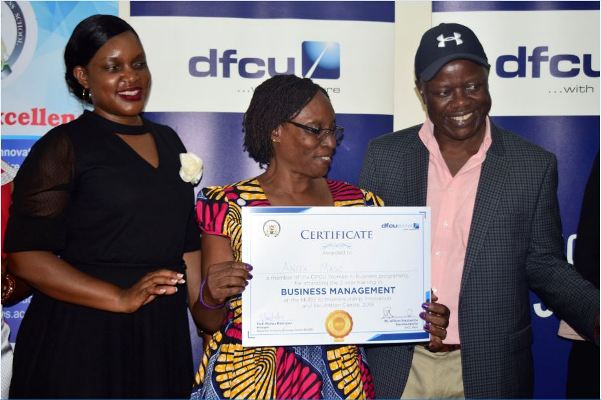 Women economic empowerment is very important for a country's development right from the smallest unit of the community which is the family. Empowering women brings about great reduction in dependence rates, increased household income leading to increased household purchasing power which results into an improved standard of living. This further leads to independent decision making regarding career, job selection, education, health, investment and rights. It is therefore inevitable that empowering women economically will no doubt lead to the country's development.
dfcu Bank Women in Business (WiB) program Manager,Victoria Byenkya, said; "As dfcu Bank we are fully committed to this cause and our doors will always be open to women.
These women have been trained in all aspects of business management and they have learnt all the business acumen to run successful businesses. We also had business clinics, breakfast meetings and will continue with networking events. The next phase we are moving into is impact assessment to follow up on the women in their various businesses."
dfcu Bank is set to renew the partnership to train the second group and registration is free as long as you have an account with dfcu Bank. You can then register under the Women in Business program to qualify for the course.
In addition, dfcu Bank (WiB) program has standing partnerships with several Associations that complement & contribute to their activities such as the Institute of Certified Public Accountants that assists women with accounting challenges, Uganda Law Society – legal issues and Enterprise Uganda – entrepreneurship training for women.
Over 50,000 women have benefited from the various trainings that have been organized under the women in Business program.
"Through this training, I know how to identify needs, understand client, customer care, book keeping and marketing my business. Before I had products but I didn't know how market them, but now I know better. I realized market is everywhere," said Katema Evelyn Linnet Fleshy, one of the beneficiaries.