The Minister for Tourism, Tom Butiime says the National Resistance Movement has achieved monumental landmarks on its social contracts with the people as stated in the
NRM Manifesto 2016-2021.
Out of 17 commitments in the tourism industry, the Minister says, 15 were significantly achieved and two partially achieved.
"We therefore rate ourselves at 92%," Butime said, attracting a thunderous clap at the OPM Auditorium in Kampala on Tuesday.
This, he said, is a result of Ten (10) companies being licensed to operate wildlife related enterprises providing employment and foreign exchange to the country; Revenue sharing funds into communities amounting to UGX 22.4 billion over the last 5 years; Revenue accrued from Sport (trophy) hunting amounting to USD 1,632,861 (about UGX 5.8 billion) Visitors to protected areas rising from 215,558 in 2015 to 323,861 in 2019 and Elephant population has increased from only 2,000 in 1983 to 8,342 in 2020.
He added that Mountain Gorillas in Bwindi alone have increased from only 298 in 1993 to over 459 by 2018; Buffalos have increased from 25,000 in 1982 to now 38,367 in 2020; Uganda kob increased from 40,000 in 1982 to 146,250 in 2020 surpassing the post-independence numbers of about 70,000.
He added that Uganda Airlines has been revived and this has improved accessibility from the tourist source markets, improved convenience and reduced cost of air travel.
He further noted that the number of visitors from the neighboring countries increased by 3.2% in 2019; UTB budget increased from Shs10bn in 2015/16 to Shs26bn in FY 2020/21; Government undertook market activations and deployed six Market Destination Representation (MDR) firms in the core markets of UK & Ireland, China, and Japan, North America, UAE, German speaking countries (Germany, Austria, Switzerland).
The Minister added that numbers of leisure visitors from the American market has increased by 10% annually since 2016 until the outbreak of COVID-19 in 2020 and Visitation to National parks and other selected tourist sites increased by over 8.4% annually.
KEY PERFORMANCE INDICATORS FOR TOURISM SECTOR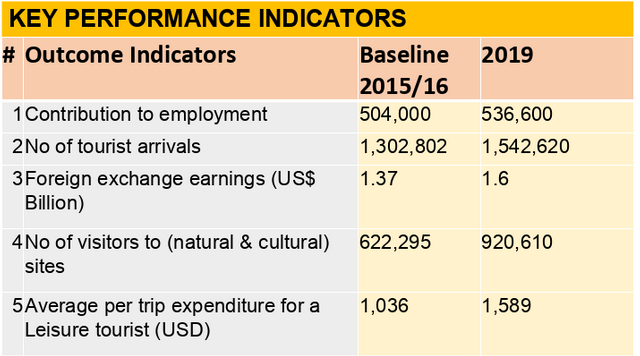 However, COVID-19 pandemic hit the Sector hardest leading to heavy losses of revenue and jobs. Other challenges include Encroachment on Conservation Areas and cultural heritage sites; Invasive Species infestation of wildlife habitats due to climate change; Human Wildlife Conflicts due to recovery of wildlife populations; Negative travel advisories due to disease outbreaks and isolated cases of lawlessness and limited financing due to competing national needs.
"The multiple licensing frameworks and taxes making tourism business less competitive. These are instituted by the various government agencies and are not borne out of a consultative process and are revenue collection mechanisms and not compliance certifications. These licenses have increased the cost of doing business in the hospitality sector and consequently caused economic distress to the enterprises making the destination uncompetitive," the Minister said.
He noted that the Tourism Industry taxes and incentives structure is under review by various stakeholders with one of the intention being to harmonize taxes and fees (fees-registration of hotels, Steam boilers, periodic examination of lifts, leisure and recreation facilities, Operation License, Hotel/Lodge License Tax, licensing fees on tourism vehicles , License, Bar License, Swimming pool License, Liquor License).
On encroachment of cultural heritage sites, he said they have embarked on securing land titles, boundary marking, compensations and public sensitization.
By Francis Otucu