A panel of 7 judges of the Supreme Court led by Chief Justice Alfonso Owiny- Dollo has stayed the execution of Constitutional Court ruling ordering the release of Geoffrey Kazinda from luzira Prison.
The decision comes after the the Director of Public Prosecutions (ODPP) appealed the Constitutional Court ruling issued on 7th August last year which permanently stayed all corruption proceedings against Kazinda, the former principal accountant in the Office of the Prime Minister in a petition No. 30 of 2014.
Kazinda has since 2012 been on trial in various courts for among other cases, constructive possession of financial instruments, forging receipts and invoices, false accounting, making fraudulent payments, conspiracy to secure money outside authorized disbursement procedures, and living a standard of life beyond his known source of income.
But in 2014, Kazinda appealed to the Constitutional Court seeking, among other orders, court to declared that the act by the DPP to split charges against him and subsequently having him charged variously for offences built on what his lawyers said was the same facts, which same facts he had earlier been convicted, as unconstitutional and a violation of his rights.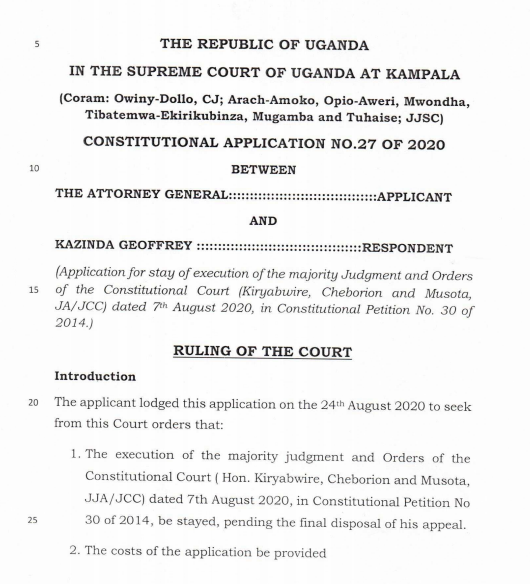 On August 7, 2020, a 3-1 majority ruling the Constitutional Court ruled in favour of Kazinda.
"…a person cannot be prosecuted for the same offenses for which he has previously been acquitted or convicted. Similarly, a person cannot be convicted twice on two different charges arising from the same conduct unless they are significantly different," Justice Stephen Musota noted in his lead judgment.
Justice Musota then proceeded to grant all the declarations sought by Kazinda, ordering the Anti-Corruption Court to immediately discharge Kazinda on the charges contained in Criminal Case No. 105 of 2012 and Criminal Case No. 47 of 2013.
Justice Musota, however, noted that Kazinda would still have to battle charges of illicit wealth which were slapped on the former OPM official in 2016.
Justices Cheborion Barishaki and Geoffery Kiryabwire also agreed with Justice Musota.
Supreme Court quashes
"In the result, we accordingly grant the application as prayed and order that: (a) The execution of the majority judgment and orders of the Constitutional Court (Kiryabwire , Cheborion and Musota, JJA/JCC) dated 7th August 2020 in Constitutional Petition No. 30 of 2014 be and is hereby stayed pending the hearing and determination of the intended appeal by the applicant," Supreme Court ruled on February 12.
"The applicant shall institute the intended appeal without delay. As this matter is of great public importance, each party shall bear its/ his costs of the application," the rulings adds.
The other 6 judges who presided over this ruling include, Justice of the High Court Arach Amako, Apio Aweri, Faith Mwondha, Tibatemwa Ekirikubinza, Paul Mugamba and Percy Tuhaise.
-Trumpet News