In a move aimed at promoting customer service excellence among its staff and employees, Stanbic Bank Uganda has recognized its Bugolobi branch for excellence in customer service delivery. The branch beat 6 finalist branches out of 70 participating ones.
The ceremony which took place during the customer service week aimed at setting new industry standards and also recognize the customers for their contribution towards the growth of the bank.
Speaking after receiving the Shield of excellence from the Stanbic Chief Executive and Executive committee members, Umaru Nyanzithe Branch manager said the recognition was due to their performance over the past  six months period which  was reflected in the revenues and profit after tax which spiked on account of good customer service.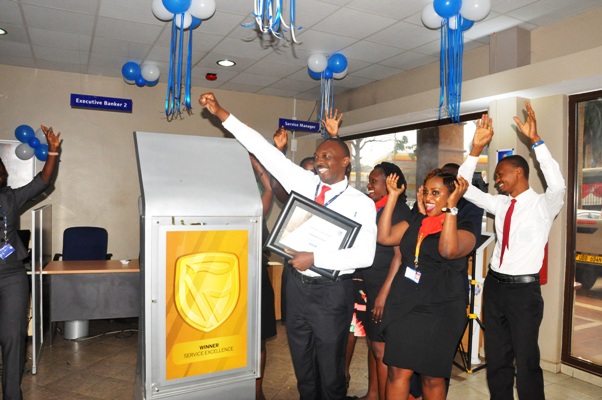 "As a branch we agreed that our major bottleneck to delivering consistent and exceptional customer experience, was the high number of customers that visited our branch for basic transactions. We therefore devised a robust plan to divert migrateable transactions to alternate channels to allow them to pay attention to key branch customer visits. We worked as a team and everyone was held accountable. We used every day as a day to improve in our service delivery and we strived to do it better than the previous day," he explained.
Stanbic Bank Chief executive Patrick Mweheire congratulated the Bugolobi branch for setting a new Standard for the bank and industry and urged all the other branches to emulate Bugolobi branch.
"Serving and satisfying customers Is very crucial, but what stood out with the Bugolobi branch was the ability to go the extra mile by listening to the customers, getting real time recognition of what the issues were, owning them and finding solutions to suit the operating environment." he said about them.
He said customer service delivery has improved over the last four years and if they maintained the trend then the customers and the bank would continue to realize growth.
The criterion was that branches that met or exceeded the branch service score target of 85% qualified for the finals. Customer compliments and complaints were factored in. Branches had to select a service pain point and carry out initiatives to improve experience at their branches and the best initiative based on the set guidelines scored the highest.
Stanbic bank Uganda launched its customer service week on Monday across its branch network country wide. The initiative is aimed at recognizing and rewarding its customers for their trust and partnership with the bank as it strives to build a better tomorrow for them.