The fake money that was seized
Customs officials from Uganda Revenue Authority (URA) have seized counterfeit money which was being smuggled into the Country via a Modern Coast bus Registration number KDA 155X.
According to URA, the Ugandan currency notes had been stacked in a suspicious package that had been declared but later manually crossed out.
This triggered suspicion from officers who promptly opened the package to find Shs10,000 and Shs5000 notes carefully stashed.
According to our Enforcement team, the load was thought to be a case of failure to declare but upon verification, it turned out to be counterfeit money amounting to UShs40,845,000.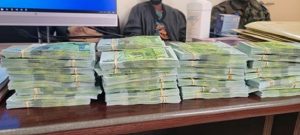 "From face value, we were under the impression that the offence was failure to declare cash, but while counting, the notes looked a little odd. This is when we sought assistance from a bank whose hi-tech machine confirmed that the money was fake." A Customs Officer recounted
Three suspects have since been arrested and the bus which was being used to convey the money seized. The law on prohibited goods provides for a fine of 50% of the value of items and in case of counterfeit notes, the penalty is imprisonment for the suspect./5
Similarly, Section 199 of the EACCMA sets a fine of not more than USD 5,000 for such means of conveyance,in this case the Modern Coast bus.
"URA continues to employ measures to counter tactics from economic saboteurs who bring artificial inflation to the economy," the tax body says.