Candidates for domestic jobs who registered under Kazo Woman Mp Hon.Jeniffer Muheesi youth employment program pose for a photo with Premier Recruitment team seated in-front
Ruparelia Group's fast growing labour recruitment company, Premier Recruitment Ltd has launched a sensitization campaign in Western Uganda about labor externalization.
The campaign has been hugely received and embraced by western Uganda.
The tour which kicked off last Thursday with a staff induction session at Mbarara regional office along Kakoba round about and ran throughout the entire weekend attracted huge numbers from both the leadership and members of the public in the areas of Bushenyi, Sheema,Kazo and Kashongi-Kiruhura districts where the sensitization workshops took place.
While speaking at the sensitization workshop that took place at Tuuza Motel last Friday, The Bushenyi LCV Chairman Jaffar Basajja Balaba thanked the management of Premier recruitment Ltd for introducing grass root sensitization workshops aimed at promoting transparency in the Labour externalization sector and encouraged the natives of Bushenyi to embrace Premier recruitment in the area and register for Jobs since he was 100% sure that after a long wait ,they had got a reliable company to deal with concerning recruitment of jobs abroad because it's a subsidiary of Rupaleria Group of Companies.
"I know Sudhir Ruparelia has many businesses and many business dealings with government so we have trust in him that his company cannot be like the ones you have always complained about that got issues to do with trust," he said.
He advised the team from Premier Recruitment to always take records of people from Bushenyi deployed in the Arab countries and share them with district authorities under district Labour office so that they can track them for monitoring and ensure they are investing the money they earn from overseas.
The Bushenyi District Labour officer Loyce Namara sensitized people about their Labour rights especially about employment leave, insurance and compensation in the case where an employee may get sick or loose life caused by work.
She thanked the management of Premier Recruitment Ltd for being open and transparent to the extent of sensitizing the public about the procedures, processes and costs involved when someone is seeking for employment abroad.
She said many companies don't reveal much of this information because some of them use such loopholes to defraud unsuspecting ignorant candidates and they end up losing lots of their money.
The workshop whose organizers highly observed COVID19 SOPS started at 9:00am to 2:00pm before the team rushed for another evening session in Sheema district to meet Prof.Elijah Mushemeza's voters. It was attended by over 200 people and graced by all district leadership who included Deputy Resident district commissioner ,District internal Security Officer ,District Police Commander and many more.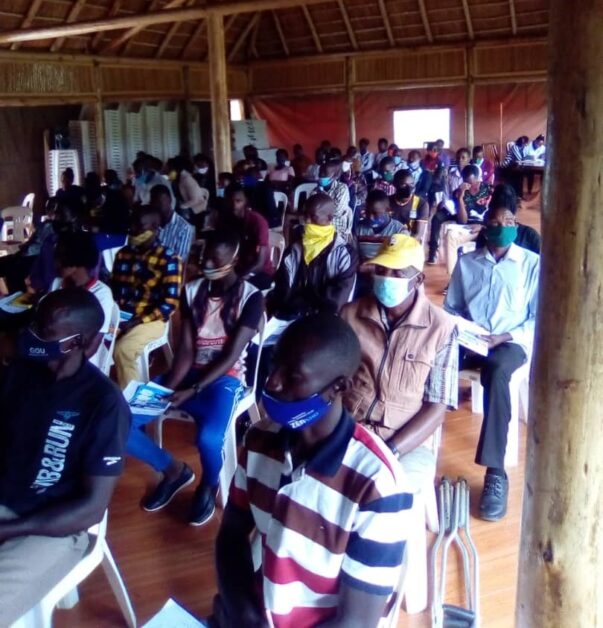 The Friday field activations were followed by more in Kazo district on Saturday and another in Kashongi-Kiruhura district which were run under Hon.Jenniffer Muheesi and Hon.Tayebwa Herbert Youth employment programs which were launched in these constituencies respectively in Partnership with Premier Recruitment Ltd through which the named Members of Parliament aim at empowering their Voters by sponsoring some of the requirements a qualified candidate would need while seeking for employment abroad.
Premier Recruitment Ltd registered over 106 candidates both domestic and non-domestic under Hon.Jenniffer Muheesi, the woman Member of Parliament for Kazo district and an attendance of over 400 last Sunday at Byanamira play ground in Kashongi organized under area Member of Parliament Hon.Tayebwa Herbert.
The Premier recruitment team was headed by Marketing and Public Relations manager, Amon Baita, who sensitized the area locals about processes, procedures, costs, requirements and benefits of seeking employment abroad especially in the gulf countries.
He has since revealed that this is just the beginning of a big plan to carry out country wide sensitization workshops as one way of ensuring that the public is made aware about recruitment processes and requirements so as to build transparency in the Labour externalization industry.